Who Is Dhurata Ahmetaj? Meet The Girlfriend Of Xherdan Shaqiri 
Dhurata Ahmetaj is famous for being the girlfriend of Liverpool star Xherdan Shaqiri. Read on to learn more about her nationality, net worth, facts and family.
Dhurata Ahmetaj is a stunning lady. She has been bossing the Albanian music industry for several years. Her songs and popular albums made her pretty famous in her home country. However, she gained massive popularity overnight when her relationship with Xherdan Shaqiri came into the public eye. It's only a rumpus as they haven't disclosed anything personally. That's why many fans are currently in the shadow regarding that information. We have investigated the whereabouts of the beautiful Albanian singer and will reveal many intriguing facts about her in this article. So, follow along to know more about the girlfriend of Xherdan Shaqiri.
Dhurata Ahmetaj Facts & Wiki
| | |
| --- | --- |
| Birthday | November 16, 1992 |
| Place of Birth | Prizren, Kosovo |
| Nationality | Albanian |
| Residency | Albania |
| Boyfriend | Xherdan Shaqiri |
| Job | Singer |
| Instagram | @dhurataahmetaj |
| Height | 5 ft 6 inch (170 cm) |
| Weight | 55 kg (121 lbs) |
| Tattoos | No |
| Smoking | N.A |
| Sister / Brother | N.A |
| Father & Mother | N.A |
| Religion | Christian |
| Hair Colour | Blonde |
| Eye Colour | Dark |
| Net Worth (approx.) | $1.5 Million |
Dhurata Ahmetaj Childhood and Family
Dhurata was born on November 16, 1992. She hasn't disclosed much private information in the public media. We don't have any information about her father and mother. We are uncertain whether she has a sibling. We are still investigating to find the missing pieces and will update the article if we find new data. Stay tuned to know more about the girlfriend of Xherdan Shaqiri.
Dhurata Ahmetaj Education
Dhurata completed her primary education from Mati Logoreci. She graduated from Gjon Buzuku. We couldn't fetch any details about her higher education. So whether she enrolled in a university curriculum is still unknown. We believe after completing high school graduation, she entered the music industry as she was passionate from a young age.
Dhurata Ahmetaj career
Dhurata is an established singer in the Albanian music industry. She started her career with the song Veç ty të dua at the music festival Top Fest 7 in 2010. After gaining initial popularity, she released her song Ama Veç Pak in 2013, which was an instant hit. In 2014, she released her album, Dhurata, which became popular among the youth audience. She hasn't released any new songs in the last three years, and it seems she has taken a break from her career lately.
Dhurata also has great influencing power. She currently has 475k followers on Instagram. Whereas back in her home country she is very popular. This fame has enabled her to collaborate with brands to promote their product.
Dhurata is believed to be conscious about her mental health, and that's why she is keeping her work profile light nowadays.
Dhurata Ahmetaj Net Worth
Dhurata has a net worth of $1.5 million, primarily representing her earnings from music labels and popular pop concerts. Financially, she is currently in a stable position.
Xherdan Shaqiri's net worth is pretty significant. His current yearly wage is $4 Million, and his net worth is $12 million.
Dhurata Ahmetaj boyfriend Xherdan Shaqiri
Xherdan Shaqiri has seen rapid growth in his performances in the last few years. He started his senior journey with FC Basel. However, Bundesliga giant Bayern Munich tracked him down, who signed him in 2012. After distinctive spells in Inter Milan and Stroke City, he moved to Liverpool, where he is currently playing. Even though he has shown promising performances whenever given a chance, he has yet to earn Jurgen Klopp's trust. His growth in the national team is even more significant as he led Switzerland to the quarter-final of EURO 2020 last year.
Dhurata Ahmetaj and Xherdan Shaqiri relationship
Xherdan Shaqiri is rumoured to be dating Dhurata. The duo is believed to be meeting since 2020. However, they have kept secrecy regarding their relationship. None of them has posted any pictures with each other on popular social media platforms until now. However, Dhurata's friends have suggested that she has travelled to England several times to meet with Shaqiri. Their love story is all over the Swiss and Albanian media. We believe very soon they are going to reveal their relationship.
Dhurata Ahmetaj and Xherdan Shaqiri Children
Dhurata and Xherdan Shaqiri don't have any children currently. Their relationship has just started, and we believe it needs some time to be mature.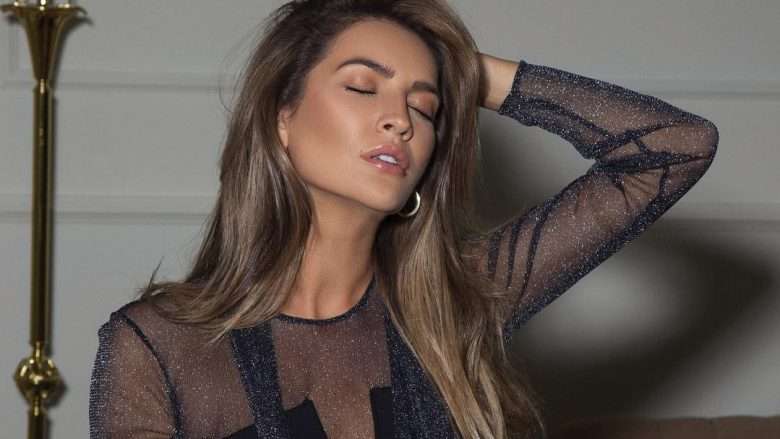 Dhurata Ahmetaj Social media
Dhurata is very active on all social media platforms. She has 14.5K subscribers on YouTube. Her songs have become viral and have gained many views. She also has a Facebook page with 11K followers. Her Instagram account has 475k followers.
FAQs about Dhurata Ahmetaj
When did Dhurata Ahmetaj and Xherdan Shaqiri get married?
The pair is yet to get married.
What is Dhurata Ahmetaj doing now?
She is a singer.
How old is Dhurata Ahmetaj?
She is 30 years old.
Nationality of Dhurata Ahmetaj?
She is Albanian.
What is Dhurata Ahmetaj's net worth?
Her net worth is $1.5 Million.
Read More: