Bournemouth vs Manchester City Report: Manchester City Match Report
As expected, this match began with Manchester City dominating the ball but the surprise of the opening period was that Bournemouth were defending with all 11 players inside their own half right from the first knockings of the game.
With brilliant width on the wings provided by Raheem Sterling and Bernardo Silva, they were able to apply decent pressure on this narrow and extremely compact Cherries defence.
Despite this though, City, being the glamorous side that they are, were able to conjure up the occasional chance inside the Bournemouth box but some rugged defending meant that they weren't able to get past.
As the half wore on, City's pressure began to yield good opportunities for them to take the lead but the crowd at the Vitality seemed stubborn on cheering their side to cause an upset against the title-chasers.
With large parts of the game being played in the Bournemouth half, a goal for City seemed inevitable but Bournemouth's defence line was trying really hard to prevent such an occurrence.
Although they did a pretty good job of it through the first period, it was obvious that they wouldn't be able to keep up this high level of defensive concentration and intensity for the entirety of the fixture.
They were able to keep the game goalless till half-time but with the start of the 2nd half, City began to push even harder for the goal. It finally came in the 55th minute through from the feet of first half substitute Riyad Mahrez.
Oleksankr Zinchenko played a neat ball into the box toward David Silva. The Spaniard's attempted pass hit pinballed inside the area before eventually falling back at his feet. He then played it out to Mahrez who surprised Artur Boruc with a near post finish to make it 1-0.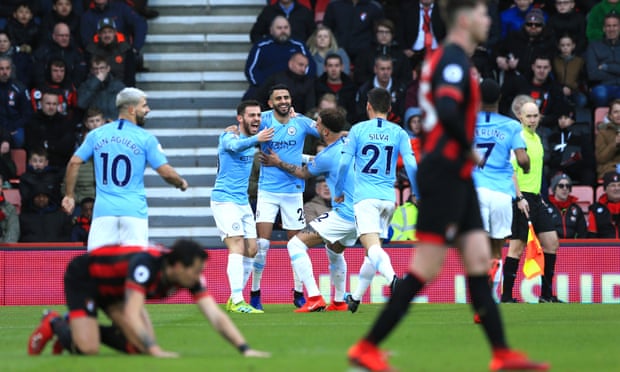 Even after this, the Cherries were unable to come into the game this was obvious in their possession stats from the game which stood at less than 20%. With no attempts in the entire match, it never did look like they were going to score.
Read More Manchester City News, Click Here: Manchester City News
As the game went into the final knocking, City stepped on the brakes and using some excellent game management, they were able to see out what was an important 1-0 victory which took them back to the top of the table, at least till Liverpool play Everton in the Merseyside derby tomorrow.
Here's how some relieved Manchester City fans reacted to this tight victory:
3 points never felt this good

— Teiko (@thefanchoco_) March 2, 2019
Zinchenko motm. Won every header, completed every pass.

— Caralhooo (@KangSungrok) March 2, 2019
Pep is so delighted shows how tough this match was

— Danilo (@danilo3luiz) March 2, 2019
Only City can not concede a shot on target and make it look close

— Marshall (@MarshallMCFC) March 2, 2019
Zinchenko's looking better and better every game 👀💪🏻

— Kieran Hill (@KieranHill15) March 2, 2019
Can we go back to winning by big margins please my nerves can't take this!! Well done lads! On to the next. #ManCity #CTID

— Neil (@ndb69) March 2, 2019
Much better in the second half lads, weeks rest now and we go again. COME ON CITY

— ً (@sergioscity) March 2, 2019
WHERE ARE THE MAHREZ HATERS NOW

— Darren Kasbia (@0161Darren) March 2, 2019