Why Manchester City must offer improved terms to Gabriel Jesus
Gabriel Jesus has been one of the brightest talents in the Premier League ever since he joined Manchester City. He has thrived under Pep Guardiola's guidance and the Brazilian has also become a firm fan favourite.
To secure his long-term future at the club, City were keen on offering him a new contract but as per a report from Daily Mail, the youngster has turned down a new deal put forward by the club.
The same report has stated that the player's representatives want more money for his services and are unhappy with the £90,000-a-week deal offered by City. Contract talks are expected to continue but with the summer transfer window fast approaching, it is imperative that the Sky Blues tie him down to a new deal.
After utilising Sergio Aguero as their striker for many years, Guardiola's decision to sign Jesus has improved the club for the better.
Aguero continues to be a pivotal figure at the Etihad Stadium but Jesus is clearly the future. At 20 years of age, he has a long way ahead of him and given the rate at which he has been developing, he deserves a new and improved contract pronto.
Talented, young Brazilian forwards are never out of demand and if City refuse to agree to his demands, there will be several other clubs waiting to acquire his services.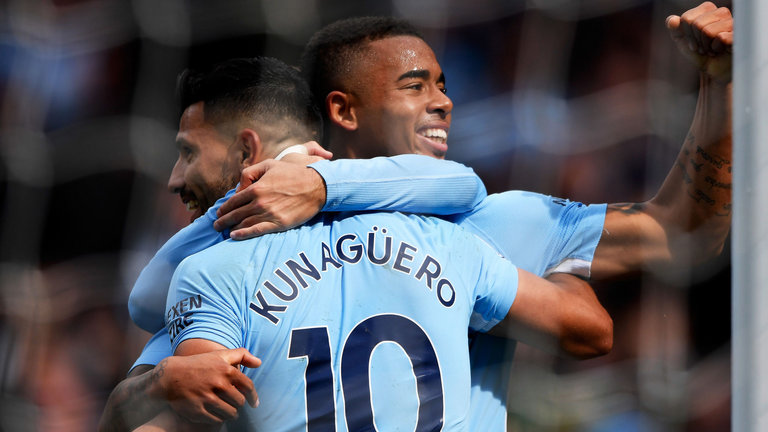 Even though he missed six weeks of action due to a terrible knee injury, the former Palmeiras star continues to be an important member of the City squad. He has netted 12 goals this season for the Cityzens and the tally could increase once he re-integrates himself into the team.
Ever since Guardiola took charge of the club, he has worked extensively towards building the squad around youngsters and as we have all seen, the move has paid off in dividends this term.
City are unscathed at the top of the league and they are just 3 points away from the title. Jesus has played an important role in this new-age team and he will be crucial for them in the seasons to come.
Also, in modern football, it is not uncommon to pay weekly wages in excess of £90,000-a-week for a player who is as influential as Jesus.
Thus, to avoid a hasty exit, City must do everything they can to offer him a new contract with improved terms to show how valuable he is to the club.