Manchester United's Antonio Valencia vs Manchester City's Kyle Walker – A Comparison
Right-backs in the Premier League have always been an underrated lot with their contributions very often being overlooked. It is one of the most physically demanding positions in modern-day football, where a right-back has to defend and attack for the entire 90 minutes.
Being a right-back, the duty to defend comes as a priority over attack. While few are good in defending, there are some players whose attacking nature is better than their defensive capabilities. Hardly, there are right-backs blessed with both attacking as well as defending traits.
However, two of modern-day Premier League's most sought after right-backs are Manchester United's Antonio Valencia and Manchester City's Kyle Walker.
Speaking about Valencia first, the Ecuadorian full-back, in his ninth season at the club, is arguably going through his best campaign for United and to many, has been one of the consistent performers so far this season.
A right winger by trade, Valencia always possessed the typical qualities of a natural full-back. He is reliable, a never-ending engine, moves up and down the flank continuously and has the ability to cope with pressure. The 32-year-old has shown a strong desire to perform at his best week in and week out, with his commitment to the cause being first-class. A valuable asset in every sense for Jose Mourinho.
On the other hand, Walker, the English full-back, is in his first season with Manchester City, having from Tottenham.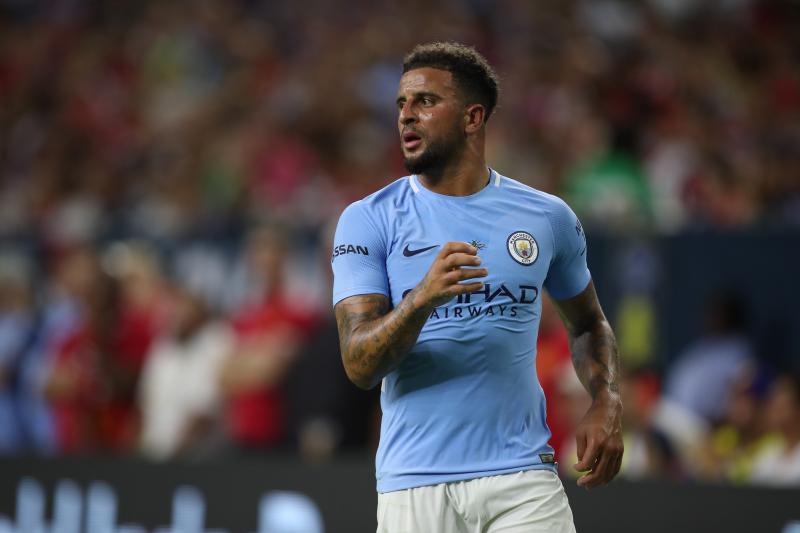 Walker is a naturally talented full-back, boasting high energy and vigour. Blessed with crazy pace, he could go on marauding runs down the right flank and cause havoc in the opposition's half. A hard tackler of the ball, the England international has seldom looked out of position. His crossing ability is a tad too weak but has assisted many goals during his stay with Spurs.
Walker has settled fantastically at City and has become a vital member for Pep Guardiola's hunt for glory this campaign. He has replaced Pablo Zabaleta extremely well, who departed to West Ham for free this summer.
Let us have a detailed comparison between two of the Premier league's current best right-backs.
Defending
Well, so far this season, Valencia has played every single minute in the league, while Walker has played 7 games. In terms of interceptions, Valencia has made 4 compared to Walker's 5.
The United right-back has been guilty of committing 9 fouls and earning 2 yellow cards so far. Walker, on the other hand has already been dismissed once, which shows the brash side of the City full-back.
Valencia has engaged in 57.14% aerial duels, in which he has won 49%, whereas Walker has won 55% out of 70.97%. Meanwhile, Valencia leads the way for tackles (9) in comparison to Walker's (4).
United's Valencia has made 28 clearances, which is almost double to City's Walker with 16.
Attacking
Shifting focus to their attacking roles, Valencia has got a goal, owing to his wonder strike against Everton. It will come as no surprise, that Walker has the most assists (3) of any of the right-backs, given Guardiola has given him the freedom to maraud forward. In the case, Valencia is yet to break his duck.
In a sleek City team, Walker has created 5 chances. In comparison, United's Valencia is on 4. In terms of passes, Valencia has made 421 passes in 8 games, while Walker has a startling superiority of 441 passes in just 7 games. When average pass accuracy is compared, Walker is a tad ahead with 88% to Valencia's 86%.
Being City's game based on tiki-taka, Walker has only one shot, with 0% accuracy. Valencia, on the other hand, has had 6 shots with 50% accuracy.
Despite making considerably fewer passes, Valencia leads the way for successful take-ons (12), miles ahead of Walker's 2.
Conclusion
It is tough to come to a conclusion given the fact that Valencia and Walker's stats are more or less the same. If Valencia has a goal, Walker has three assists to his name. Walker has proved to be the perfect right-back for Guardiola, while Valencia has been hailed as the best right-back in the world by his manager Mourinho.
The two Manchester clubs have started this season in a breathtaking fashion, with City on top with 22 points, two points better than United. Goals have flown from each side, but it's Guardiola's team that has looked sleeker in the attack.
Come May, one will get a clear picture.
Stats Courtesy: Squawka