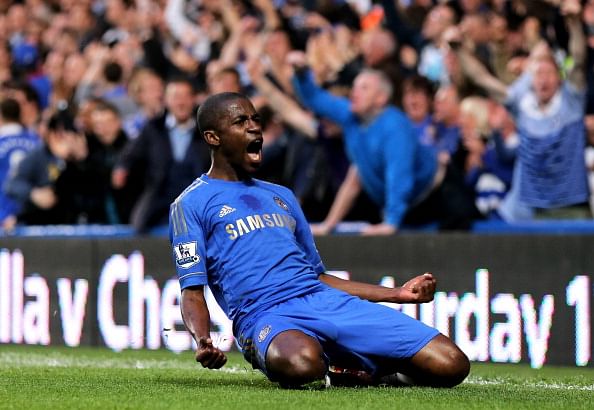 Chelsea star Ramires, who is currently with his national team Brazil has been linked with the current European Champions Real Madrid. There have been rumours of a hefty£25m bid for the central midfielder, on whom Jose Mourinho has heavily relied on to provide energy and destruction in the midfield.
So why is it a bad move for Chelsea to let him go? 
Ramires joined Chelsea under Carlo Ancelotti, the current Real Madrid boss, and was brought as a player who would be a utility performer at two key positions- the box-to-box role and the right midfield position. Ramires, with his pace, stamina and ball skills has been a consistent performer for Chelsea ever since his transfer and only since Nemanja Matic's transfer back to Chelsea in January this year have we seen Ramires being solely reduced to destroyer midfielder.
Carlo Ancelotti has sufficient reasons to buy his former player as Real Madrid would need depth in their squad and a versatile and energetic player like Ramires would bomb the slow La Liga teams with his explosive pace and work-rate. With established options in midfield with the likes of Modric, di Maria and Alonso already there, Ramires would be mostly a substitute. But in Chelsea, where manager Jose Mourinho values high work rate and athleticism, we know Ramires will be a regular player always in the manager's plans even if Spanish star Cesc Fabregas is signed.
Chelsea need Ramires more than Real Madrid. Having a player like him is just a luxury for Real, but for the Blues, it is more of a necessity. In England, players are much more physical and the pace of the game is way too high in comparison to Spain's La Liga. A player like Ramires took to the Premier League like fish to water and in a team like Chelsea, he has been pretty much a first choice in the past couple of seasons especially in the pivot position.
He has recently been criticised for his somewhat mindless tackling and lack of vision or concentration on the pitch, but for the past few seasons, he was an altogether different player. In fact, even in the first half of the past season, he was a very important contributor to Chelsea's goals and defensive duties. In Chelsea, apart from Matic and the relatively inconsistent John Obi Mikel, Mourinho depends on Ramires to provide the dynamism and power to the engine room of the team. In key important games against teams which like to hold possession, Ramires becomes one of the most important players because of his energy and pace for ball winning and counter attacking. Although he was just involved in only 3 of Chelsea's goals last season, scoring 1 and assisting 2 in the league, his defensive actions speak for himself. A total of 44 clearances, 25 interceptions and 6 blocks playing in the midfield along with an impressive passing range which stands at 84%.
Selling him can be a hard blow for Chelsea even if it was for a hefty £25m sum. He is one of the few players in the team on whom the manager has a lot of confidence and because there are not many players in the world who can play like him, Ramires must be kept as an asset. Real Madrid's interest in the player may just be dry rumours finally, but a player like Ramires, a vital cog of Chelsea's Champions' League winning campaign deserves to continue playing for the Blues under fan favourite manager Jose Mourinho.
stats via squawka