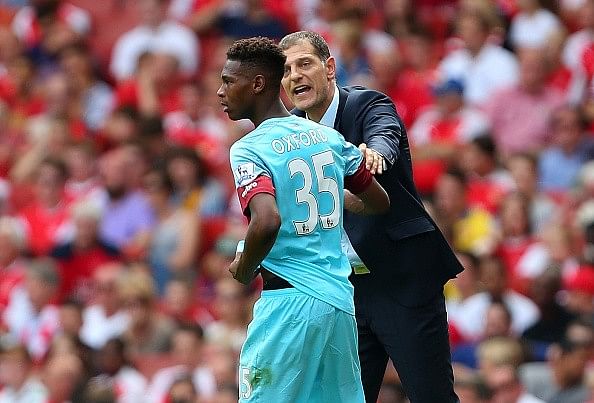 We all gawked at the team sheet when West Ham lined up against Arsenal at the start of the season as an unknown, Reece Oxford started the game and played an instrumental role for the Hammers in their win at the Emirates.
The midfielder was actually the youngest ever Premier League player for West Ham and had a superb performance at the age of just 16 years and 236 days. Though he hasn't played every game this season, he still has a bright future ahead of him.
London has a range of big clubs and some of them have seen their fair share of youngsters perform brilliantly this season, Tottenham have Dele Alli while Arsenal have seen the likes of Walcott and Bellerin perform brilliantly over the years.
We look at the three big London clubs and see just who their youngest ever Premier League player is or was and what have they done with their career.
Arsenal
Jack Wilshere
The now 24-year-old, Jack Wilshere made his debut in the Premier League for Arsenal at the tender age of 16 years and 256 days as he came on as a substitute against Blackburn Rovers. While everyone has expected great things from the English midfielder, injuries have played a huge role in stalling his development.
Since making his debut for the Gunners, Wilshere has taken part in just 155 games, this covers a span from 2008 till the current date and the midfielder hasn't played one game this season as well. He may still hold the record for Arsenal but this surely isn't the way he would have expected his career to progress.
Chelsea
Jody Morris
Not many Chelsea fans would be able to name him as their youngest ever Premier League player but Morris came through the ranks alongside their current skipper John Terry and made his debut at the age of 17 years and 43 days against Middlesbrough in 1996.
He has retired from the game at the moment but has played for Leeds United, Rotherham, Millwall, St. Johnstone and Bristol City. He was also part of the England youth set up till the U21 level. He did achieve moderate success with an FA Cup and a UEFA Super Cup under his name.
Tottenham
Stephen Carr
The Irish footballer was one of the most reliable right-backs in the Premier League and he made his debut for Spurs at the age of 17 years and 27 days against Ipswich Town. Carr enjoyed a great spell at Tottenham before moving to Newcastle United and then to Birmingham City, the side he captained but injuries cut short his time with Birmingham.
Carr had an exact 500 career appearances across leagues that he played in, he didn't have a lot of success in terms of trophies with a couple of League Cups being his greatest achievement but he certainly is one of the best right-backs in the history of the Premier League. He retired at the end of the 2013-14 season.