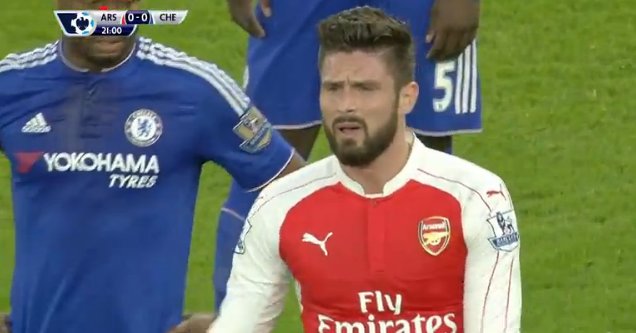 The look of bemusement on the faces of the Arsenal fans said it all when Arsene Wenger decided to haul off Olivier Giroud for Gabriel after Per Mertesacker was sent off against Chelsea. The game was still 0-0 at that moment but certainly Arsenal needed a focal point for their attack when they were down to 10-men as Giroud would hold the ball up, of course there are many who defend that decision since Arsenal would actually have less of the ball and playing with Campbell and Walcott up front would give them the pace to hit Chelsea on the break.
This has been a running scenario for Arsenal fans, they either love Giroud and think he will lead them to glory or slate him like he is the worst striker to have ever played for the Gunners with nicknames like lamp-post. 
While Arsenal do have to think of a future plan as Giroud is 29-years-old and a couple of years down the line he will not be as potent as he is currently, there have been talks about moving for a rising star from Serie A.
Alvaro Morata hasn't got the game time he would have expected since Carlos Tevez left, the mantle has been picked up by an incredible Paulo Dybala and the Spaniard could well be looking for a move away from the Old Lady.
Arsenal could be a great destination for him but would he actually be better than Giroud? Thanks to Squawka.com we compare the 23-year-old against Giroud's stats in the league this season and find out just who rules the roost.
Morata's star is shining bright but is he Gunning for glory?
Morata and Giroud more or less play in similar positions and with Arsenal having a range of great attackers, it is imperative to bring the likes of Alexis Sanchez, Theo Walcott and Mesut Ozil into play. Giroud has a pass success rate of just 68% compared to Morata's 80% which certainly makes him a great option for Arsenal to play up front.
His passing also has led to more key passes as Morata averages 1.2 key passes per 90 minutes compared to 0.8 from Giroud. However a striker needs to score goals and Giroud manages 0.7 goals every game, which is a great ratio while Morata only manages to bring in just 0.1 goals per game.
Giroud also has a greater number of shots per 90 minutes with 3.6 compared to 2.8 for Morata. Giroud is a better header of the ball as well, he manages to win 3.2 aerial duels per 90 minutes compared to just 1.2 for the Spaniard at Juventus.
Morata however, is better at taking on defenders with the ball at his feet as he manages to win 1.5 duels compared to just 0.5 for Giroud every 90 minutes. Morata also has a greater number of interceptions when playing up front with 0.9 per 90 minutes while Giroud only comes in with 0.4.
While the two players might be strikers their games are completely different, Morata does a lot more running and bullying of defences and brings other players into the game while Giroud does the one thing every good striker should do and that is score.
Arsenal might get a great young signing in Morata but he doesn't play in the same vein as Giroud and it would be tough to say whether he would actually be better than Giroud, what we can say is that he would do a lot of running for Arsenal up front and that could work to bring out the best in the likes of Sanchez, Walcott and Campbell.