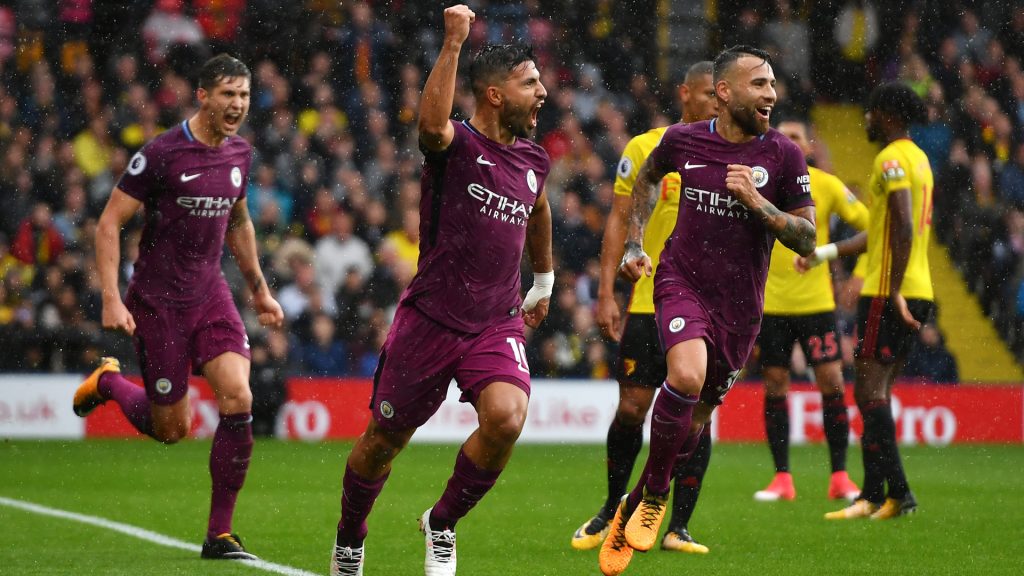 Match Report: Watford 0-6 Manchester City
Manchester City continued their terrific form in the domestic league as they made light work of Watford earlier in the day. Argentine star Sergio Aguero was the destroyer in chief as he managed to score his first hat-trick of the season and also picking up an assist.
Gabriel Jesus, Nicolas Otamendi and Raheem Sterling also found the back of the net in a commendable performance from the visitors, who also managed to keep a clean sheet.
Here's how the Man City players fared on the day:
Ederson (6)
Was hardly called upon to make a save as he almost acted as an outfield player on a comfortable day for the visitors.
Kyle Walker (6)
Played a role in a couple of goals that were scored on the night and marshalled his flank with command.
John Stones (7)
A real wall at the back but was not tested enough and was hardly put under pressure for him to give out his best.
Nicolas Otamendi (7)
Found the back of the net and helped his side to a clean sheet in what was a perfect weekend for the Argentine.
Benjamin Mendy (7)
Showed his strength and pace time and again on the flank as he finally, truly announced himself in the Premier League.
Fernandinho (7)
Was quick to win the ball back in dangerous areas as he stuck to his task and kept the ball rolling.
Kevin de Bruyne (9)
Sublime with his dead ball delivery and even better with his through balls, De Bruyne ran the show for City.
David Silva (7)
Shifted gears seamlessly as he was a constant problem for the Watford midfield, popping up in spaces in dangerous areas time and again.
Raheem Sterling (6)
Was not at his best as he took time to get into his stride. But he got himself on the score-sheet late in the game, mercilessly converting a penalty.
Gabriel Jesus (8)
Continued his incredible goalscoring form as he picked up one for himself in a comfortable 6-0 win for the Citizens.
Sergio Aguero (10)
If a player deserved a 10 for any game, this is it. The Argentine was all over the Watford defence right from the start, as his movement and trickery were just too good for them. He scored a hat-trick, picked up an assist and just dismantled the home side.
Subs:
Bernardo Silva (7)
Added some fresh legs and flair to the City attack late in the game.
Ilkay Gundogan (6)
Is still a bit rusty coming back from injury. Got more than 20 crucial minutes back on the pitch without much pressure.
Leroy Sane (6)
Had a decent impact on the game, having been subbed in for just the final 10 minutes of the game.
The fans were certainly enjoying the result and here's how they reacted on Twitter:
https://twitter.com/zlatan_ibraham/status/909103156226793472
We can never sell this player!!! He must retire at city!!!

— Wandile Sibewu (@Onedial) September 16, 2017
Could they possibly play any better?

— Nick Smith (@NickSmith442) September 16, 2017
(A)mazing.(G)reat (U)nbelievable (E)xciting (R)uthless (O)utstanding

— Shine Innocent (@shine_st10) September 16, 2017
https://twitter.com/FUT_18SBC/status/909083318397865984
https://twitter.com/beingabidkhan/status/909083283232878593
Whatever United do, Manchester is Blue from this weekend onwards @izzetzen

— Zain Abrams (@ZainAbrams) September 16, 2017
https://twitter.com/BeWarmers/status/909083639081848836
https://twitter.com/TheSportsman/status/909065225068072960
Manchester City have scored 1⃣2⃣ goals this week #WATMCI #MCFC pic.twitter.com/5XjmRqZ8yT

— FourFourTwo ⚽️ (@FourFourTwo) September 16, 2017