The last couple of seasons have been a bumpy ride for Juan Mata. From being Chelsea's player of the season for two consecutive seasons Mata fell to a point where he struggled to start two consecutive Premier League matches under Jose Mourinho.  After much speculation, when he moved to a Manchester United struggling to find its feet under David Moyes' tutelage, it was expected that Mata would end the miseries of himself and United as well. And even though he could not save The Red Devils from slipping to an unfamiliar 7th place finish, Mata redeemed his confidence and touch. But after just 8 months at Old Trafford, he slowly seem to drift into the same position he was one year ago- struggling to find a starting berth for himself. With Louis Van Gaal openly stating of not being entirely pleased with Mata in the hole, Mata faces the probability of yet another 'consecutive' in the process- consecutive January transfers.
Meanwhile, the player that Van Gaal seems to have in his mind to replace Mata, Kevin Strootman, isn't having a great time either courtesy his long-term injury. However one of Van Gaal's all-time favorites is on the verge of a return and the English media have sources that believe Manchester United are set to offer a swap deal for Strootman and Mata in January. So would Strootman be a better fit at United?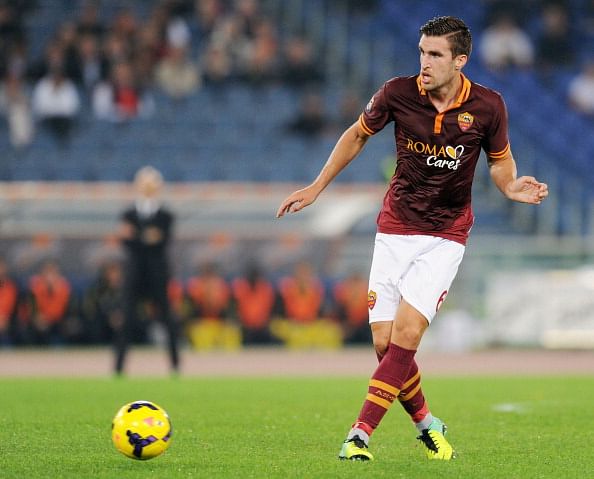 STYLE OF PLAY-
Mata and Strootman are very different players to start with. While Strootman is a strong defensive or box-to-box midfielder, Mata is more like the 'Spanish Ozil'- a gem of a number 10 player totally ineffective elsewhere. Although there is nothing to complain about Strootman's passing and finishing abilities, his defensive work-rate and ability is what makes him excellent. But the same cannot be said about Mata- the Spaniard's poor defensive work and overall work-rate is what got him into trouble at Chelsea.
THEIR POSITIONS IN THE CURRENT UNITED LINEUP-
The formation United played in their last match against West Ham United was a 4-3-1-2 with Daley Blind, Ander Herrera and Angel Di Maria occupying the three man midfield and Wayne Rooney in the advanced midfielder role. Strootman could fit into anywhere in the middle 3, most probably pushing Blind to a spot in the 4-man defense. While to accommodate Mata, Wayne Rooney will have to be moved upfront.
WHY STROOTMAN-
Strootman is one of the most promising central midfielders currently around. With United looking defensively weak at the back at present, partnering Strootman along Blind gives the physicality and defensive cover United much need, and would also provide more freedom for the likes of Herrera and Di Maria to move up front. He would present Van Gaal options in formations as well with a move to his much preferred 4-3-3 or 3-5-2 very much on the cards.
WHY MATA-
Even though Mata does have defensive shortcomings, he has not been used effectively by Van Gaal. Mata is a luxury player and he could deliver if played to his strengths. In his prosperous seasons at Chelsea he formed a formidable partnership with Eden Hazard, with both finding each other's runs perfectly. At United this season, Mata hasn't had anyone to run in for him to slip his dangerous passes into. But Di Maria and Herrera could lend him that sort of support, but unfortunately has not been given enough whchances to play together. Van Gaal should think about moving Rooney upfront and rotate Falcao and Van Persie, and give Mata his deserved opportunity to work his magic.
WHO IS THE BETTER FIT?
In the current situation where Manchester United are struggling defensively and are lacking physicality in the middle, Strootman looks a welcome addition. His arrival in January looks imminent as his current side AS Roma seems to have prepared for life without him as they have found a replacement in Radja Nainggolan and have also brought in Seydou Keita for cover, in addition to Daniel De Rossi and Miralem Pjanic.
At the same time, with his work-rate not going down well with Van Gaal and with Rooney, Januzaj and Herrera all options in attacking midfield, Mata's future at Manchester United looks bleak. Rooney's 3 match suspension would give an idea of how things would pan out- If Mata starts and does well in the 3 matches, Van Gaal would have a tough decision to make about Mata's place in the squad. But if as I fear, Van Gaal plays Januzaj in the hole for any of the matches, then it would be Mata who would have a tough decision to make- come January, which club to move to?