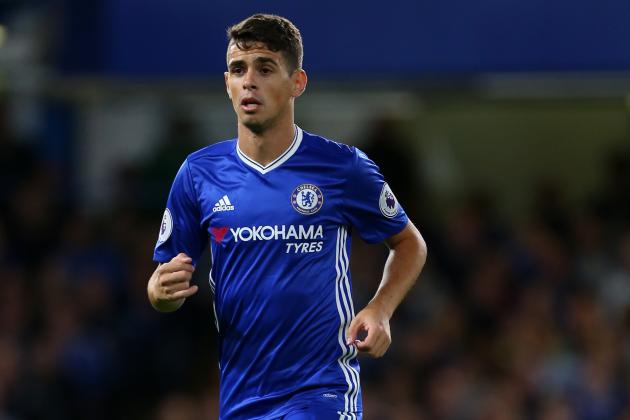 Chelsea will be buoyed by their performances this season. After a relatively mixed start to the season, the Blues have come up trumps, trampling every opponent on their way to leading the table. But one player that isn't quite getting a look in at Chelsea is the Brazilian midfielder, Oscar. He has been overlooked by Antonio Conte due to superior options at his disposal.
Oscar's preferred position does not find a place in Conte's formation of 3-4-3, which has been uber-successful since its integration. A Brazilian international like Oscar is sure to feel hard done by, as he hasn't even been used as a substitute on many occasions. Such a situation might force Chelsea's hands into losing someone they once got in for 20 million pounds.
A lot is down to Oscar too, as he has not always put his best foot forward in the English league. A few flashes of brilliance have been seen, but there's nothing substantial to satisfy the kind of hype that surrounded his arrival alongside Eden Hazard, who has gone onto establish himself as a lethal player despite last season's slump in form.
In his first 2 seasons at Chelsea, Oscar was used a lot more. He was also expected to take Frank Lampard's place in the side, having shown similar qualities in his initial days at the club. But his goal scoring record leaves a lot to be desired, as it's nothing close to spectacular. He has failed to touch double figures and his highest goal tally stands at 8, in the 2013/14 season. He clearly enjoyed his time under Mourinho but has failed to replicate that kind of form since.
Chelsea recently defeated Manchester City 3-1 in their own den and this is a performance that will surely make them top dogs for the title. But to Oscar's disappointment, his involvement was restricted to the bench area. This is a continuing trend and should affect Oscar soon and he should want to leave the club in order to move on to greener pastures. Clearly, the talent is there. Oscar has got what it takes to be a premier attacking midfielder, but will he do so at Chelsea?
Still 25, he has a lot of time on his hands to correct the situation he finds himself in. Maybe a move to a lesser physical league might suit Oscar.
But where should he go? Here are 3 options for Oscar to consider –
Liverpool
Another talented Brazilian, Coutinho, has been thriving at Liverpool since moving in from Inter Milan. With Coutinho currently out injured, Oscar could be a decent option for Liverpool to look at. He also continues to be linked with a mega move to Barcelona, and given that happens, it could open up the door for Oscar.
Oscar would certainly fit into the Liverpool mould as he has all the attributes that are required. He is a midfielder known for his graft, ability to pass the ball and make late runs into the box. He also has the eye for the spectacular, something that ticks a box in Klopp's mind. Oscar could replace Coutinho or even play alongside him as Liverpool currently play three midfielders. With his tenacity, Oscar could be a real find for Liverpool.
Jiangsu Suning/ Inter Milan
Both clubs are owned by Suning commerce group and they have shown an interest in signing Oscar. His fellow Brazilian midfielder, Ramirez, moved to the Chinese club in January and the fact that both he and Oscar share the same agent could tilt the move on their side. They have the financial backing and it is claimed that the owner will give Oscar his choice of the club; Inter Milan or Jiangsu Suning.
At 25, Oscar should look to stay in Europe. Italy is a country where he could showcase his skills ably. Many Brazilians have left their mark on Italian football and it could be Oscar's turn to do so. At Inter, he would certainly become one of the main players and thrive playing with the players they currently boast of, which includes several South Americans.
Juventus
Ever since his magnificent brace against Juventus in the Champions League (his debut), Oscar has been linked with a move to Juventus perennially, but nothing ever came of it. Massimo Allegri is clearly a fan and it looked like they might move for Oscar when they let go of Pogba, but nothing ever materialised.
But come January, things could change as Chelsea might be ready to listen to offers for their Brazilian. They will look to recoup whatever they paid for him and possibly a lot more, due to the effort and time they've put into him.