With 6 EPL titles between them, Arsene Wenger and Jose Mourinho are unarguably the greatest managers in the top flight at the moment.
Both will lock horns again on Saturday afternoon at the Old Trafford as Arsenal pay the Red Devils a visit in the 12th round of Premier League games for 2016-17, and the clash is about the most important for the 2 for a lot of reasons – their history being one.
There is no love lost between these 2, and they almost came to blows 2 years ago in the technical box as the tension and bitter rivalry between them reached an unprecedented peak.
For all its worth, tomorrow's game is a clean slate for Wenger to write on in their head-to-head record, as it is the first time he will facing off with Mourinho since the Portuguese assumed the managerial duty at Manchester United.
Prior to his new job, the erstwhile Chelsea coach always often got the best of Wenger, except once – in the F.A Community Shield final of 2015. A lowly-regarded prize title and a mere "glorified friendly ".
In 11 Premier League clashes between the 2 managerial titans, Mourinho won 5 and drew the other 6. Jose won both of their League Cup meetings, including the (in)famous 2007  final where Arsenal's arch-enemy Didier Drogba, inspired a hard fought comeback victory.
Of all the Portuguese's 8 league wins over his bitter enemy – including the 2 nil victory at the Stamford Bridge last season despite Chelsea's poor form, the most memorable is a well-planned defeat that came in Wenger's 1000th game in charge of Arsenal.
In a match also fondly remembered by some (Chelsea fans) for the referee's error in wrongly sending off Kieran Gibbs instead of Chamberlain, the Blues ran riot in front of goal in the presence of their home fans, putting 6 unreplied goals past the Gunners.
On Saturday, Arsenal would be playing at a ground they haven't tasted victory in for the past decade, as United's last loss to the North London club came in the September of 2006. Check out bethut's free bet offers and have a punt if you feel Wenger will get the better of his nemesis this time around.
Considering the sharp contrast in both side's league forms, many would see Arsenal as the most favourite to land the heaviest blow, but it isn't just Manchester United they would be playing against.
It is a Jose Mourinho's inspired team that always get the result against Wenger's side regardless of how poor they are playing or they play. And regardless of their name or credentials.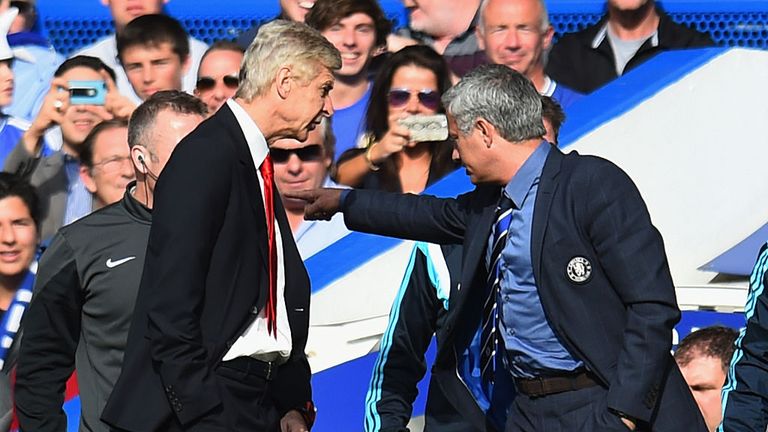 Apart from being a hotly anticipated clash, the meeting is set to play a major decision in both club's title ambitions. A win would most likely tilt the victor towards a realistic title chance.
In United's case, it would bring about much needed inspiration after their recent woeful results, while Arsenal, and particularly Wenger would see all 3 points as not only an opportunity to close the gap between them and the pacesetters, but also as a good omen as far as a title win goes having finally broken the jinx.
Whatever happens tomorrow, it won't be the end of EPL's most exciting managerial feud. It would only be a new chapter in the pages of a bad blood history book both men are inadvertently co-authoring.