Why Christian Pulisic Is A Better Fit At Liverpool Than Thomas Lemar
Liverpool, despite losing out Philippe Coutinho to Barcelona last month, decided not to rush a new signing to replace the star Brazilian and the charismatic Jurgen Klopp opted to wait until the summer and instead use the tools he already has in his squad, for now. Only time will tell whether the decision of not attempting an alternative is sensible or suicidal but the manager is concentrating on long-term plans and wants to acquire someone who will fit in his project at Liverpool.
Thomas Lemar was reportedly the prime transfer target of the Reds since last summer. But the asking fee of £90m from current suitors AS Monaco forced Klopp to back out as he clearly believes it will be a massive overpayment to bring him to Anfield. The youngster is under contract until the summer of 2020 but rejected an extension offer recently. Yet, the Merseysiders seem to have cooled their interest and Klopp's resolution is being valued by the management.
Lemar, 22, had a scintillating season last time out where he scored 14 and assisted 17 goals for the defending champions and set the Ligue 1 by storm, helping his side win the prestigious league title. But he has somehow struggled to hit his form so far this term, as he has only 3 goals and 5 assists to his name.
He has mostly operated from the left flank but also appeared in the No.10 role on a few occasions. The young French international is undoubtedly a huge prospect and a prized asset for the upcoming World Cup competition but has not yet justified the price tag slapped by AS Monaco.
If rumours are believed to be true, Klopp has reignited his interest in American teenager Christian Pulisic whom he fancies as Coutinho's successor and despite previous failed attempts to bring in the Borussia Dortmund starlet, the gaffer is keen on a reunion following a brief spell with the prodigy during his final season as BVB manager.
Liverpool, however, will have to pay £88m to acquire his services and although it will be a huge gamble to spend the majority of 'Coutinho money' for a teenager, Klopp's intuition has hardly been wrong and Pulisic truly holds a bright future ahead of him.
At the age of 19, the USMNT international has already made 81 senior appearances for the German giants and has also earned 20 caps for his country at the senior level. He holds several 'youngest ever scorer' records and has netted 11 and 9 times for his club and country respectively since being promoted to the senior side. Pulisic netted 5 and assisted 13 times altogether for Borussia Dortmund last season and is continuing his impressive run with 4 goals and 2 assists this term.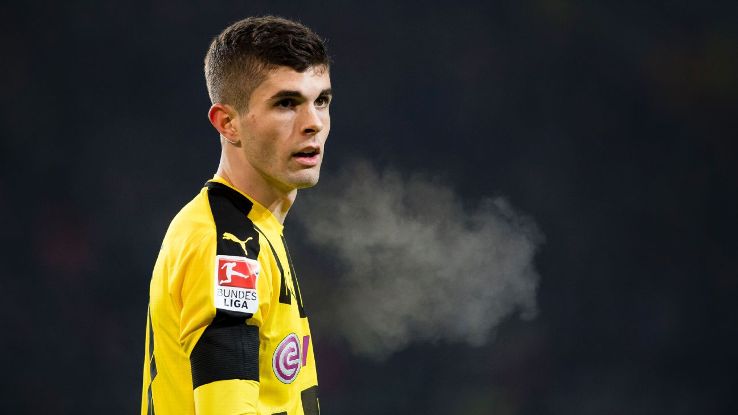 He has mostly been used on the flanks but is also capable of featuring in an attacking midfield role. He is mobile, loves to dribble, builds the game up with short passes and most notably, he is free-flowing in multiple attacking roles. He is someone who suits Klopp's vision, strategy and philosophy.
"Sure, the Premier League is incredible. You never know what's going on in football."
The player himself has expressed his excitement regarding Premier League football and it is to be seen now how the story unfolds in the upcoming summer transfer window.