For a couple of years now, Sunderland have escaped relegation narrowly. The Black Cats have been setting a trend for starting a campaign poorly and then replacing their manager and somehow that manager pulls off a 'miracle' of sorts to steer the Wearside club clear of relegation. This season has been no different as David Moyes was brought into the helm at the start of the season following Allardyce's departure.
The Scotsman has overseen just 3 wins, 2 draws and has seen his side lose 11 games. All that means they sit rooted to the bottom of the table, with Hull City and Swansea City a point above them for a company. Sunderland have been dismal all campaign, as they have lacked both in terms of squad quantity and quality. After 2 failures at Manchester United and then Real Sociedad, one wonders if David Moyes did the right thing by taking up the project at Sunderland.
In the summer, there was a lot of uncertainty regarding Sam Allardyce's position at the club. His name was being thrown around the England job and eventually he took it up, but that ended sooner than Sunderland's relegation troubles begin every season. Less spoken about Sam Allardyce the better. David Moyes was appointed quite late and he did not get enough time to assimilate the kind of squad he wanted to. He basically inherited the squad Allardyce had and was given very less funds to invest in his team.
David Moyes knew what he was coming into. Sunderland have been like this for every season for the past 3 to 4 years. They simply lack the quality now and the players they have at their disposal have not been performing to the levels that are expected of them. Sunderland have now been beaten in the last 3 games and that's not the kind of form that will see them climb up the table. Prior to those defeats, Sunderland somehow rallied to beat Bournemouth and were impressive in their wins against Leicester and Hull City.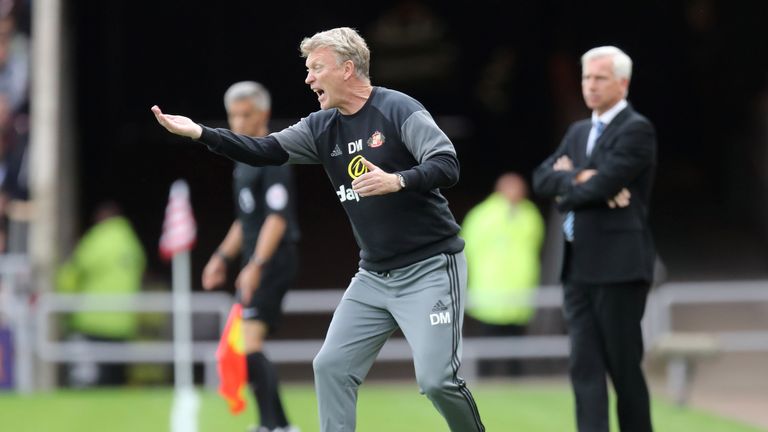 But then they came up against fellow relegation scrappers Swansea City and were handed an embarrassing 3-0 demolition at the Liberty Stadium, which was followed by a narrow 1-0 defeat at the hands of Chelsea. When they had beaten Bournemouth, Leicester and Hull, Sunderland fans must've surely seen a glimmer of hope and expected their team to carry on in the same fashion. But they have again hit a stumbling block and Moyes could find it really hard to provide the kind of miracles Gus Poyet and Sam Allardyce provided to keep Sunderland in the league.
It's clear that David Moyes is a man of managerial calibre. His time at Everton speaks for itself. For close to 10 years, Everton were in financial crisis but Moyes always managed to get them together and it was a common sight to see Everton finish in the top half of the table. Now Moyes will hope that he could do the same with his Sunderland side. It was that kind of resolve and mental solidarity that saw him being handpicked by Sir Alex Ferguson as his successor at Manchester United. That experiment failed hugely, though, as Moyes felt the pressure of being at the helm of one of the world's biggest clubs and proved to be too much for him.
If Moyes gets his act together and instils his Sunderland side with the qualities he believes in, we could yet see a miracle being provided. After all, it's not even Christmas yet and Sunderland were in a similar position in the last as well as the season before that. For starters, David Moyes needs a solid January transfer window. Lamine Kone was a player that was linked with a move away from Sunderland in the summer, but the shortness of the quality at Moyes' disposal meant that he could not let the Ivory Coast international go.
Kone was obviously keen on a move to Everton, but Moyes blocked it and Kone stayed, but to his dismay obviously and that has shown, as he hasn't been the player that helped Sunderland hugely when they stayed up last season. Moyes must start by letting go of Kone and using the money that comes in from that deal to bring in a few fresh faces to his squad to ensure survival. Moyes should look to bring in seasoned Premier League campaigners who can add something to his team immediately. He could do with a striker to aid Jermain Defoe's ageing legs and must also shore up his defence. If Moyes gets it right, he could keep the club up and that would be huge for the Sunderland fans.