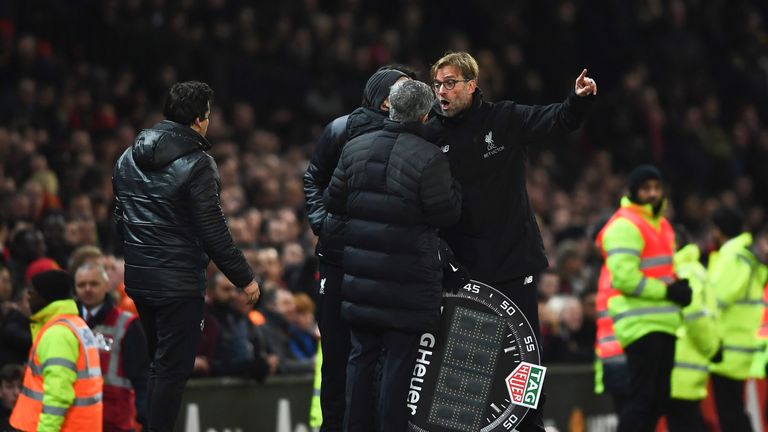 A late goal ensured the Red Devils shared the spoils with Liverpool at Old Trafford on Sunday evening, subsequently keeping their top 4 dreams alive as a result and maintaining their unbeaten run in the last 13 Premier League fixtures.
Pogba had blasted an effort wide after Mkhitaryan's pass put him through on goal, only for the Frenchman to gift the visitors a penalty few minutes later after he chose to handle a corner, literally.
Milner converted the resultant spot kick, and United struggled to break down a resolute Liverpool defence until the closing minutes of the game. Zlatan bagged his 14th Premier League of the season with a finely placed header 6 minutes to regulation time to secure a vital result for Jose Mourinho.
Here is how the Red Devils did in the clash.
De Gea
Guessed right to follow Milner's kick, made a great save to deny Firmino in the 2nd half, and contributed to the attack with his constant long balls.
Rating: 8/10
Valencia
Constantly gave Milner and Liverpool defence worries as he continually sent in crosses after crosses, a plan that paid off a great deal to help secure a point.
Rating: 8/10
Jones
Wasn't near his usual best and almost gifted Firmino with a chance as he appeared nervous and made late decisions almost all the time.
Got better towards the end.
Rating: 6/10
Rojo
Bailed his partner out at a very crucial moment and was once again a solid rock to help keep Liverpool's forward at an arm's length.
Rating: 7/10
Darmian
The Italian fullback has been impressive of recent and once again proved his quality, providing great cover for the attack and putting in work defensively.
Rating: 7/10
Herrera
Reproduced his first-leg heroics at Anfield once again to keep things ticking in the middle of the pack for the Red Devils.
Rating: 7/10
Carrick
Got sacrificed for Rooney after the 1st half but still proudly holds the record for having not lost any game he has played in this season.
Rating: 6/10
Pogba
Blasted a fine chance wide, gifted the opponents a goal and constantly lost possession.
Bad day in the office for the world's most expensive player.
Rating: 4/10
Mkhitaryan
Created 2 clear cut chances for Pogba and Martial and was a constant threat anytime United attacked, though his influence wore off when he got deployed as a left-back in the game's closing stages.
Rating: 7/10
Ibrahimovic
The 35-year-old has now scored 10 Premier League goals in as many games, and it's why there isn't a better choice to lead United's attack than Zlatan.
Rating: 9/10
Martial
Started well but eventually faded as the game wore on, leading to his withdrawal as he couldn't offer anything worthwhile in the attacking third when it was needed.
Rating: 6/10
SUBSTITUTES
Rooney
Played a tame shot at Mignolet when he had the chance to pull back the much-needed leveller upon his introduction.
Rating: 6/10
Mata
Couldn't add much-needed creative spark to proceedings despite his hard work.
Rating: 6/10
Fellaini
An inspired sub that paid off as he almost got the equalizer only for his effort to hit the bar in the buildup to Zlatan's goal.
Rating: 7/10