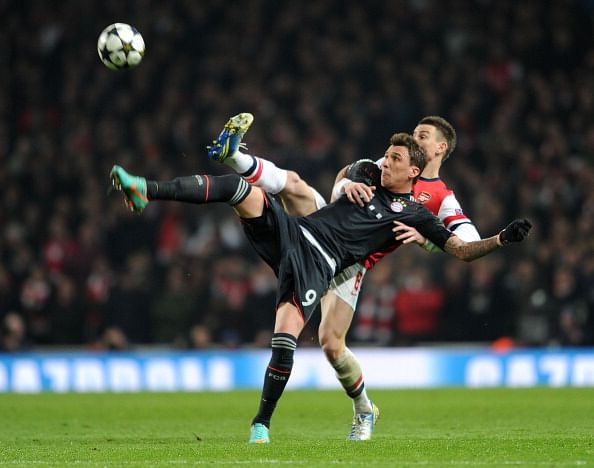 Mario Mandzukic has confirmed that he wants to leave Bayern Munich for pastures new as he admitted that his style of play does not allow him to play his best football in Bayern. This has alerted some top Premier League clubs like Arsenal and Chelsea who were monitoring the situation of the Croatian striker.
Mandzukic is a typically target man type of striker who would finish attacking moves when service is provided to him. His main attributes are heading, finishing, strength and work rate. He has decent speed to get past defenders and he works very well off the ball. With Chelsea and Arsenal, both needing depth in striking department, Mandzukic would be the subject of a bidding war.
The Croatian striker would ideally fit in both the teams, with the likes of Chelsea having purchased Cesc Fabregas along with having an already top class attacking midfield at the striker's disposal. Moreover, Jose Mourinho has promised that Chelsea would be more attack minded and look to restore the balance of the team after having a very plain and defensive first season with Chelsea. With Chelsea chasing clinical strikers, Mandzukic is bound to get offers from the Blues.
On the other hand, Arsenal were really struck heavy blows during a promising campaign last year because of their lack of depth in key attacking positions including the striking role. Giroud was overworked and lost his red hot form mid-season. Mandzukic is a certain target for Arsene Wenger this season as he looks to get back some depth in his squad as the Gunners are finally looking to come back into the Premier League contenders' list.
For Chelsea, the deal for Diego Costa is soon to be announced meaning Mandzukic will have to compete with the Spaniard for a striking position. With notable similarities physically, Mandzukic offers more with heading and has been consistent with his performances in Europe in the past few seasons. Costa on the other hand has had an amazing season and he looks set to be the new strike leader for the Blues after a big money move which is yet to be officially announced. As it is becoming apparent, Mario Mandzukic would have to compete with top strikers at whichever top club he chooses. In Arsenal it would be Giroud while in Chelsea it is most definitely going to be Diego Costa and Fernando Torres next season.
As the striker has said, he is leaving primarily because he doesn't fit in the new look Bayern, but hasn't mentioned about his trouble with competing with Robert Lewandowski next season. This can only mean that he is looking forward to joining a top club and compete with the best. Fighting for a position can be hard in both the teams. In Chelsea, manager Jose Mourinho won't hesitate to  bench him after a couple of poor performances or in Arsenal, Arsene Wenger would continue playing the best possible formation and players, and by chance, if Mandzukic fails to be in top form, there is every chance of Giroud being the first choice and an extended one i.e. Giroud may be in top form for 5 games, but Wenger would give him a couple of more games before dropping him to the bench but again, Wenger would do the same with Mandzukic if he makes his name on the first choice list.
From a personal point of view for Mandzukic, Chelsea would be something that would be playing at his feet, by offering more wages, similar direct attacking and much more squad depth. In Arsenal, he has a very good opportunity for being their strike leader and being part of a renaissance Arsenal that would be looking for trophies along with buying players as the purchase of German star Mesut Ozil proves. He is expected to get goals in both the London clubs but if a personal choice was involved for him, he is more likely to choose Arsenal. Both clubs would offer mostly similar wages, and the likely hood of trophies maybe more in Chelsea, but Arsenal are looking bright with their FA Cup victory last season and with not too many striking options in the team, Mandzukic has the option of becoming the top striker in the league.