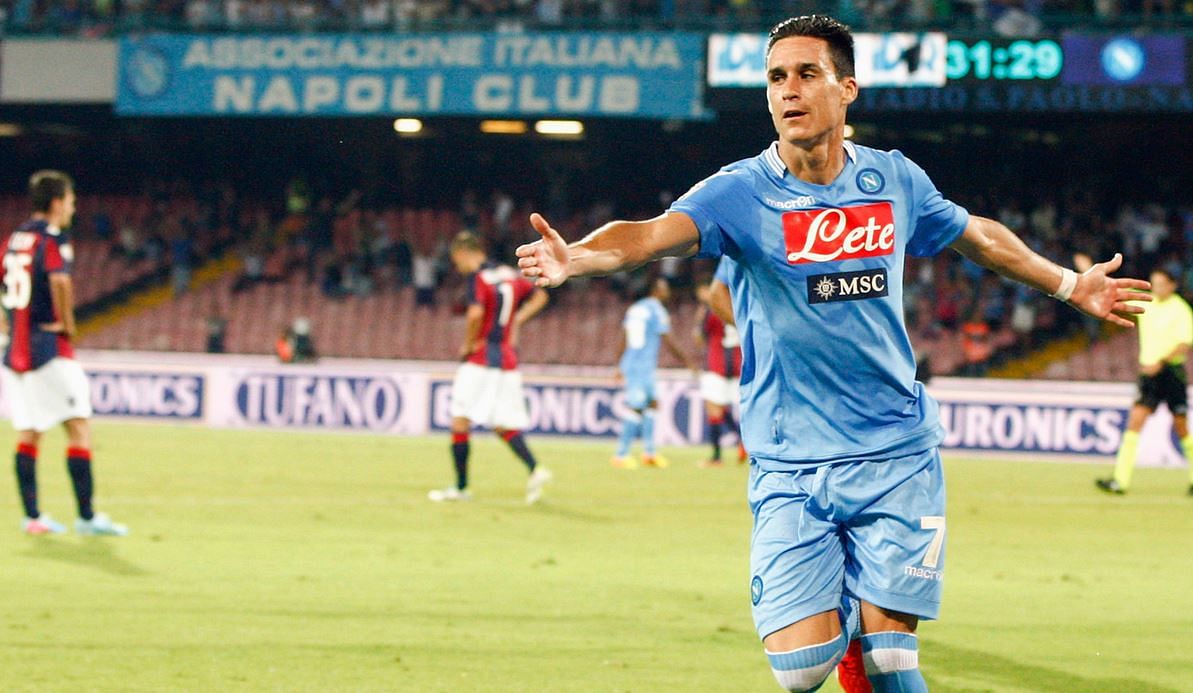 The former Real Madrid forward is reportedly eyed by Jose Mourinho to build his squad for the next season. Callejon has had a rejuvenating season at Napoli after being a substitute player at his previous club. His tally of 15 goals and 6 assists in the league justifies the interest from various clubs. Callejon primarily plays as a supporting striker from the attacking midfield or wide position. Chelsea have enough depth in the trio behind the striker, with players like Hazard, Oscar, Willian, Schurrle and Salah being the current first team attackers while others like Moses, Atsu, Marin etc are loaned.
Callejon is 27 years old, and is in his prime footballing years. He is a direct attacker, so definitely Mourinho won't mind having him in his team. Plus Callejon has impressive defensive work rate, as he has made 57 tackles and 30 interceptions as a winger, which is amazing! This is clearly the type of player Mourinho would like to have in the team, but it would mean some current player in the squad may face the axe.
Let us have a detailed look at how Chelsea would pan out their midfield and attack next season. In attacking midfield, apart from the already existing players, Chelsea would most definitely sell off Marco Marin and if Callejon is really wanted, then even Victor Moses could be on his way out. Secondly, with the arrival of Cesc Fabregas, Mourinho would not mind having players who would work well off the ball as well, in order to relieve the pressure off the central playmaker, thus Callejon ranks better than Salah in this regard but lesser than Willian, but probably as good as Andre Schurrle.
Chelsea like to maintain a pivot in the middle, and play with three attacking midfielders. So going by the most used team last season, Chelsea would like to maintain Oscar, Hazard and Willian as their first choice and use Schurrle, Salah and Callejon as substitutes. But signing a player costing around €16 million (his market value) in Callejon, there won't be a possibility of him being a simple benchwarmer. He would definitely be out there to compete with the likes of Willian and Schurrle for the third attacker's spot. This can result in the immediate loaning out of young speedster Mohamed Salah, who showed a lot of promise after his signing from Basel last January.
Then we have another viewpoint. Callejon is a forward technically, as he is from the breed of the supporting strikers who can venture into midfield. We can compare him to the type of strikers Aguero and Suarez are, but obviously at a lower level. So with Chelsea likely to be going for star target man Diego Costa, and Fernando Torres most likely to stay in Chelsea for the next season as well, it can lead to Callejon competing for a striker's role in Chelsea.
The argument can be well understood from the fact that Chelsea can maintain a balanced squad by harbouring different types of players. In Costa, they would have a strong and clinical target man, in Torres, Chelsea would have a traditional striker ready to pounce on through balls while in Callejon, they would get a striker who would be a better ball player and a better passer, capable of scoring as well as a bit of playmaking, something which Torres is forced to do and Callejon will do naturally. This would obviously mean an end to  Demba Ba's Chelsea career.
These rumours may not hold true, but if Callejon is pursued by Chelsea, either Demba Ba or Mohamed Salah would have to make way for him, the former being sold or the latter being loaned.