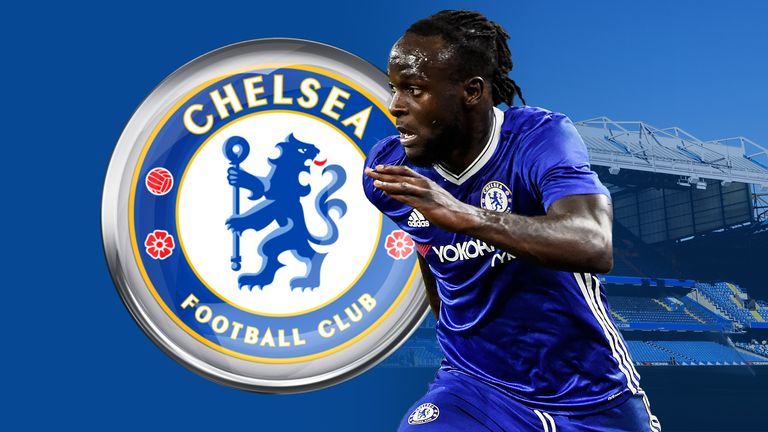 After a disappointing campaign last term, the Blues went in search of solutions by appointing erstwhile Italian national team manager Antonio Conte, as the club's next honcho.
With Conte came Chelsea's rise and resurgence, and of course that of some of the players at his helm. Hazard is scoring goals and surging past defenders with more ease than before, and when Costa isn't scoring goals (10), he is assisting (4), and just about every other player of the starting XI has undergone lots of tremendous changes.
Another standout player who has found his long-lost form and become a far better player that he has even been is the Nigerian international winger Victor Moses.
Now playing as a right wing-back in the 3-4-3 formation, how the 25-year-old has turned to a very important member of the squad when he wasn't even considered worthy enough to be amongst the substitutes few terms ago, is quite marvelling.
The former Wigan Athletic player arrived Stamford Bridge as a 21-year-old bag of potentials in 2012 while Roberto Di Matteo was still in charge. Despite eventually paying £9million for his signature, the club's bids for Moses were earlier rejected 4 times. Chelsea were keen to get their man as they saw what he had.
He scored 10 goals in 43 games across all competitions that Champions League winning season, but it wasn't enough to earn him a place under Mourinho after the Portuguese's arrival for his 2nd stint.
What followed were 3 season-long loans at Liverpool, Stoke and West Ham. The Hammers had an option to make the temporary move a permanent one, but Bilic never saw the need to. He is definitely ruing turning down that option and once-in-a-lifetime opportunity right now.
The November PFA Fans' Premier League Player of the Month has become not just an unlikely star for Chelsea since impressing Conte in pre-season, his breathtaking form has also attracted Barcelona. The Catalans are in dire need of a right-back and have identified Victor Moses as one who perfectly fits the bill.
Only Hazard (4.5) and Willian (3.0) have completed more dribbles per game than Moses (2.7), while he is 3rd behind the Belgian (97) and Costa (65) for most touches made in the opposition box (37). The wing back averages 2 shots per game and has a shot accuracy of 64%.
In 12 Premier League games he has featured in, Moses started 7 , all which Chelsea won. He has created 8 chances, scored 3 goals – including weekend's winner and assisted one. He averages an 80% pass accuracy per game and also contributes 3 defensive actions on an average.
There has been no better full-back and wing-back than the former Chelsea reject since October, and his brilliant displays in November are sure to earn him a nomination, and perhaps a win for the month's PFA Player of the Month Award.
Moses has been a success story thus far and given how great he has been in just 2 months as a wing back, one can only imagine how excellent he will turn out as the season progresses.
Chelsea have definitely discovered the new Cafu in Victor, even though he has been unfulfilling his immense attacking and defensive potentials for the past 4 seasons. Pep has him to worry about come weekend.