Three replacements for James Tarkowski who Burnley can target
Recent reports by the Mirror linking Burnley star James Tarkowski to Liverpool have been rejected by boss Sean Dyche but despite that, there are still worries. The Reds are looking for options to replace Dejan Lovren, with the Croatian star injured for a few weeks.
For Burnley, this could be a potential issue, as the 26-year-old is their main man at the back. It's thus no surprise that Liverpool are after him. But there are a few players who manager Sean Dyche can target given Burnley's lack of funds and that being said, here are three potential options.
Lewis Dunk
The Brighton centre-back has been at his very best this season and been crucial to the Seagulls' success.
Not only has Dunk been a rock at the back, but the 27-year-old has also contributed with goals, scoring 2 in all competitions. While that isn't too much, that combined with his leadership and composure on the ball makes him a great target.
However, given how valuable he might be, there is a slight chance that manager Chris Hughes might refuse to sell him. This might take a rather large offer to convince the Brighton boss to sell one of his best players and if Liverpool do make a move for Tarkowski, then Burnley boss Sean Dyche will have the money to use.
Bruno Martins Indi
The former Porto man joined the Potters last season in a hope to help Stoke City flourish in the Premier League, but that clearly didn't work, with them getting relegated.
However, now in the Championship, Martins Indi's value has fallen and while he has made 24 appearances all season for the Potters, their struggles once again could prove to be Burnley's hope.
The 26-year-old has Premier League experience and given the circumstances, there are chances that he might be open to a move back to the English top-tier. Not to mention, his shift this season has been towards left-back and while the 26-year-old isn't happy with that, he's still managed to perform well, which shows his versatility.
Craig Dawson
West Brom star Craig Dawson is on a roll, with the Englishman in great form for the Championship side. Like Stoke City, the Baggies were also relegated at the end of last season and thus, it makes Dawson a great target for Burnley.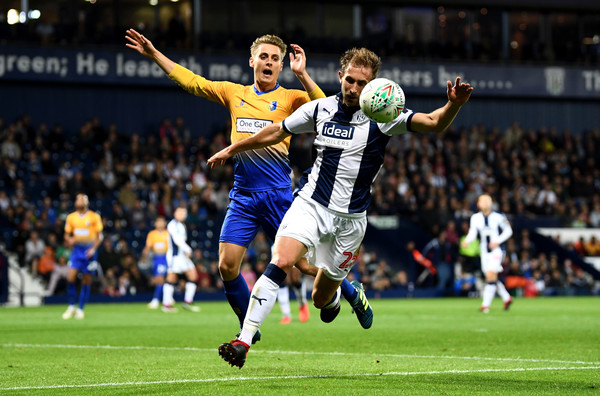 He joined West Brom back in 2013, and has made 153 appearances for them in the Premier League and that itself is huge a reason to buy him.
Read More: Burnley signing this 27-year-old Ligue 1 trickster would be gold and Dyche must get him
You cannot buy experience and hand it out to players but more so, footballers with the kind of experience that Dawson has, will help Burnley. The 28-year-old has fought his fair share of relegation scraps and while his last one was unsuccessful, his experience will be very valuable.