Manchester United's disastrous season has yet to sink in with the world. For a team that has dominated English football in the past 20 years, a sudden downfall was hard to believe. Clearly, the departure of Sir Alex has been the most decisive factor in United's decline.
Sir Alex Ferguson built a team from scratch and achieved what few men could even dream of. Such was his caliber and charisma that he headlined one of the most dominating periods in the history of football, 13 titles in 20 years, describing that with words would be too small. When he left, the void was too big to fill. Make no mistake about it but not even Jose Mourinho could have taken forward the legacy left by Sir Alex, leave alone poor David Moyes. David Moyes' sacking and the eventual announcement of Louis Van Gaal as his successor has all happened in a period of one year. Manchester United were long known for their stability and patience but all of those have gone down the drain.
LVG has a very good record as a manager and is an able candidate to replace David Moyes, if not better. LVG's stints with the top clubs in Europe have been fruitful and there isn't any reason he should do the same with Manchester United.
However, the new manager has to understand that this is a period of decline for Manchester United. The quality of United's squad isn't even comparable to those of their Premier league rivals and a seventh place finish should attest to that. Sir Alex, was such a good manager that he held together an average squad and made them win the Premier League.
To act as a catalyst to their challenge, he bought in Robin Van Persie, a move that was criticized for many reasons but in the end, it turned out to be a masterstroke. What LVG must ensure is that he needs to rebuild the squad, not just add firepower to it. At this stage, buying a player nearing their 30s is going to be of little help to Manchester United and LVG must be clear to avoid that mistake.
With that as the case, our next question comes as to whom LVG should buy. From my point of view, I would say Toni Kroos without any second thoughts. Toni Kroos, is an underrated player who is the quintessential midfielder in Europe.
He is versatile, he can run the game and he makes a difference. Every manager would love to have Kroos in their side. In a nutshell, Kroos is like a Xavi with pace. A year ago, there were possibilities of him coming. But today, all those lie in the trash with Kroos issuing a statement that he wouldn't leave Munich the coming season.
Manchester United's rapid fall from glory has seen them not qualify for European football, something that acts as a motivator for the transfer of any player. Playing in the Champions League is the thing that attracts top players from around the globe and seeing as Manchester United have lost that claim, their expectations from the transfer window hang by a thread.
Despite the fact that Manchester United have been down the pecking order, their hopes could see some light. AS Roma's Kevin Strootman has been heavily linked with Manchester United in the past and the present. According to the Daily Express, Van Gaal has made the Dutchman as his No1 priority and has sanctioned as much as £25 million.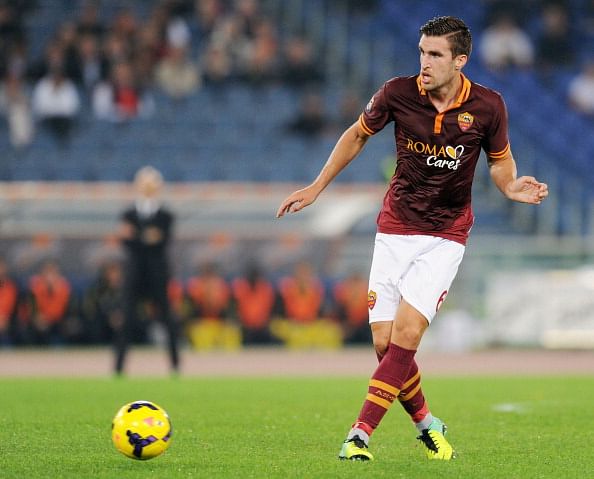 Kevin Strootman, like Kroos is a center midfielder who can be used effectively in a variety of positions. His base position, usually is that of a deep-lying playmaker or a box-to-box midfielder. To be true, not since the days of Roy Keane have Manchester United possessed a proper defensive midfielder.
Strootman fits the bill perfectly as the replacement for Roy Keane. He is tall, has a strong physical presence, has good balance and isn't displaced off the ball easily and possesses good vision going forward. His tackling rate is very good with him averaging 3 successful tackles every match.
Strootman's past record has been very good with him putting in impressive displays for his club and country. Netherland's qualifying campaign for the World Cup was a very satisfying one and Strootman was a vital cog in their team. Although his injury earlier in March ruled him out for the World Cup and the start of the next season, his market value has been high and remains untouched. The possibilities of bringing Strootman to Old Trafford are seemingly high as the Dutchman would play under his current national coach, Louis Van Gaal.
Seeing as LVG is taking over, the backroom staff is expected to be partly filled with Dutch assistants, thus creating a known atmosphere should he arrive at Old Trafford. His selection for the national team pretty much means that he and Robin van Persie would have collaborated and that should act as another reason to perform the move.
However, once again, the Champions League barrier stands in the way. AS Roma have come second in the league and qualified for Europe's elite club competition while Manchester United haven't even made the Europa League. On that front, it would be tough to convince him. However, LVG has long been known for his man-management skills, just like Sir Alex. What he should do is avoid the focus on all the other targets and concentrate entirely on bringing in Kevin Strootman.
Strootman is just 24, which means he has his best years ahead of him while the Premier League would be a new challenge to his abilities. Apart from that, Manchester United's rather degraded midfield is sure to have an opening for Strootman and there would be no problems with him getting game time.
For long United's midfield has been on the edge and Sir Alex made it look good with his excellent man-management skills. He made Tom Cleverly put in a decent shift, Carrick was top-notch, Scholes even returned. He never admitted that the midfield was pretty bad but the time has come to accept the fact on the face of it and there won't be any more of Sir Alex Ferguson at Old Trafford.
A strong signing is essential for Manchester United and seeing as most rumours have a huge roadblock somewhere or the other, Strootman comes down as the most logical and effective choice Manchester United have. LVG must channel all of his effort towards bringing Strootman to Old Trafford and all other signings, should be considered second in line to Strootman's.