The Gunners strolled to a comfortable 5 – 1 win over fellow London club West Ham, on Saturday evening at the Queen Elizabeth Olympic Park.
Goals from Ozil, Sanchez and Oxlade-Chamberlain secured all points for Arsenal, while a consolation goal from the returning Andy Carroll with the scores at 3 – nil couldn't rescue the day for Slaven Bilic's side.
Here are some takeaways from the game.
Arsenal have a title-winning striker in Sanchez
The 28-year-old has been in explosive form in the final third this season, having a hand in 15 goals of all Arsenal's 33 with 11 goals and 4 assists.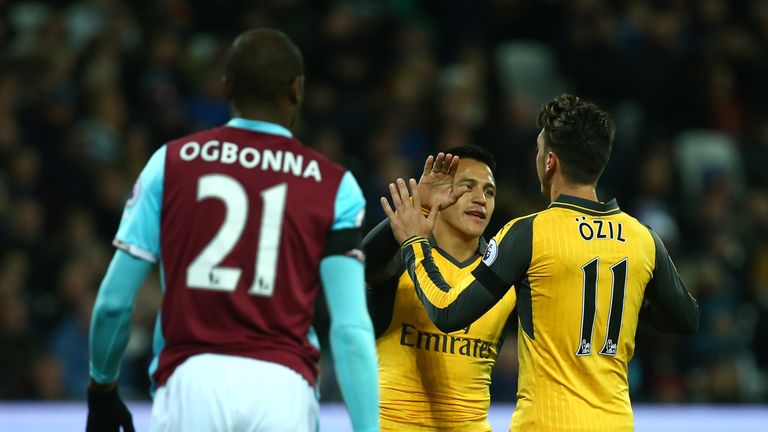 Much has been said in recent seasons regarding the fact that a world class striker is what the Gunners need to mount a solid title challenge. In the Chilean, they have found one.
West Ham's lack of depth is their undoing
Heading into the game, Cresswell, Antonio and Kouyate picked up knocks that ruled them out of action.
Collins could only last 6 minutes before getting withdrawn and having Arbeloa come on as his replacement.
Without those 4, West Ham not only changed formation, they lacked grit at the back and a killer instinct at the front.
Bilic is definitely been left to rue not making the needed recruitments in summer. Will he come winter?
Walcott needs to do more to retain his starting berth
He might have bagged 6 goals and 2 assists this season, but Theo hasn't actually strung top quality and consistent performances together at any point of the season.
Iwobi has been dropped to the bench as a result, and the England international could be next with Ramsey trying hard to prove himself.
Obiang is one of Hammers' bright spot
It might have been a very poor campaign thus far for the Hammers, but the former Spain youth international has proved a bright light in such gloomy times.
It shouldn't be surprising if suitors come lining up this winter or come summer. Pedro put in a great display in the middle for the Hammers, but it wasn't enough.
Ozil needs to be consistent
The German was awfully quiet for a large portion of the game, and it's not the first or second time that has happened in the Premier League this season too.
It's his inconsistency that some disregard the world-class claims a lot bestow on him. Arsenal can do with his consistency as the title race gets tougher.
Payet isn't motivated anymore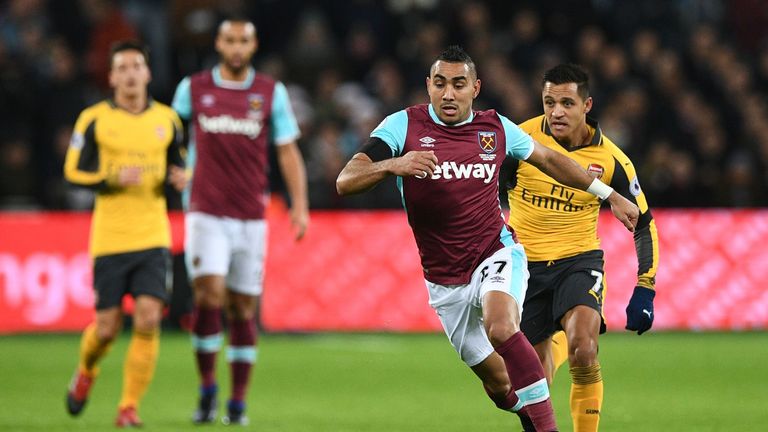 While his trademark free kick struck the bar, the France international didn't do anything much for much of the day, as he continually lost possession and couldn't be consistent all game.
Seeing his remaining with the Hammers further than next season will be surprising, as he just doesn't seem to have the zeal to give his best. He has restrained from doing that of recent.
Xhaka could fill Cazorla's void
With the influential Spaniard set to miss action for the next 3 to 4 months, and Arsene Wenger is not keen on doing business in winter, just maybe the Swiss player can step into Cazorla's role.
The midfielder put in a solid show against West Ham on Saturday and looks to be finally at home with England football.
West Ham miss Carroll
The striker came on to make his first appearance in over 4 months and immediately made his presence felt with a goal.
He has now scored 4 times in his most recent 2 outings against the Gunners, and how the Hammers miss their darling goal poacher!
Arsenal have a chance to win the title
The Gunners have always had a chance to win the title almost every other season for the past 2 decades, but this season looks different.
For the first time in a long while, Arsenal went through November unscathed, losing no game and recording no campaign-threatening injuries as the norm has always been.
And they have started that time of the year where fixtures break them down on a very solid note.
These signs are good.
West Ham can get relegated
If Hull City manage to get a win against Middlesbrough on Monday night, the Hammers will drop down to 18th position in the league.
They have always flirted with the relegation zones since matchday 5 when they spent the next 3 games on 18th.
Could they be returning to the Championship at the end of the season?