Arsenal's match against Barcelona is currently the talks of town and as such we have many different opinions coming about as to who may be the victors.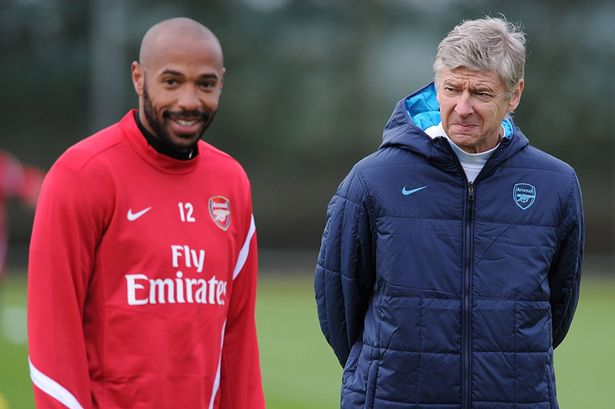 Thierry Henry is one of the few players who had a successful spell in both Arsenal and Barcelona and he knows whom he will be supporting between the two giants.
Henry who himself is an avid Arsenal fan believes that Wenger's squad can beat Barcelona, however according to Henry this involves keeping Leo Messi, Neymar and Luis Suarez at bay and finding a safe ground for themselves.
He said,
"You can't try to man mark Leo and you can't put two or three defenders on him because that just leaves more room for Suarez, Neymar, [Andres] Iniesta and [Arda] Turan to rip you apart. You have to stop Barcelona as a team. And for that to become possible, you need to have a perfect day and get very lucky.
"They have to accept they will probably only have 30 per cent possession and must be so efficient when they do get the ball. They need everyone to put a shift in. The whole team must defend more as a unit and the wingers must tuck in and play more in their own half.

"You very rarely get the chance to play against Barcelona so you must be prepared to sacrifice parts of your attacking game, home and away. Arsenal must be brave on the ball. They need to stay compact, play on the counter and score every time they get in their penalty area.

"They can't be exposed in the middle and must force Barcelona to run back 60 yards before they get the ball. If you allow them to stay in your half for wave after wave, it becomes almost impossible to defend.

"They must make sure this tie is still alive when they go to the Nou Camp for the second leg next month, so even a 0-0 draw would be a reasonable result."
Luis Enrique's team has a strong footing and as such Arsenal needs to be compact and play a brave game to at least reach a draw against the Catalonian giants.
While Arsenal's home game against Barcelona saw the Gunner's become the victors, however they will still be playing against worlds three best attacking players in the world.