Its been a busy summer for Liverpool and Brendan Rodgers so far. The Merseyside is continuing to work on transfers, after having evidently taken a lesson from last time around. The Reds have already made a deal for Kolo Toure and Celta Vigo star Aspas. As per reports, they have also acquired Sunderland goalkeeper Simon Mignolet as a replacement of Pepe Reina, who may be heading out of Anfield. They are also pressing hard for the signature of Shakhtar Donetsk midfielder Henrikh Mkhitaryan and should make visible progress on that by early next week.
But now they should be pulling up their socks to conduct some business in the reverse direction. Liverpool's star striker Luis Suarez is maintaining his unhappiness with the state of life in England and every other day is making it clear in front of the media that he wishes to move to Real Madrid in the coming season. As of now, it seems that it is just a matter of time before the Uruguayan successfully overcomes any sort of resistance from the club to keep him and shifts out of England in search of a new life, out of the negative media attention that has arguably hampered his life. (Does he think the Spanish media will be keep numb when he bites someone there?)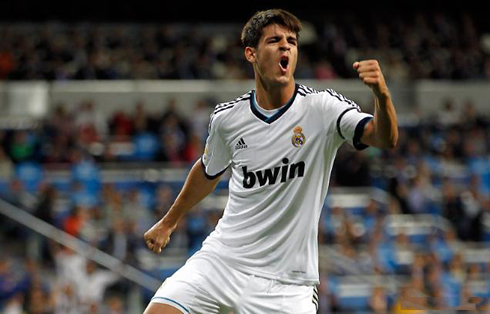 Now, if Suarez finally moves to Madrid, it is no point for Liverpool to sulk over this matter and instead find a suitable replacement for him, a replacement that can have the effect, even if it is partially, that Suarez had on the club. And Liverpool may not have to look very far to find an apt player to fill in Suarez's boots with Real Madrid youngster Alvaro Morata proving himself to be equally capable.
 It would be easy for Liverpool to get hold of the 20-year old striker as Real could agree to a deal involving player plus cash. With any other team, Real would not have wanted to part ways with the talented player, but if the deal involves Suarez, Real may ultimately oblige and the player has also stated that he may leave The Bernabéu if Madrid sign another striker which will ultimately hamper his progress.
Morata has also impressed everyone with his performance for the Real Madrid youth side, where he has accumulated 11 goals in 12 matches in an impressive run of form. He has also played 14 league matches for the senior team this far and has earned many admirers.
Although it may take some time for Morata to make an impact in the Premier League considering his age, he has the potential to eventually turn into a match winner and Liverpool will hugely benefit from his transfer. Probably not the best of signings considering Suarez's calibre, but Liverpool have no other option. The situation more or less matches with Arsenal's trouble over the past couple of seasons. If Suarez leaves, the likes of Aspas, Mkhitaryan, Coutinho and Morata can join hands to fill in the void.