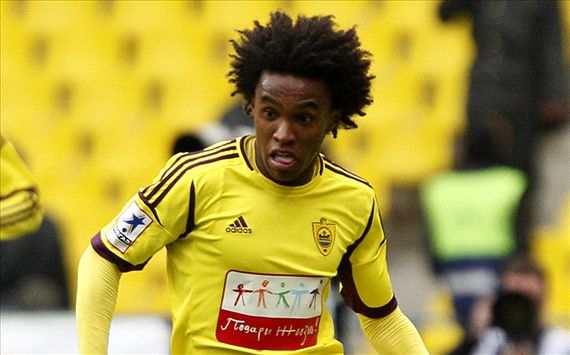 Chelsea football club announced the purchase of Brazilian winger Willian Borges Da Silva in a dramatic turn of events. As many would know, Willian was first reported to be the primary transfer target of Liverpool. Shortly after, their interest was curtailed by the Tottenham who outbid the Merseyside club. Now, in a shock move, Roman Abramovich and Jose Mourinho have hijacked Willian, even after they had already conducted the player's medical check-up.
Looking at Willian, we see a player in the mould of Hazard or Juan Mata. Willian is a modern day creative winger, able to play equally well on the flanks while doing the most damage in the center with incisive dribbling and creative passing. For Shakhtar Donesk, Willian was arguably the side's main creative outlet from the left, often combining well with his teammates to devastating effect. Chelsea would be the first to testify to the Brazilian's talent, having been on the end of losses to the Ukrainian Side in the Champions league.
However, Chelsea fans may feel confused by the sudden change in events. After all, Chelsea currently boasts a strong squad with adequate cover in all positions. On left midfield, which Willian plays primarily, Chelsea already has Andre Schurrle and Eden Hazard. The options do not get better in the right wing(Moses or Mata) or in center attacking midfield (Oscar and Kevin De Bruyne).
Furthermore, Willian arrives from Anzhi Makhackhala on the back of what many would agree to be a bad move. Injured in his first match for the club, Willian remained on the side lines until financial troubles forced Anzhi Makhackhala to list a majority of their first team players for sale. Hence, Chelsea have bought a player who may be far off from the scintillating form he produced for Shakhtar, one that prompted Chelsea to bid for him last year.
Looking at this move in further detail, it could be concluded that Willian purchase was one to prevent his acquisition by other competing clubs. It is undeniable that Willian will be a more crucial signing for either Tottenham or Liverpool. Both clubs lack depth in left midfield and Willian's quality will reinvigorate both squads who have seem overly reliant on a few key players. Willian's signing in this instance is shrewd in the fact that they have lessened the threat of both of their key rivals. However, it is hard to imagine Chelsea forking 30 million pounds alone just for such a banal strategy. The significant sum spent alone on his transfer fee justifies that the 25 year old Brazilian is definitely in Mourinho's plans.
How so? From a tactical stand point, Willian is a right footed left winger who can play on both sides of the midfield attacking trio which Mourinho has used for a majority of their games so far. While Willian's favoured side is on the left, Hazard's performances on that flank make it unlikely that Willian will make that position his own. What's left then would be either a punt at right midfield or in center midfield.
Looking at Chelsea's quality in right midfield, Willian represents a different option to Victor Moses, the side's only out and out right winger. Since joining the club last season, Moses has shown himself to be a winger in a different mould to the current players in the attacking midfield. Instead of tricks flicks and fancy passes, Moses play style is all about directness with the ball. That play style at times sees him play on a different wavelength to his teammates; a detriment to the Chelsea's reliance on a fluid counter attack.
Looking at another angle, it can be seen that Mourinho prefers right footed wingers playing on the right wing. In the first few games of the season, we have seen Schurrle (right footed) coming in not as a substitution of Hazard, but for the right winger playing on the day itself (Oscar or Mata). Hence from a team shape point of view, utilizing a right footed winger maintains Chelsea's width in attack which is a stark difference to their left sided attack, which sees Hazard move more in field to play link up with the striker of attacking midfielder. Hence a move for right footed Willian provides Mourinho with a player who is arguably more versatile than Andre Schurrle or Victor Moses.
However, Willian's signing has also been recognized by some as the end of Juan Mata's time at Stamford Bridge.
In preseason, the future of Juan Mata, arguably the club's best player for the past 2 seasons has been called into doubt. While Mourinho has assured Mata of a place in the team, competition for Mata's center attacking midfield role is heavily contested by Oscar and Kevin De Bruyne. Those two players have seen more action than the Spaniard in recent games and it seems more likely that Mata will revert back to a role on the right wing, one which he played initially under Andre Villas Boas when he first arrived from Valencia. Back then, I lack of creative outlets in center midfield saw Mata shifted into the center where he could utilize his impressive passing ability. However, now that the club has strengthened sufficiently, it might be true that Mourinho feels that Mata is not the best option as the clubs main creative player. Reasons for such a conclusion vary. (My pick would be because he feels that Kevin De Bruyne forms a better understanding with Chelsea's Belgian teammates Lukaku and Hazard.)
Nevertheless, it would definitely be folly for Chelsea to cast Mata aside. Hence this begets the question, could a move for Willian be a precaution in an event that Mata moves to a different club? After all, it is no secret that the Spaniard has many admirers.
In conclusion, while it may yet be premature to discover the reasons for Willian's signing. The general consensus is clear; his arrival has put the futures of many of the clubs current players in a huge cloud of confusion. While Willian may add a further competitive edge to the club's crop of already talented players, it is without a doubt that at least another player will see his chances fade away.
What do you think Chelsea's move for Willian represents? Share your thoughts in the comments section below.