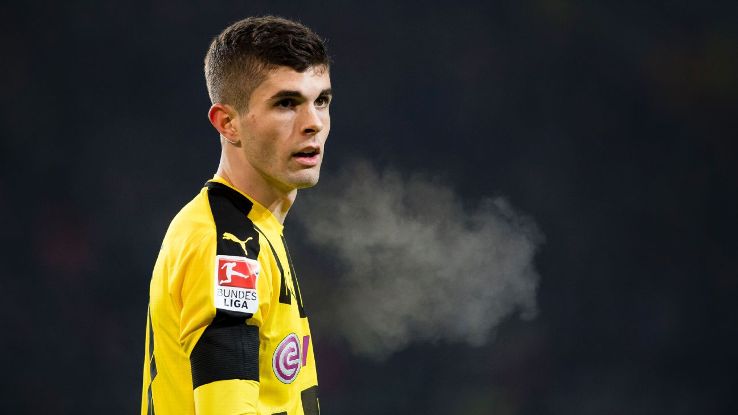 Christian Pulisic vs Willian stats – Should Chelsea really go for the Borussia Dortmund sensation?
The transfer window has become a highly unpredictable phase with teams constantly looking to pip each other to land the best players in the business. Last month, we saw Manchester United make an audacious swoop to sign Alexis Sanchez right from under Manchester City's nose and while that was quite dramatic, the upcoming summer window already seems like it will be a lot more intense. Until now, Christian Pulisic was quite a top target for Premier League bigwigs such as Manchester United and Liverpool.
However, if reports are to be believed, Chelsea have also entered the playing field and are gunning for a deal for the €100m-rated teenage sensation. Since Michy Batshuayi is already serving a loan spell with the German giants, the Blues are trying to sign the USA star on a swap deal of sorts. Although Pulisic is quite versatile, he primarily plays on the right-wing for Dortmund and that position has been occupied by Willian for Chelsea, who has performed quite well this season.
Since they already have Willian and Pedro for that role, does it make sense for Chelsea to purchase Pulisic as well? Let's have a look at their stats.
Willian vs Christian Pulisic
In 40 appearances across competitions for Chelsea this season, Willian has scored 11 goals and provided 7 assists. He averages 1.4 shots per game and his pass success-rate stands at a modest 78.6%. In the Premier League alone, Willian has created a whopping 42 chances in 26 games and has a shot accuracy of 63%. On an average, the player completes about 1.5 key passes and 1.8 dribbles per game.
Pulisic, on the other hand, has appeared 29 times across competitions for Dortmund so far. He has scored 4 goals and provided 3 assists while averaging 1.4 shots per game. His pass success-rate stands at 81.4% and Pulisic has appeared 20 times in the Bundesliga this term, during which he has created 21 chances. His shot accuracy stands at 50% and the young star completes 1.2 key passes 3.1 dribbles per game on an average.
Verdict
As one can see, Willian's stats are far more superior to that of Pulisic's. For a player in that position, the number of goals, assists and chances created matter a lot and in all those aspects, the Brazilian's numbers outweigh the 19-year-old's. That said, Pulisic is quite young and has a long way to go before he reaches his true potential. He certainly does not lack talent and he could prove to be a decent buy but he is definitely not a player Chelsea desperately need right now.