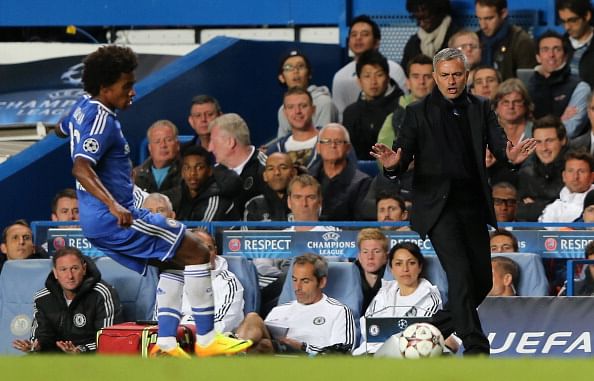 When Chelsea snatched Willian from the clutches of Tottenham Hotspur in the summer transfer window, pundits and fans alike believed it was a move to weaken Tottenham rather than strengthen Chelsea.
The former Anzhi Makhachkala winger seemed destined for a move to White Hart Lane, but as Daniel Levy wrangled over every penny, Chelsea owner Roman Abramovich made a personal call to Anzhi's owner Suleyman Kerimov to offer £32 million up front and bring the big-haired Brazilian to Stamford Bridge.
At the start of the season, it seemed like Chelsea had bought Willian for the purpose of scorning their rivals, as the 25-year-old was seemingly consigned to substitute appearances and the odd start in the League Cup, much like Juan Mata.
But since November, Willian has blossomed, integrating himself into the Chelsea starting line-up while Mata was left to kick his heels on the bench and seek pastures new, and eventually swapped Stamford Bridge for Old Trafford in January.
Chelsea's no.22 turned in another effervescent and impressive performance against Manchester City at the Etihad on Monday, and along with Hazard was an excellent outlet for Mourinho's side, retaining possession superbly and starting counterattacks rapidly, whilst also sticking to his defensive duties that Mourinho craves from all his players.
Did Willian's form and manner in which he plays give Mourinho all the evidence he needed to send Mata packing?
The two are different types of players with different attributes, Willian is a pacy, hardworking, skilful winger, whereas Mata is dangerous no.10, capable of defence splitting passes and excellent set-pieces.
The 25-year-old Spaniard had been Chelsea's best player since he signed from Valencia in the summer of 2011, and was voted the player of the year at Stamford Bridge in his two full seasons at the club.
But with the arrival of Jose Mourinho, Mata found himself below the pecking order, with his lack of defensive work-rate being the primary reason for his limited game-time under the Portuguese maestro, it's also how Willian got the chance to stake his claim in the starting line-up.
The former Anzhi winger isn't in the side just for his defensive contribution, he is 2nd to Eden Hazard with regards to the amount of assists he has made, and he suits Mourinho's system like a glove, especially away from home in the big games where Chelsea tend to play on the counter.
The Brazil star has pace to burn unlike Mata, and can get the Blues up the pitch in a matter of seconds, this was evident against Arsenal and Manchester City, as him and Hazard were instrumental in all of Chelsea's attacking, retaining the ball and using it wisely.
Mata tends to always look for the killer ball, but while that mentality can work to devastating effect, more often than not it would slow down a counter-attack, which was the source of Chelsea's goal in the clash with fellow title contenders Manchester City.
Willian also gives Chelsea a more balanced attack, as he is a natural winger and can use his pace to go past a man and deliver crosses into the box, while if Mata plays, it would mean him or Oscar would have to play on the wing when they both prefer to play in the hole.
This would lead to Mata/Oscar wanting to cut inside, giving Chelsea less of a threat on the wing and making the Blues more susceptible to an attack down the side.
Mourinho wants players to get stuck in and fight for the team, and while Willian averages 1.6 tackles a game, and 0.6 interceptions, Mata only averages one tackle a game, and only 0.2 interceptions, something that counted against the Spaniard as he tried to win his place back into the Chelsea side.
There is no denying that Juan Mata is an extraordinary talent who could waltz his way into many top European outfits, but the way Willian has fitted into Mourinho's system simply gave Mata no regular place in Chelsea's starting XI.