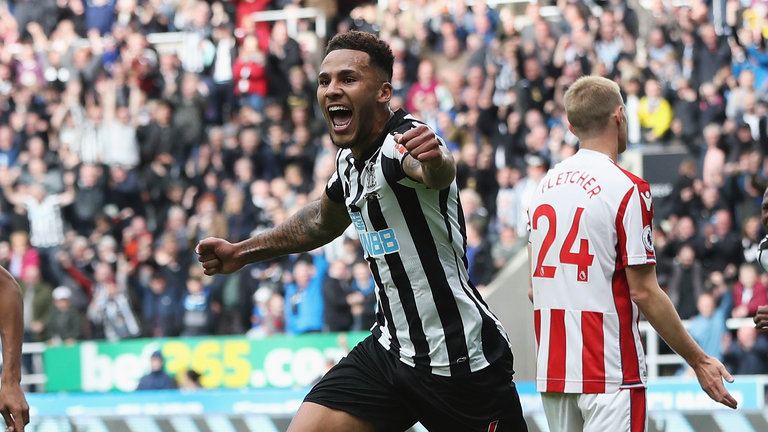 Why Newcastle Captain Jamaal Lascelles Would Be A Great Signing For Everton
With clubs already thinking about their summer transfer policies, the weekend brought rumours of Everton being interested in a move for Newcastle United captain Jamaal Lascelles.
The ever-improving centre-back is attracting the attention of many a top manager, though it remains to be seen whether or not that includes England boss Gareth Southgate, as the player is standing out as arguably belonging to the top six of the league.
Arsenal, Chelsea and Liverpool have all been credited with an interest in the former Nottingham Forest man, with the Blues' interest, in fact, being a long-standing one. Now, Everton are the latest club to join in the hunt.
Arsenal, in fact, have been watching Lascelles since he was a youth team player but did not make their move when he became available. Newcastle signed him at that point from Forest, along with goalkeeper Karl Darlow. With interest in Lascelles from Premier League clubs, Newcastle needed to act smartly to offer him a new deal and did so by handing him a six-year contract.
Lascelles' overall profile is one of a continually improving player and he is definitely the type who has the mental and physical capabilities to captain an English club to trophies. So there's little doubt that he'd be a great signing if Everton prise him away from Tyneside.
If I were an Everton fan though, I wouldn't get my hopes up. Lascelles is loving life on Tyneside and has taken the club, the city and the people right to his heart. In return, the fans have lauded him with a giant flag standing right next to Rafa Benitez's one in the Gallowgate end, displayed before home games, and it seems like Lascelles will be in the side as captain as long as Rafa is in charge.
The only issue for Newcastle fans and the Newcastle manager to worry about is money. Lascelles is already better than many a player earning £100,000+ at some of the clubs and so at some point, I'm sure either he or his agent will look to put pressure on the club when it comes to his wages.
That said, his current remuneration was only agreed to last summer and so in theory, he was willing to commit the best years of his career to St. James' Park on that sort of wage. So I am sure he wouldn't be in too much of a hurry to leave.
Had Everton been an established European side, things might be different but for now, any move for their top target may end in disappointment.