Kinnear's runaway gaffe train may be entertaining, but his return to the club may have more serious implications.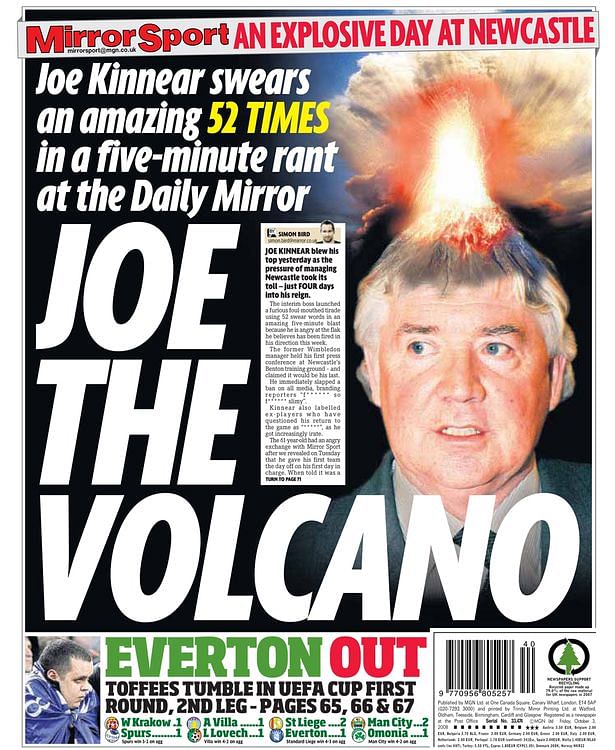 Joe Kinnear's appointment as Newcastle's director of football has been the running joke of the summer, but the club's supporters will not be among those laughing and with good reason. To be successful in football in the North East, you have to start by understanding what football means to people who live there.
Calling Newcastle supporters passionate would be like the NSA calling Edward Snowden a 'bit of a nuisance'. Football is a religion in that place, in the truest sense of the word. It's embedded in the DNA of its population. Anyone who considers themselves local will know that not liking football isn't really a concept that exists and even if you are of that persuasion, you'll still be surrounded and infected by the game as long as you're a native.
Kinnear isn't the first to not get it. When Ruud Gullit took over from Kenny Dalglish in 1998, he famously swaggered into his first press conference promising 'sexy football'. But the reality was that Gullit had absolutely no clue what he was getting himself into and when he fell out with local heroes Robert Lee and Alan Shearer and then dropped the latter for a game against Sunderland his career at Newcastle was killed stone dead.
The reality is that Mike Ashley and Kinnear are deluded if they think antagonising the most die-hard supporters in the English game will not affect performances on the pitch. Ashley may be an unpleasant man but he is not a stupid one; he would have been perfectly aware that the appointment of someone who won just four of his 18 games as manager would raise the ire of supporters. But as a successful businessman, he's used to not caring what people think if he thinks he has a formula for success, whatever that may be.
The problem is that Kinnear's arrival is a hand grenade dropped into the middle of St James's Park. If results go south, the virus will spread from the boardroom, to Kinnear's office, to Alan Pardew's office and into the changing room. Players will become disillusioned and even with Kinnear's self-proclaimed genius at recruiting world-class talent, any agent worth his salt will discourage his clients from signing for such a toxic club.
The most confusing thing about the appointment is that the Premiership will be as wide open this season as it has ever been. Both Manchester United and Manchester City could be vulnerable with such seismic changes to their personnel. Whilst no one is suggesting Newcastle could have been title contenders, a smart, experienced appointment as director of football, made with the consultation of Alan Pardew, could have stabilised the club enough for them to be at their most unified for the season's start and at least trouble the top four.
Instead, Newcastle will begin the season in reverse, as the butt of every joke, and all the attention will be on Kinnear and his runaway gaffe train. If Pardew resigns, God help the man brave enough to step into the breach.