Why losing Ozil and Sanchez to the Manchester clubs could be detrimental to Arsenal's success
In recent times, Arsenal have found themselves dumbfounded as their two best players, Alexis Sanchez and Mesut Ozil are vying for departure either in the summer or in this transfer window itself. That is a huge disappointment for Arsene Wenger as it's a case of Déjà vu for him. Many players have deserted him in the same fashion in the past.
The French manager doesn't seem to have learnt the lessons from the past as the same ghosts seem to haunt him yet again. Ozil and Sanchez were meant to turn the club into title-challengers, but it's the complete opposite of that as the club find themselves in 6th spot, a far-cry of 23 points from leaders Manchester City and 5 points away from 4th placed Liverpool.
What's worse is that both players, who earn a combined £280,000-a-week, are being linked with moves to Manchester United and Manchester City. In the past, Wenger has lost big players like Robin Van Persie and Samir Nasri to these clubs, weakening his squad to a large extent. It must be noted that they were in a position to challenge for the title before these two stalwarts left the club. But after they left, the club had to settle for the Champions League places.
The same could happen now, but what's worse is that they might slip away from the Europa League spots too. This could be hugely detrimental to Arsene Wenger's managerial career and could also derail the club's plans to get back into the Champions League, a competition they find themselves missing from after a continuous perennial presence for almost two decades. This has led to a huge fall in stock for Arsenal and unfortunately, they have become a laughing stock for the fans of opposition clubs.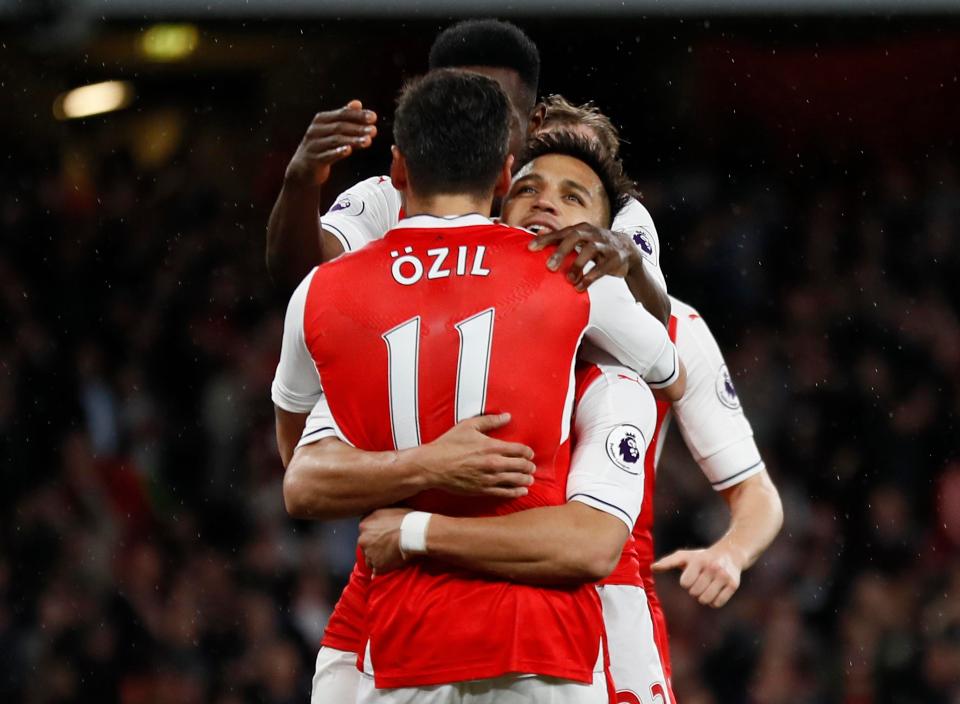 Their contract situations should have been dealt with long back, so as to avoid the complications the club faces today. It is said that Ozil and Sanchez had agreed to extend their contracts, but after the dismal 10-2 (agg.) demolition at the hands of European bogey-team Bayern Munich, they decided against it as they deemed themselves much more worthy. They cannot be blamed as Arsenal have time and again failed to deliver what is expected of them and to a large extent, the board and the manager must take responsibility for this.
For instance, their failure to spend in the transfer market. Only this season did they break their transfer record to sign Alexandre Lacazette, who was meant to share the goal-scoring burden with the afore-mentioned attackers. At times this season, the triumvirate of attackers have combined successfully to give their team success. But such moments have come few and far between mainly due to the uncertainty of the futures of Alexis and Ozil.
Selling these two pivots to rival clubs would not only weaken Arsenal's squad, but it would also strengthen the rivals to a very large extent, who are in 1st and 2nd place. It's highly likely that Arsenal will look to move them both in this transfer window itself, as they would not be liable to get any kind of transfer fees in the summer.
Arsene Wenger should look to dip into the transfer market to bring in replacements for his players. Replacing them will certainly not be an easy task as players of this pedigree are of a rare breed. The flair of Alexis and the intricacy of Ozil will be missed but Arsene should look to re-capture the essence of the two players and bring in someone with substantial experience and potential in order to complement the likes of Lacazette, Welbeck, Wilshere and Ramsey.