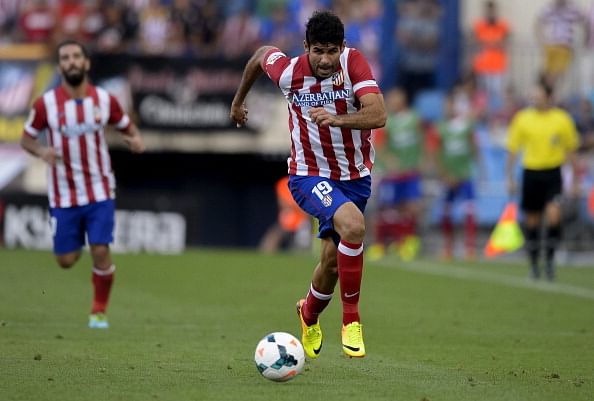 It is all but confirmed that Diego Costa will be joining Chelsea for a £32m deal in the summer in order to boost the striking department in Stamford Bridge. While it looks all set for Chelsea to be a top scoring team once again, there are a few things that they would need to do in order to make Costa tick.
We all know, that now Chelsea actually need someone to be a lethal and confident finisher. Diego Costa is definitely one of such strikers. Costa has decent pace coupled with great aggression and remarkable upper body strength, something that makes his style similar to Drogba. Despite being relatively tall, Costa is more of the clinical shooter who would run all day long to find space and shoot whenever he can.
Costa has an appetite for the game. He is a typical Mourinho striker and having worked under a similar manager in Diego Simeone, Costa would be well known to the hardships of working hard on the pitch. It is a given that every professional football must work hard on the pitch, but not everyone has the ability or the physicality to maintain their fitness after giving their 100% in a game. Costa has been injured a few times this season, more because of Atletico not resting him and allowing him time to recuperate from his injuries, else he has been really fit to play about 50 games and score 36 goals.
Costa must be made the central force of the attack with Eden Hazard the usual provider. It has always been the case with Mourinho, as he has a talented attacking midfielder (Oscar), a superstar winger (Eden Hazard) and a clinical finisher (Diego Costa). With these three players in the team, Jose Mourinho should look forward to get the best out of Chelsea for the upcoming season.
Mourinho would be well expected to bring in a well-established central midfielder in order to compensate the releasing of Frank Lampard, who would play alongside Nemanja Matic and help feed Costa and Hazard with attacking deliveries. There have been rumours about Cesc Fabregas being a Chelsea target, but nothing has been confirmed from any club as nothing looks sore, but a playmaker sitting deep, who can help players like Hazard, Oscar and Costa to click. Players like Willian, Schurrle and Salah will be expected to widen the play up and help Costa with some good deliveries in scoring positions.
There have been many complaints about Chelsea players, especially Brazilians Willian and Oscar not passing to Torres or Ba or Eto'o. But that is probably how Mourinho wanted it to be, as a cover up plan, so that Eden Hazard can be unleashed. But with Costa it would be different as they can expect Costato be confident and aggressive to hold on to possession. Costa also demands passes, so here we have a natural central figure who won't mind bullying team-mates into being more direct!
Finally, the verdict would be that Chelsea's new buy would be one of the hottest strikers for the next season as Jose Mourinho will start playing his usual direct attacking football with Costa at the eye of the storm surrounded by Hazard, Oscar and Willian and a deep lying play-maker.