Why Real Madrid should make a move for Ajax's Donny van de Beek
According to Dutch daily De Telegraaf (h/t AS English), Ajax midfielder Donny van de Beek is waiting for a call from Real Madrid.
Van de Beek, who was contacted by Jose Mourinho's Tottenham, turned down a January move to the Premier League side with the hopes that Real Madrid would once again reignite their interest this summer.
Back in August, Van de Beek had publicly spoken about the Spanish giants' interest in him.
The midfielder, who had an impressive 2018-19 season with the Dutch champions, scoring 17 goals and providing 13 assists, had earlier confirmed that Madrid had contacted him over a possible deal during the transfer window.  
However, the deal never materialized and the midfielder chose to stay with the Eredivisie champions until the end of 2019-20 campaign.
Meanwhile, Madrid have every reason to contact the midfielder as they are not somebody new to the Dutchman. The La Liga giants felt the wrath of Van de Beek and his associates in the Champions League last season when they knocked them out of the competition in the round of 16.
Defending champions Madrid were thrashed 5-3 on aggregate by a young Ajax side which included the likes of Van de Beek, Matthijs de Ligt and Frenkie de Jong. Van de Beek has continued his excellent form from last season, scoring 7 goals and assisting 5 times in all competitions this season so far.
Meanwhile, Real Madrid are in a state of transition after the humiliating defeat to Ajax last season, with manager Zinedine Zidane focused on bringing some changes to rebuild the squad by replacing the old guards.
The season has already seen veteran star Luka Modric (34 years) playing second fiddle to new rising sensation Federico Valverde in the middle. The Uruguayan has evolved into an inevitable presence in the Madrid midfield alongside Toni Kroos and Casemiro.
The midfield has been ticking well so far for the Los Blancos with the side currently placed 2nd in the La Liga table with 10 wins from an overall 15 league games. Also, they have lost just once this season.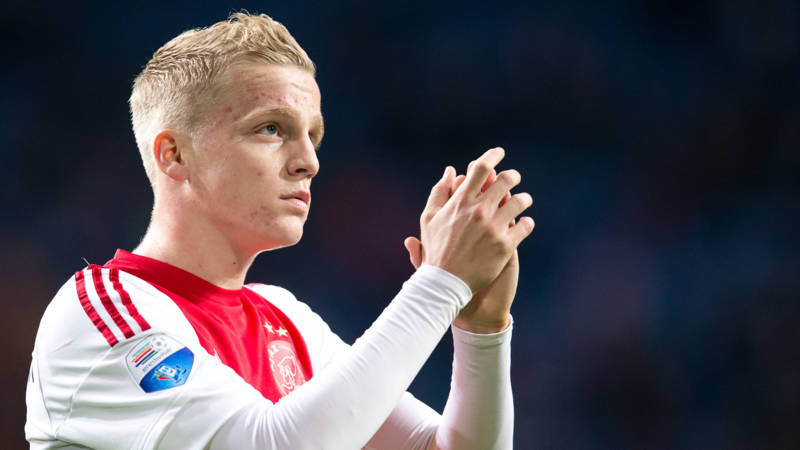 Read more:
However, Kroos is 29 now and has attracted interest from other clubs such as Manchester United. Hence, it would be a wise decision if Real could land the highly talented Van de Beek this summer.
Verdict
Van de Beek is a proven customer already, with the Spanish side getting to know the first-hand experience of his potential after being beaten by his Ajax side last year.
Moreover, with Modric not as sharp as he used to be and showing signs of ageing, landing the Dutch midfield dynamo would be a suitable future replacement for the Croatian.