Once upon a time, a young talented footballer was signed by Sir Alex Ferguson learned to call the Old Trafford fortress his home. The young lad was full of talent and many predicted that he will go on to achieve greatness. But the young lad, not content to rely on his talent alone trained to become a more complete and better player. The legend say that he stayed after practice to train. So committed was he to improving himself that he was always the first to arrive and leave team training sessions. In time, he became one of the best player in the world and led the Red Devils of Manchester United to victory and beyond.
I am willing to bet most readers assumed the above story was about Cristiano Ronaldo, after all his name is in the title of this article. I will concede that the story is vague enough to apply to Ronaldo but I was referring to another United legend, David Beckham. Many football fans are familiar with stories of how he used to stay after practice to improve his free-kick technique and skill. His hard work and professionalism has seen him play for the likes of Real, United and AC Milan. His time at the L.A. Galaxy helped raise the profile of the MLS and after his retirement, he is now contemplating club ownership in the MLS.
The success story of Beckham is one that proves that with hard work, a player can elevate his game. The added incentive for players in addition to becoming better, was the increased adulation they receive from fans who appreciate players who show that drive to peruse success. Football has always appreciated hardworking players like the aforementioned Beckham. Ronaldo is perhaps the only high-profile footballer who despite his hard work, is treated as if the strength and skill he now displays on a weekly basis in La Liga are just a manifestation of his individual talent. There is almost a reluctance to recognize the hours of personal training he put into becoming a stronger and a better football player.
Hopefully, this article is more than a fluff piece on why we should respect Ronaldo's performances over the last couple of years or why he can stake a legitimate claim to being the best footballer on the planet. The goal of the article is to explore why Rolando just can't catch a break in the footballing world. The mention of Ronaldo invites comparisons with Messi and this writer aims to argue that has resulted in an under-appreciation of the talent that is Ronaldo.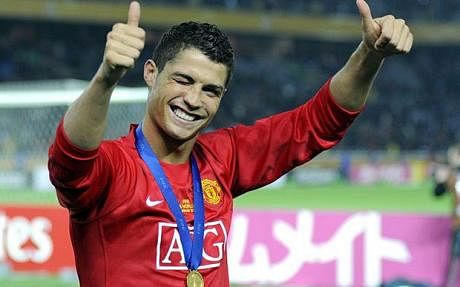 Born in Funchai, Madeira in Portugal, Ronaldo joined the Portuguese youth side Andorinha in 1993 and moved on to Nacional in 1995. He made his first major move in 1997 when he joined Sporting CP where he made 25 appearances for the club. According to reports, the United squad were so impressed by Ronaldo when Sporting CP beat them 3-1 in Lisbon that they urged their manager to sign him up. Ferguson scouted him and he joined United in the summer of 2003. He made his debut as a 60thminute substitute during United's 4-0 win against Bolton Wanderers.
He scored his first goal for the club with a free-kick as the team went on to beat Portsmouth 3-0 on November 1, 2003 and the as rest they say is history. [Mention his goal stats whiles at United and now at Madrid]. How that is a player who with his talent and commitment to making himself  as one of the best players on the planet is hardly accorded the respect for his phenomenal performances over the years is appalling. Recently, the FIFA president's recent statements invited comparisons between Lionel Messi and Ronaldo when he suggested the former was every parent's dream child.
What is insightful about Blatter's comment is not that he deemed it an appropriate public statement but rather it seems to sum up how Ronaldo has been treated over the years. The matter is never treated as subjective and Messi is assumed to be the more naturally talented and thus better player. Ronaldo's attributes, his speed, his heading ability and free-kicks are looked down upon just because his detractors view them as learned skills and as such, inferior when compared with Messi's natural finishing or low center of gravity.
Never mind that the results from both players are eerily similar. As stated earlier, I will not be arguing who is the more talented player or which player's performance is more significant based on the level of quality of their respective teams that has been done numerous. For the remainder of this article, we will explore the reasons Ronaldo is not given his due.
Christiano Ronaldo is a Cheater
The popular argument here is that he goes down too easily for his size and strength and is always looking to get a free-kick. Other than that being a subjective opinion, I wonder if that is reason enough to dismiss what he has accomplished as a player. If diving is going to be used as a measure of a football player's character then players such as Sergio Busquets who has a YouTube compilation of his best theatrical falls and Luis Suarez, whose any means necessary approach to win a football match should also have the talent and performances on the pitch dismissed so easily.
Diving is ruining the game of football and is against the spirit of fair play. This writer lends his voice to those advocating for tougher laws to punish offenders.  However, for all the dives Ronaldo is accused of taking, he is a player that is repeatedly fouled and perhaps the issue is not as clear as black and white. There is a whole lot of gray and looking at the growth of his career, he is suffering from an infamous reputation he earned while he was still at United.
That tag as a diver is proving more difficult to shake off as any tumble he takes on the field is perceived to be the latest in his long repertoire of simulations. Now, should this flaw in his game be used to discredit his performances as a footballer? No. Just as the Zidane's head-butt that cost France the World Cup is not what defines his career, it is not unreasonable to expect all players be treated similarly by fans and the media is it?
Lack of Natural Talent
Whenever someone mentions Ronaldo's speed, free-kick skills and powerful shots as when arguing why he is not the best player in the world, it is usually to argue that he is compensating for a lack of natural talent. The evolution of Christiano Ronaldo from lithe winger into is a physically imposing forward is one of the modern marvels of football. I had a conversation with a cousin about why Messi was more liked than Ronaldo [full disclosure, it was that conversation that gave me the topic for this article]. We had what I consider an 'aha moment' and would like to share that with you the readers. As a much smaller player, Messi is almost always given the underdog tag when he takes on defenders who are almost always bigger than him. It is a much more satisfying feeling to watch a smaller player completely bamboozle an entire defense almost twice his size than to watch a physically strong player overpower a team. It seems Ronaldo is being blamed for not being an underdog when he takes on players.
Despite fans knowing Messi is most likely to bury the goal in the back of the net, fans consider the match-up between him and defenders to be more even. For Ronaldo however, his speed is dismissed as an unfair advantage which makes his performances expected and lacking the magic of football wizard, Messi. Never mind that Messi utilizes his speed when he wants to lose his marker or that when Fernando Torres was in his prime at Atletico Madrid and later Liverpool, it was his speed which was celebrated as he knew when to take on defenders and change pace to lose his maker, similar to Ronaldo. Drogba during his time at Chelsea was a force of nature and tore defenses apart with complete control of his strength when in possession of the ball or playing without it. Maybe it is unfair to have all these qualities in a single player.
Drogba was lacking Torres' pace and the Spaniard lacked the Ivorian's brute strength. The footballing gods had their own system to create a balance it would seem. But assume for a second we all agree that Ronaldo's rise as the world's most complete forward is unnatural and unfair because he is playing at a completely different level, should we not also call Messi's achievement into question as he was born with talent [it is interesting that many assume Messi never had to train to work on improving his skills which are assumed to just come naturally to him] and thus, is an unfair match-up for any player who has the misfortune to line-up against him? This writer ascribes to the opinion that what is good for the goose is good for the gander.
He is arrogance personified
I hesitated about adding this as I honestly consider it to the most subjective and contentious to say the very least. But this writer is not one to back away so easily so let's get this over with. In analyzing Ronaldo's arrogance [or lack thereof], I looked at comments made by his team-mates and former coaches. My reasoning was simple, surely if a player is as arrogant as Ronaldo is made out to be his former team-mates [and current ones] and managers will speak up right? In the era of 24hrs sports news coverage, there is no way that will not find its way to the media. Ibrahimovic is another player that gets branded with the 'arrogant tag' but more often than not, it is rationalized as an effect of the confidence he has in his ability. Why can't that be the same with Christiano Ronaldo?
Zlatan's disagreement with former coach Pep Guardiola is well documented with the former Barca coach blaming the Swede's attitude for his failure at the Nou Camp. No such complaints about Ronaldo from any of the coaches and players he's played with. Is it really wrong for him to make statements such as 'I am the best in the world'? How does he saying Messi is the better player make him in the eyes of the footballing world, better? Sir Alex Ferguson continues to gush about Ronaldo and whenever he has the opportunity, talks about a footballer that was 100% committed to the team and his team-mates.
Mourinho, a notoriously difficult coach to please, just ask a certain Juan Mata thought Ronaldo was the consummate professional when he was the coach at the Santiago Bernabéu. In fact, during the recent world cup qualifiers, despite the media's best attempt to turn it into a Zlatan vs. Ronaldo battle. For the world's most arrogant player, his most arrogant comments have only ever come when fans booed him Messi's name or reporters ask him if he thinks he is the best player or who he considers the best player. An oft-repeated quote from Ronaldo about how fans who boo him are jealous of his good looks and money is held up as an epitome of his arrogance.
If a footballer who had to endure fans booing him whiles he played and read their insulting comments about him online can't take swipe at them every once a while then I don't want to live on this planet anymore.
Given that we have discussed why Ronaldo can't catch a break, is it possible for Ronaldo to be heralded as a world-class player on his own merit? I doubt it because as fans, we like to have clear-cut winners. There is no room for the 'two best players on the planet'. There always has to be, it seems, an outright winner. Ronaldo's combination of strength and perceived arrogance gives the fans that are against him what they consider enough ammunition to shoot him down with. Perhaps this is a pointless argument as the public perception of Ronaldo is so engraved into our minds, he will always be a close 2nd to Messi as the best player in the world. A while back in college, a friend succinctly described Messi as 'a better human being'. After Blatter's comments about Messi being the one you can bring home to meet your mother–this seems to be a wide-spread opinion in the footballing world.
Maybe history will judge him fairly because right now, he has not only been given the short end of the stick but it is also used to beat him with it.