Why it would be foolish of Arsenal to replace Emery with Gerrard
According to Football.london, talkSPORT host Alan Brazil has backed Reds legend Steven Gerrard to take up the Arsenal job after Unai Emery. Arsenal's ongoing crisis has put Unai Emery under pressure and his position at the club seems to be at stake.
The Gunners haven't won any of their last 5 games across all competitions and are 8 points away from the top four. With their poor run of results, it would be difficult for them to fix a spot in next year's Champions League.
Lately, there were plenty of names in the limelight to take up the managerial position, with the likes of Jose Mourinho, Luis Enrique and also Mikel Arteta being linked.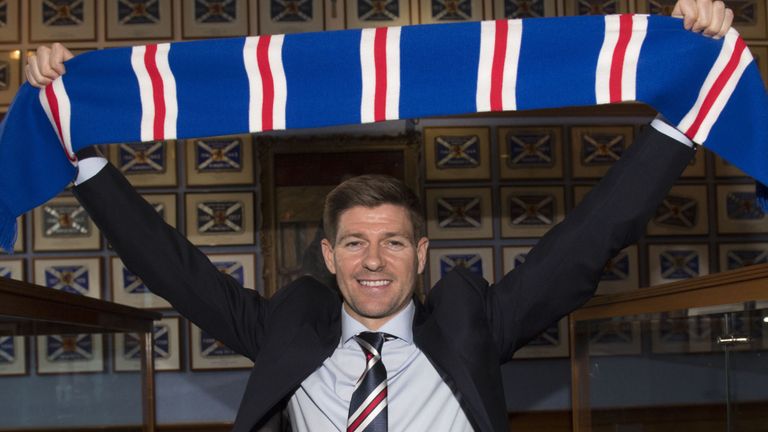 Arsenal are currently placed 7th in the league table. Draws against Crystal Palace and Wolves and a loss 2-0 to Leicester City last weekend has put them 8 points away from the fop four in the league.
Most recently, Rangers boss Steven Gerrard has been backed by talkSPORT host Alan Brazil to take charge of Arsenal once Emery leaves or is sacked. The host has claimed that Gerrard would be effective just like how Brendan Rodgers is with Leicester City at the moment.
Rodgers too had an unsuccessful stint at the Premier League previously and after his return from Scotland, he has done quite well. Referring to this, Alan Brazil considers that Gerrard would be successful as the Gunners boss.
The former Liverpool player started as a youth coach at Liverpool. In June 2018, he was appointed as Rangers manager. In 88 games he has managed Rangers so far; he has won 53 of them and lost just 12.
However, with regards to Gerrard being backed to succeed at Arsenal, things would turn worse for both him and the club.
Just two years into his managing career, the situation of the North Londoners would not allow him to take strides as he wishes. Managing a high profile club like Arsenal without any prior experience within the team and the management would be disastrous.
According to Daily Record, the Gers boss has been more successful with a formation of 4-2-1-2-1, which saw them strangle Celtic in their 2-0 win at the Ibrox stadium. As a result, Gerrard has preferred to start the new season with the same formation.
At Arsenal, Gerrard would find it difficult to cope with a set of new players and most of them who are young. Gerrard's line-up mostly focuses on dominating the midfield on any given day. The gunners have also lacked creativity and coming in at this time would not fit Gerrard.
Given the defensive woes, Arsenal need to get things straight starting from a change in the line-up, and buying new players at this part of the season would be a huge task for Gerrard to take up.
Verdict
Arsenal would have to look up to a more aggressive and experienced coach who has the ability to change the fortunes of the club immediately. If they are to appoint Gerrard, then the former Liverpool man has to look out of the box for any kind of assistance, which seems difficult.
Arsenal should pursue a manager like Jose Mourinho or even Mikel Arteta, who knows the club very well. They are known to groom young players and that would be the way to go.