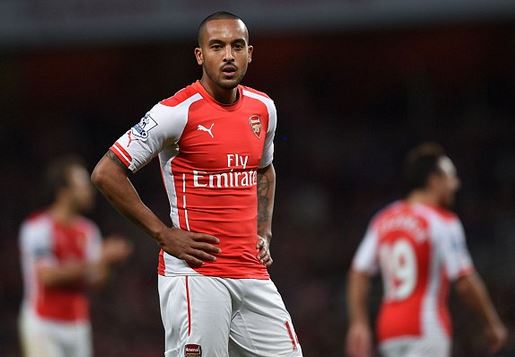 The tale of Theo Walcott is a perplexing one for most Arsenal supporters. The 27-year-old was expected to become one of the best players in the side, gifted with incredible pace at a young age, Theo should have sped past many players and become one of the best by this age.
Sadly, it hasn't turned out this way and there are many that claim the English winger should be sold by Arsene Wenger as soon as possible. It isn't that Walcott hasn't produced the goods, it is just that he has not done it on a consistent basis. Liverpool were one of the clubs who wanted to sign the speedy winger but that deal didn't take place.
Walcott though does need to move, after nearly 10 years at the club, he should have made a place in the starting XI his own but that hasn't materialised. Walcott's time at the club could be coming to an end and here are three reasons why he should leave the London club.
Alex Iwobi and a bunch of other stars
When the season started, it was believed that Theo Walcott would not only be one of Arsenal's most important players but also someone that the Gunners would rely on for getting the goals when and if Olivier Giroud and Danny Welbeck would fail.
While Walcott has not stepped up to that level, his place on the wings is also under extreme threat thanks to the rise of the Nigerian star, Alex Iwobi. The Gunner youngster does remind many of the old Walcott but he does have more talent than Theo did at the same juncture of their respective careers. Walcott might be the player with more experience but this young kid could well ensure the English star doesn't play as regularly as he would like.
Not performing at the Gunners
If there was one criticism about Walcott's game was his lack of a final product. The Arsenal star only has nine goals to his name from over 30 games this season for the Gunners and frankly speaking, that is not good enough.
It isn't just his goals, he only has three assists to his name this season as well, not the best numbers when you are being constantly compared with Alexis Sanchez and Mesut Ozil. Walcott just has not stepped up for the Gunners this season, and the last as well and the one before that.
People might state that he was injured for a large number of games but he just looks drained at Arsenal and maybe a move would be the best for both sides.
For his own growth
Walcott's growth at Arsenal has stopped completely, any inkling of growth from the English winger hasn't really taken place or come true and if he does move away to another club, the new environment would do a world of good to him.
There have been many players who have turned their careers around after moving to another club. Walcott has to be the next one to do that, if he does remain at Arsenal and not move, it could be the end of not only his starting position at Arsenal but even his England career.