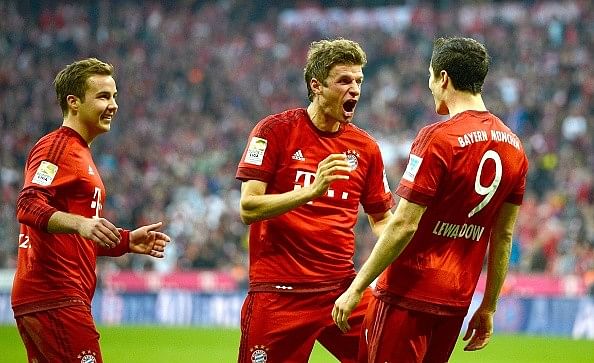 Visit one of Europe's leading teams
25 times the Bundesliga champions, Bayern Munich are one of Europe's top teams. Based in Bavaria, Bayern are Germany's most famous club and play their home matches at the 75,000 capacity Allianz Arena.
Tickets for home matches are available via ticketing services online and you can also take a special match day tour. Regular guided tours take place daily, including Sundays, and can be booked online.
If you want to combine a trip to the football with another of Europe's leading events then it may be worth visiting during the annual Oktoberfest. The Oktoberfest is the world's largest beer festival and travelling funfair and runs for 16 days from late September to early October.
There are hundreds of hotels in Munich including several a short distance from the Allianz Arena. However, if you're travelling in a larger group you should consider a holiday rental, which can work out cheaper and more convenient.
Watch a local derby between two of Germany's great sides
There are few more football-mad regions in Europe than the Ruhr in North West Germany. With fifteen German championships between them, Schalke 04 and Borussia Dortmund are just 22 miles apart, making it the perfect destination for a football trip.
Dortmund's Signal Iduna Stadium boasts one of the best atmospheres in European football and is home to the 2012 champions, now one of Europe's top clubs. The 25,000 capacity 'Yellow Wall' is the largest grandstand in Europe and the Times named it the best football stadium in the world.
Home to Schalke, the Veltins Arena in Gelsenkichen was the site of England's penalty shootout defeat to Portugal in the 2006 World Cup. Tickets for both clubs are available via their respective websites.
Dortmund offers a great choice of hotels and great nightlife. El Mundo mixes a love for Borussia Dortmund with great Mediterranean wines and tapas while the Bam Boomerang boasts numerous big screen TVs – perfect for watching the big match.
As well as going to the football you can enjoy a range of other sports. Watch local horse racing, take a cycle tour or even go for a run on the city's jogging paths.
Head to Hamburg
The only team to have played in the Bundesliga since its formation in 1963, Hamburg – sometimes called HSV – are one of Germany's biggest teams. Tickets for the 57,000 capacity Volksparkstadion are available via the club website and you can also visit the HSV Museum charting over 120 years of football in Hamburg – with an English audio guide – and even take a look behind the scenes on a stadium tour.
Hamburg is also the home to FC St Pauli, one of the hippest and most popular clubs with fans around the world. While the club plays in the second tier, FC St Pauli is widely recognised for its distinctive culture, left-wing politics and cult status among fans. No trip to northern Germany is complete without a visit to the Millerntor-Stadion and tickets can be bought online.
When the match is over you can head to St Pauli's famous Reeperbahn – the 'sinful mile' – where you will find a dizzying choice of restaurants, pubs, nightclubs and bars. For accommodation, the area has a number of affordable hotels.