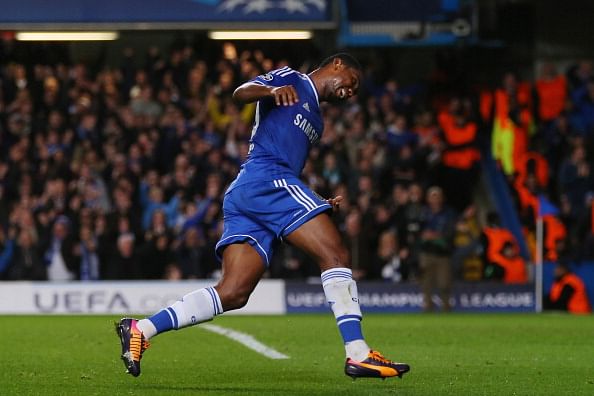 Samuel Eto'o's relationship with Chelsea manager Jose Mourinho has fallen to a new low as the Cameroonian plots revenge by joining rivals Arsenal in order to strengthen the North Londoners according to reports from Mirror's John Cross. Arsene Wenger is in the market for a good set of attackers to add to his roster, and with Giroud in decent form, the Gunners can hope to have a trio of strikers in order to compete for the title. With Nicklas Bendtner released by the club, there is an immediate need of at least two central strikers who are capable of playing regular first team football. There have been strong rumours of the Gunners chasing either Alavaro Morata or Karin Benzema from Real Madrid, and then comes Samuel Eto'o who has caused sparks in the transfer market.
Samuel Eto'o's infamous fallout with Jose Mourinho regarding the Portuguese manager's comments on his age, have given rise to a new set of rumours as usual and this time it is Arsenal who feature eminently in it. If the rumours have to be believed, Arsene Wenger has Eto'o at his disposal as a free agent! If this transfer happens, we can all think of it making immense sense.
Eto'o is a 33 year old veteran who is hungry to prove himself again and grab a revenge against the Chelsea boss by joining Arsenal. What Arsene Wenger would get, is a player who speaks French, is an experienced campaigner who has won almost everything that is on offer at club level football and he's featured in some of the world's best clubs, latest being Chelsea. Eto'o's addition to the team would improve the quality of the strikers Arsene Wenger had last season, especially since he suits the Gunners' way much better than Dane Nicklas Bendtner.
Also, Samuel Eto'o would be a different type of striker in comparison to the usual target-man Giroud, Bendtner or Yaya Sanogo, thus players like Ozil and Wilshere would be better off serving deliveries to Eto'o who can link up better with his more agile movements. Eto'o may be 33 and may not be as fast as he was in his prime, but he is definitely faster and agile in comparison to current Arsenal strikers.
Wenger can look to gamble on Eto'o, obviously because he comes as a free agent, and very rarely do we find free agents of Eto'o's calibre. Then we have the prospect of having a strong transfer either in the form of Karim Benzema or Alvaro Morata, the latter who would require more time to settle. In either case, Eto'o's addition gives teeth and depth to the attack.
It would also be a good move for both the parties. Samuel Eto'o was obviously controlling some strong feelings against Jose Mourinho just to maintain the harmony till the season ended. Later, his statements clearly indicated how unhappy he was with the system in Chelsea especially with the fans and the manager barely having any confidence in the current strike-force.
He has the chance of redeeming himself, becoming a "real" striker by joining the Gunners and getting goals to his name as probably the second choice if not the first. Eto'o would have the chance to work with one of the most gentlemanly managers who may suit to his likes. Meanwhile, Chelsea can continue to track down the likes of Diego Costa and Radamel Falcao to end their pursuit of a proven goalscorer.