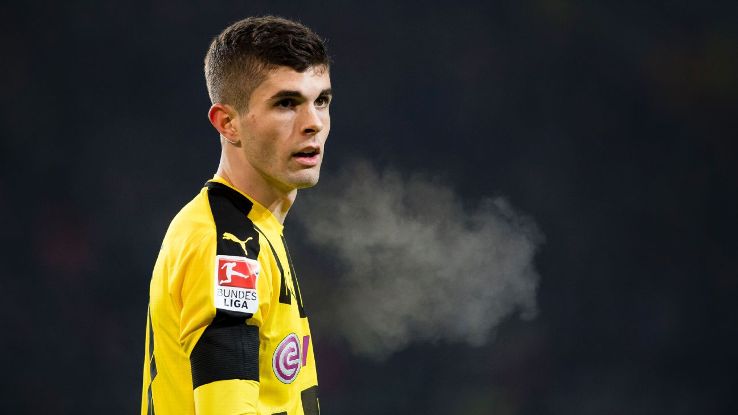 Why Chelsea Should Use Michy Batshuayi And Sign Christian Pulisic From Dortmund
Borussia Dortmund sensation Christian Pulisic might have a new suitor in the market, as Premier League's defending champions Chelsea are showing keen interest. The Blues are apparently interested in the services of the American sensation and as per reports, they could use Michy Batshuayi in an attempt to lure Pulisic to the Stamford Bridge next season.
The Belgian striker recently moved to Borussia Dortmund on loan as Pierre-Emerick Aubameyang's replacement. Since moving to the Bundesliga, Michy Batshuayi has had huge success, scoring 5 goals in just 4 competitive matches. The Belgian has instantly become a fan favourite, thanks to his great personality and brilliant performances, which has forced Borussia Dortmund to work on a permanent deal this summer.
Chelsea, however, are reluctant to let go of their star striker, especially considering the fact that there may be a change of coach next season, with Antonio Conte's future with the club seemingly in doubt. The new coach might want to have a closer look at the player before making a decision regarding his Chelsea future.
However, recent reports suggest that the Blues are willing to sell Batshuayi if they can get Christian Pulisic in a swap deal.
The Black and Yellows have really struggled with the departures of several star players in recent years. World class players Robert Lewandowski, Mats Hummels, Ilkay Gundogan, Ousmane Dembele, Pierre-Emerick Aubameyang and Henrikh Mkhitaryan have all left the Signal Iduna Park in recent seasons, which has left the fans disgruntled with the board.
Therefore, the loss of Christian Pulisic, who is another young player destined for future stardom, could be a nail in the coffin for the Dortmund fans.
However, that being said, swapping Michy Batshuayi for Christian Pulisic wouldn't actually be a bad deal for the German giants. Considering the fact that the Belgian has been wonderful since moving to the Bundesliga, it only makes sense for BVB to secure a permanent deal for the striker.
Batshuayi has quickly integrated into Dortmund's style of play, which is clearly evident from his blistering performances. His link-up play with the likes of Mario Gotze, Andre Schurrle and Marco Reus have been truly phenomenal while his colourful personality and internet sarcasm has forced the entire yellow wall to fall in love with this highly-rated Chelsea forward.
Simply put, Borussia Dortmund have been extremely lucky to find an ideal replacement for Pierre-Emerick Aubameyang in such a short span of time.
Securing a permanent deal for the Belgian, however, will mean the loss of Christian Pulisic, who is currently one of the most well-liked players in the Dortmund team. The American International has been one of Dortmund's most important attackers this season, especially after the frequent absence of Marco Reus, Mario Gotze, Maximilian Philipp and Raphael Guerreiro.
However, Pulisic's performances this season have been hugely inconsistent, which is coupled with the fact that the youngster has been nowhere near his level best in recent games. Considering the fact that Marco Reus and Maximilian Philipp are coming back to full fitness while the likes of Mario Gotze and Andre Schurrle have been in incredible form of late, the departure of Christian Pulisic won't be as costly as it would have been a few months ago.
In addition, Dortmund are likely to make some extra cash from this Batshuayi-Pulisic swap deal, as they have already put a hefty price tag of €100m on their prized asset. Therefore, it might be a win-win situation for both the clubs involved, should Dortmund accept Chelsea's rumoured Batshuayi plan.