Why Arsenal over Manchester United Would Be A Better Destination For Dries Mertens
Napoli's Dries Mertens has had a stellar season with the team as the team pushed Juventus to the edge in the battle for the Scudetto. Mertens has been central to their excellent performances this season, having contributed with his goals and assists aplenty.
Along with Marek Hamsik, Mertens has gone on to become their top-scorer for the season, contributing 20 goals and 9 assists.
With such fantastic stats to back him up, it's not a surprise that the likes of Arsenal and Manchester United are behind the player, who has a £25m release clause.
Mertens is 30, meaning this is effectively his last move to a big club before he settles for a place on the bench or a move to a slower league such as China or USA.
Arsenal is a better bet
Arsenal is one team Mertens can seriously consider moving to. They have a dearth of attacking talent up front but are just not able to take the chances that they create.
The likes of Danny Welbeck and Alexandre Lacazette have been misfiring all season and whoever takes over the club next season will require a European-standard forward in order to succeed.
Mertens fits that bill perfectly. He is an attacking forward with great speed and a good finishing ability – something the Gunners desperately lack. They need to fill the void left by Alexis Sanchez and Mertens could help soften the blow. He's also someone who has a strong engine and could contribute defensively if needed.
Arsenal would know that they will have a long season next year. They lost the Europa League semi-finals to Atletico and will finish the season in 6th place.
The Europa League is the only serious trophy they can consider next season and Mertens could be the player to help them win it.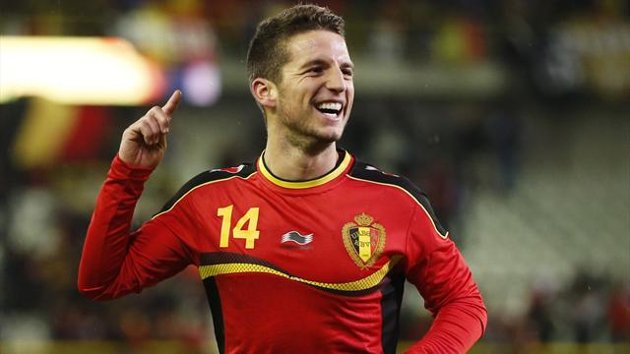 Manchester United are too crowded
If Mertens decides to join Manchester United, it will signal the end of Anthony Martial's time at the club. Martial will leave but that still does not guarantee a starting spot for Mertens.
He will have to compete with at least five other players for two spots on the flanks. Add to that the presence of Sanchez and you have 4 players vying for 1 spot down the right-wing.
Nevertheless, it is a flattering position for Mertens to be in. The World Cup could prove to be crucial and his performances there could dictate his fee in the summer. Napoli will miss the player who has been incredible for them for over five years now and they can re-invest the money they generate from his sale.