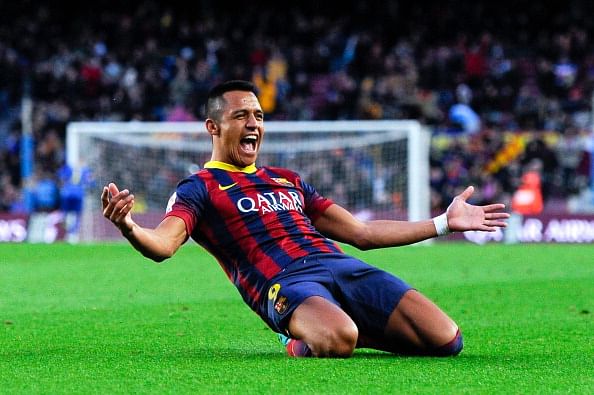 Alexis Sanchez has had a wonderful season despite the Catalans ending up trophyless. He has notched up 19 goals and 10 assists in 27 starts and 7 substitute appearances this season which is clearly a testimony of his prolific form this season. There have been recent reports of Manchester United being interested in him along with Liverpool posing as competitors, with both their bids being rejected by the Camp Nou outfit.
But it seems like a 50-50 deal for the Red Devils, who were catastrophically dethroned as Premier League Champions by the likes of their noisy neighbours Manchester City.
Alexis is capable of playing as a central striker with his style being similar to Sergio Aguero of Man City. But he has established himself primarily as a player who likes to attack from the wide areas. The Barcelona winger would bring immediate quality and creativity to Old Trafford who desperately need it.
Juan Mata, who took his time to settle and he finally did settle in the new Red shirt can effectively combine with Sanchez it coule be a dream combo. Sanchez would offer more than just a poacher's role that currently, Javier Hernandez does. Sanchez would also offer back up and support to Wayne Rooney as well as Juan Mata. With Robin van Persie being pretty injury prone in his career, Proper enforcements in striking departments would also be necessary, particularly after Danny Welbeck has repeatedly complained of the lack of central striking opportunities for him. Moyes as well as Sir Alex thought of Welbeck more of a work horse than other strikers in the team due to which he is made to play wide. But if Welbeck does want to leave, Sanchez would willingly perform the role.
But there are some repercussions as well. Alexis is far from proving himself in the Premier League. He plays in a club that is barely known for the work rate of its players. Barcelona players will guarantee, technical quality, but we can't be too sure of the energy and work ethic in the players who may find the Premier League too fast to cope with, as teams from the bottom don't rely only on passing, but also have players who are willing to push and run at you. Mesut Ozil found it out this season with Arsenal when he was criticized for being too tired on pitch.
Secondly, Striking department is not the priority for Manchester United. They have more than their fair share of world class strikers with Wayne Rooney and Robin van Persie being a mouth-watering combination. Both have produced wonders single handedly when they won the league in 2012-13. Javier Hernandez and Danny Welbeck offer more than capable deputy options. So, when we consider Sanchez, who is going to cost a substantial amount of money, he will definitely have to be included with players like van Persie, Rooney and Mata. With these four players on the pitch, there is hardly going to be any balance in the team. It is especially unhealthy for a team to rely totally on one player, which was Rooney this season, to be the workhorse as well as the talisman. Because, van Persie, Mata and Sanchez are not going to help out when not in possession, which means in reality, Man Utd would be opting for a 4-2-4 formation.
The main priority for United would be to strengthen the back four and central midfield. With some good amount of money spent in these areas, we must not forget that the team of the calibre of Man Utd, can simply bounce back from a bad season as title contenders.
But again, to make this a 50-50 deal, we can easily expect van Gaal to make surgical changes to last season's disastrous squad. Rightly so, he may prefer to offload the likes of Welbeck, Hernandez or even Mata in order to have his type of players and still make reasonable deals in areas of real priority, like central defence and midfield.
Stats: whoscored