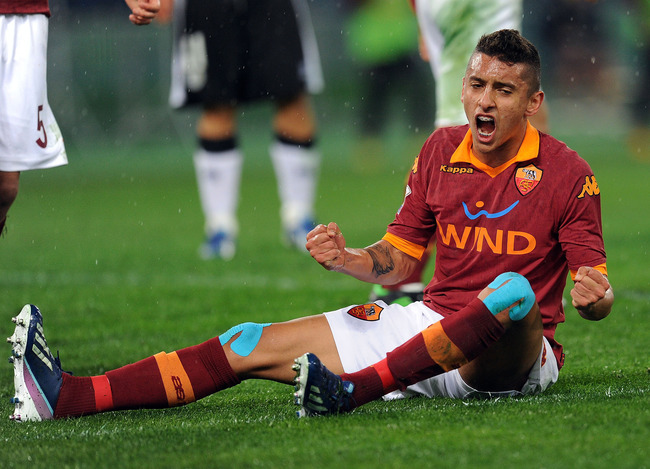 Much like the previous summer, a few of Roma's marquee players have been linked with a move away from the club. Midfielder and icon Daniele De Rossi has been reportedly tracked by Chelsea and Paris Saint-Germain, while 19-year-old Brazilian defender Marquinhos has been slapped with a €35 million price tag by the Parisians and Barcelona. However, it's crucial that president James Pallotta doesn't bite at any of these bids and keeps his most sought after players in the Italian capital.
When the American owner purchased Roma, they had a project in mind. Build them into a perennial powerhouse in Italy, and, eventually, a top European contender, much like Juventus have been doing for the last couple of years. While the influx of around €75 million from the potential sales of De Rossi and Marquinhos would inject a healthy influx of cash into the club, Pallotta would be forced to go back to square one yet again.
The coaching issues have clearly affected the squad's performances and the players themselves have their own occasional mental blocks in matches, but the constant speculation over the likes of De Rossi and Marquinhos can't help. There is immense pressure playing for Roma, even "il Capitano Futuro" commented on the constant discussion surrounding everything Giallorossi.
"It's like playing with a full suit of armour. You think it protects you, but it also weighs you down to the point where you can't move," said De Rossi.

"I hate the fact that, in Rome, you always have to defend yourself from the wildest rumors and accusations. When I play for Italy, I'm considered an important player, but in Rome I have to be careful because everything I do or say is under the microscope. Everything gets twisted and inflated and turned into lies."
Pallotta, meanwhile, claims that "anyone at Roma can be sold, even Daniele," so anything can happen at this point. Judging by what's transpired over the last couple years in the capital, bet on something going belly up, but it shouldn't be that way.
De Rossi is arguably one of Italy's best players. He can operate as a box-to-box midfielder, a deep-lying playmaker, and even as a centre back. He wouldn't be valued at such a high fee if he wasn't a top talent, which he is. De Rossi is 30 years old, meaning he may not have many years left, but when someone is that strong on the pitch and is a local lad, the club should do everything in their power to keep him. Not to mention with Francesco Totti nearing retirement, the club needs a captain and another bandiera to look up to.
Marquinhos is a different story, but the principle is identical. While he's still just a teenager, he established himself as one of the most promising youngsters in the world. He may not be at the level of Real Madrid's Raphael Varane, but the Brazilian has just as much potential, all the more reason why Roma should hold onto him. He was easily La Magica's best defender last season and he's a part of the future. It would also be ludicrous to sell the former Corinthians man as the Giallorossi defence was atrocious last year. Plus, there's no established starting goalkeeper yet, why mix up the back even more?
Consistency is key. That's why Roma must be patient with their coach and why they cannot sell their best players. If the club wants to get to the level Juventus is at, then keeping De Rossi and Marquinhos must be a bigger priority than making money.