Scout Report – Jack Harrison
The United States of America is starting to gain some fame for international footballers as Major League Soccer (MLS) continues to grow and expand its horizons beyond the nation.
New York City FC (NYCFC), the first MLS franchise club based in the city itself, began playing in the league in 2015. Under former Arsenal invincible, manager Patrick Viera, the team has changed leaps and bounds. With superstars David Villa and Andrea Pirlo often dominating the headlines, there is a rising star who is believed to be NYCFC's next big thing. His name is Jack Harrison, a Manchester City and Manchester United target.
Origin
Born in Stoke-on-Trent on 20 November, 1996, Harrison, 20, spent 7 years in the Manchester United academy. He then moved to America on his mother's advice, to study at Berkshire School for higher level of education.
Harrison attended Berkshire School in Sheffield, Massachusetts, and was named the Gatorade player of the year in 2015. In the same year, NYCFC came calling and claimed Harrison as a homegrown player due to him playing with NYCFC youth affiliate Manhattan Soccer Club for the last three years, allowing him to sign before the original draft.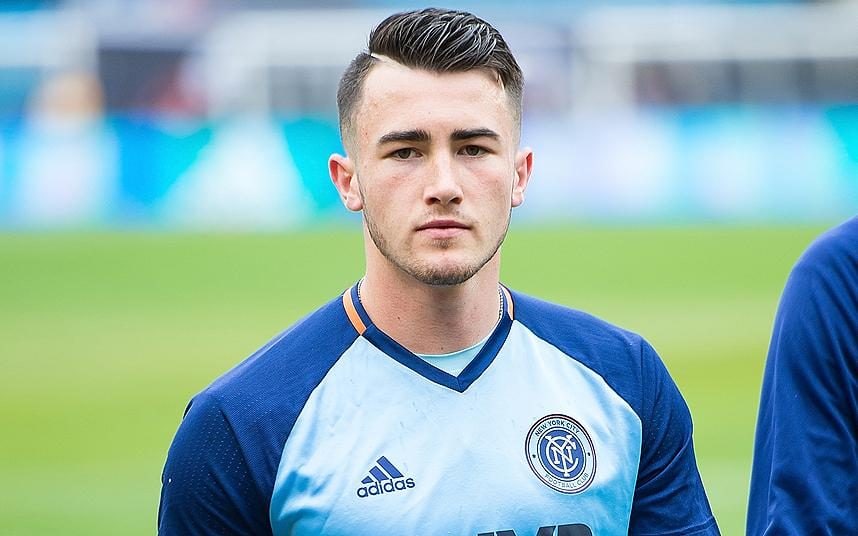 However, the claim was rejected by MLS and Harrison entered the MLS SuperDraft. He was selected as the No. 1 overall pick of the MLS Superdraft by Chicago Fire and traded to NYCFC for No. 4 overall pick and allocation of money.
Despite missing three months of football due to a fractured pelvic bone, Harrison ended his debut season with NYCFC with 4 goals and added 7 assists followed by a strong start to 2017 that has seen him get linked with the Manchester clubs.
What Does He Offer?
Harrison often plays on the right wing, but Viera has sometimes used him on the left because of his fantastic delivery from the left-foot. In the 4-3-3 system, the 20-year old has developed a great understanding with midfield maestro Pirlo.
The Englishman is helped by his versatility, and is capable of playing in any attacking position, even up front. Playing alongside striker David Villa has also helped Harrison, and the former Barcelona man praised the midfielder, saying:
"When he has the ball at his feet, you get the sensation something is going to happen."
He is a technically gifted player, offering mad pace and creativity. The midfielder is nimble-footed, has a superb sense of awareness and gives the defenders a run for their money.
The all-around midfielder's biggest asset is his footwork. He is always looking for space and tends to put himself in fantastic positions to spread the play. Harrison has an exquisite touch, which an astonishing plus point given he is just 20 and is a deadly customer when it comes to counter-attacks.
An aggressive midfielder with an eye for goal, there is no surprise as to why Harrison was rated as the second best player in MLS under the age of 24 in 2016.
What Does The Future Hold?
After two quality seasons with NYCFC, Harrison has already drawn interest from European clubs. Being NYCFC's one of the most exciting players, Harrison has massive potential to go on to become one of the finest midfielders. But few areas of the game like holding the ball for too long, being over-ambitious and reluctant to keep things simple have to be fine-tuned.
A bit more experience will make his decision-making on the ball become stronger. However, with the talent that he is at 20, sky seems to be the limit. Harrison has emerged on the radars across the globe and a return to England looks almost inevitable.