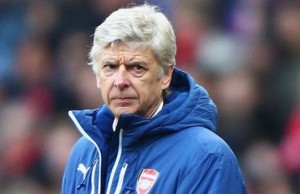 Arsenal were the only club in the top 5 leagues in Europe, that did not sign a single outfield player in the last summer transfer window, A mistake Wenger is working hard to rectify this summer. There numerous instances of fan protests, calling for Wenger to quite but the Frenchman has taken that as a inspiration and is working hard to get Arsenal that much awaited Premier League title and the Champions League. Wenger has identified certain which need urgent reinforcement.
Arsenal have started early this summer and have already signed Swiss midfielder Granit Xhaka from Germany. Wenger was heavily criticized for be not being brave enough to huge amounts of money on world class players but that has changed in recent years with the signing of Mesut Ozil and Alex Sanchez. The French national has already stated in an interview that he won't be making too many signing and will be limiting it to 3 this summer. According to the reports, Wenger is looking to sign just two more players right now, as he is fearful of the fact that too many new players in a squad could disturb the balance of the team. This statement by their manager has left many Gunners fans worried, as they have grown tired of seeing their teams title challenge fizzle out just because they were missing that one player up front, who can dig the team out on tough days.
With Wenger under immense pressure, it's not surprising that everyday new players are being linked with Arsenal. So what do the Gunners need most urgently? Fans have been calling the management to sign a top class striker, who can produce 20 plus goals every season in the domestic campaign, someone who won't be bullied of the ball and can hold his fort against the defenders. Arsenal could do with a playmaker, which can play on the left wing and start ahead of the likes of Walcott and Joel Campbell. Here are the two players who if signed in the coming months and can make a huge difference to the fortunes of the team next season.
Mario Gotze
If the German playmaker does sign for Arsenal this summer, he is likely to play on the left-wing, allowing Alexis Sanchez to play in his favoured right wing role. Although he isn't the quickest, but he has enough ability to be a menace from the wings, where we'd regularly see him drift into more central areas. With a quality striker upfront and Gotze, Ozil and Sanchez supplying the delivery from the back, Arsenal's goal count could rise dramatically next season.
Alvaro Morata
The Spanish striker has been linked to the Gunners a number of times in the past but nothing has worked out between the two parties. However with Arsenal pursuit of Jamie Vardy looking more likely to fail, with him contemplating an extension at Leicester City, the North London team are desperate to sign a striker who can deputize for Giroud and share the goal scoring burden with him. Due to Real Madrid's buy back clause, it might be a bit difficult to get the striker to London, as it may require getting into a bidding war with the richest club in the club, while other clubs like Chelsea and Manchester United are also interested in signing the Spanish international.