As far as Arsenal's title pursuit is concerned for 2016-17, 3 men are set to play the most important roles in deciding how it goes down, and they must work in tandem to make anything and everything out of the club's ambitions.
The last time a title parade was held in north London was 2004, and given how a lot of quality players have often gotten awfully close, only to come short of returning the trophy to the Emirates, it would require almost 100% perfection on the pitch, and off it to get a better shot this time.
Comes in the trio of Arsene Wenger, Alexis Sanchez and Mesut Ozil. The 2 players and the manager have different roles to play in making this decade-long dream a reality, and here is how each of them is a major player and the respective importance they have in Arsenal's title pursuit this term.
Alexis Sanchez
The former Barcelona forward is definitely the most hardworking Arsenal player at the moment, and he always gives his best every other game. He is such a workaholic that he would frown at being substituted, even with the game wrapped up as he is this perfectionist who doesn't want to leave any stone unturned.
Sanchez has been responsible for 7 of Arsenal league goals this season, having provided 3 assists and scored 4 goals in 8 starts. He has also created most chances with 16 key passes. Having had to play through the middle as opposed to the wings since the start of the season, the 27-year-old has risen to the big occasion, and could (should) continue in the centre forward position all season.
Heading into the new season, the lack of quality striker and proven goalscorer capable of winning the league for Arsenal remained the only problem unsolved. And they didn't have to look far for a solution. Despite creating 94 chances, the club has scored 19, the 2nd best tally in the league, and Sanchez has no doubt played an integral role in getting that problem solved as a makeshift cf.
His consistency at being able to combine his pace, strength and slick skills on a match-daily basis has proven to be the key to Arsenal's form this term, and with it, they can finally get their hands on the coveted prize.
Mesut Ozil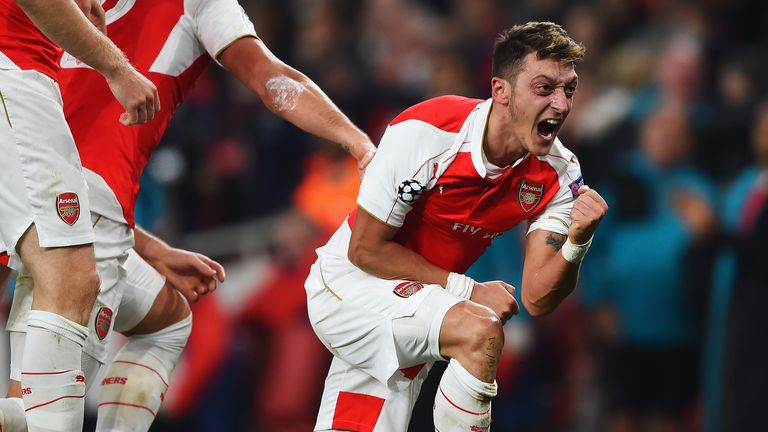 Off the pitch, Arsenal are trying their possible best to secure a contract extension for the German World Cup winner and his south America counterpart.
Ozil, alongside Sanchez, has made Arsenal's title credentials sustainable in the last 2 seasons, and his new-found form this term could see the club finally break the duck.
With Sanchez drafted upfront, Ozil has had more chances at goal given that he isn't just making all the assists this time around, he is getting them from Alexis.
Ozil has scored 3 goals and assisted none, and that's due to him having Iwobi take up the positions he would normally occupy. Many have often criticised him for not getting much goals per season, and he has found a way to finally keep his naysayers quiet having bagged 3 goals from only 4 shots on target.
So, while the roles and movements of Iwobi and Sanchez are drying up Ozil's chances creations and assists, the 28-year-old is putting his finishing abilities to quality use elsewhere – right in front of goal.
Arsene Wenger
The exploits of the whole Arsenal team, including the resurgence of the aforementioned duo has been the making of Wenger's tactical genius. Is it coincidental that everything seems to be perfectly falling in place in what could be the Frenchman's last season in charge of the north London giants?
He finally got it right with every department of the squad. Finally!!! If he finds a way to keep his most important players fit for a large chunk of the season, winning the league title is almost very certain.
We would never truly know his importance to Arsenal and their likely title pursuit this season until he calls it quit. The Gunners won't have it easy with life after him. It's a guaranty. Manchester United is a perfect example. Guess it's true when they say you don't know the value of what you have until you lose it.
Note: The article was written before Premier League's week number 10 (stats may vary)