Match Report + Fans' reactions: Crystal Palace 0-1 Chelsea
Chelsea romped home with a comfortable 1-0 win over Crystal Palace at Selhurst Park in the Premier League on Sunday.
The Blues dominated possession right from the kick-off and Palace's lack of pressing in the middle of the park allowed Maurizio Sarri's men to play the game at their own tempo. It was a perfect exhibition of possession-based 'Sarri Ball' style of play but Chelsea lacked the penetration to create clear-cut opportunities.
Despite having a lion's share of the possession, the visitors did not create too many chances from open play. They did come close though, Willian hitting the post with his free-kick from 25 yards out. Willian once again forced a good save from Vicente Guaita before Ross Barkley hit the post with an attempted overhead kick from a corner.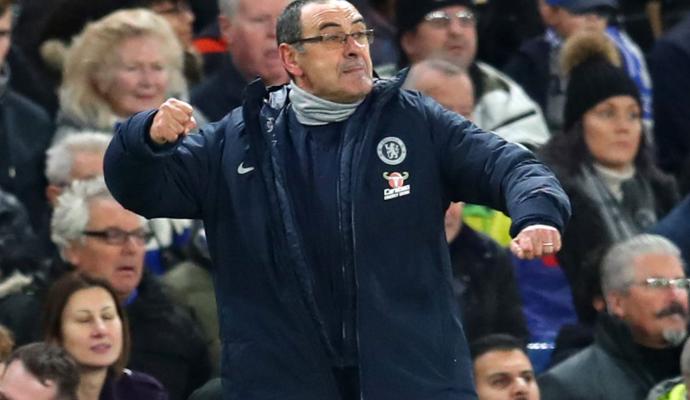 Chelsea finished the half on a good note but were unable to make the most of their territorial domination. They had to wait until the 51st minute to open the scoring and both the goal and the assist came from unlikely sources.
David Luiz showed incredible vision to pick out the intelligent run of N'Golo Kante who found that half space between Patrick van Aanholt and James Tomkins to put the visitors in the driver's seat early in the second half.
Willian had a low shot saved by Guaita after the hour mark but apart from that, the second half was a mere repetition of the first half, with Chelsea having most of the possession but not making much of an impact in the final third.
However, Palace manager Roy Hodgson rung the changes and brought on the likes of Conor Wickham and Max Meyer to add that extra firepower to the attack. And Palace managed to pin the visitors inside their own half for the last ten minutes.
Chelsea were at the receiving end of some aerial bombardment towards the end and Wickham could have salvaged a point for the Eagles, only to scuff his shot high and wide from Luka Milivojevic's set-piece.
Chelsea's display against Palace was not spectacular by any means but Maurizio Sarri will be happy to bag those crucial three points that send them five points clear of fifth-placed Arsenal.
Fan Tweets
Jorginho is fucking awful can't defend can't shoot and can barely dribble his passing is good but not worth what we paid for him… Willian seems past it… Barkley seems constantly confused with what's going on… And Alonso thinks he's a LF Sarri-ball is boring football #CRYCHE

— stephen currie (@StephenCurrie99) December 30, 2018
Ruben Loftus-Cheek not even on the bench. What is Sarri smoking? #CRYCHE

— -RLC- (@cheekyasloftus) December 30, 2018
What a pass form Luiz and what a run form Kante #CRYCHE pic.twitter.com/CY319UErlH

— Capt. Dan✈ (@danelijah1) December 30, 2018
Brilliant pass from Luiz. Brilliant run from N'Golo and what a finish. Sheikh N'Golo Kante ladies and gentlemen #CRYCHE 😍https://t.co/v87IE7exMc

— Mateo 👑 (@KlassyKovacic) December 30, 2018
Kante is a better striker than Morata and Giroud combined… #CRYCHE

— dazzerg (@dazzerg1) December 30, 2018
3 – N'Golo Kante has scored three goals in 20 Premier League games this season – his best goal return in a single season in the top five European leagues. Reinvented. #CRYCHE pic.twitter.com/tXYgzCivR6

— OptaJoe (@OptaJoe) December 30, 2018
Passing sideways….more passing sideways…keep on doing that… Finally a little space for one of our fullbacks to send the ball in the box and what they do….they pass backward….smh #CRYCHE

— Akshit gupta (@Akshitg55620891) December 30, 2018