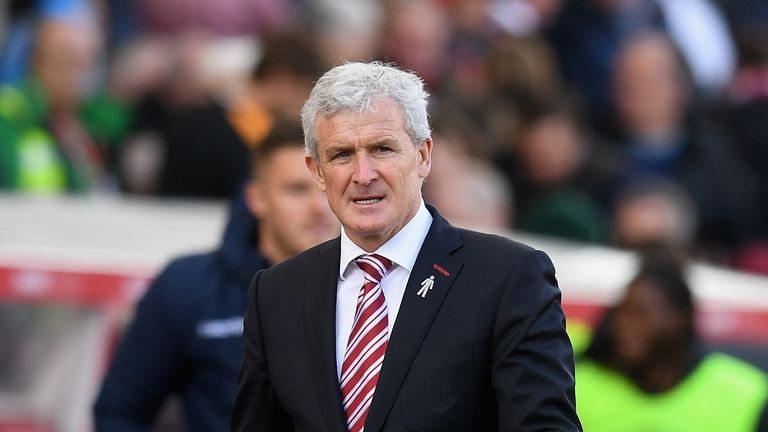 (Premier League veteran Mark Hughes needs to improve fast or face the chop)
Over the past few weeks in an already eventful Premier League season, Stoke City have not looked anything like a Premier League club, with promising goalkeeper Jack Butland leaking 32 goals this season so far, midfielder Joe Allen leading the number of tackles with 48 and the 36-year-old Peter Crouch leading the way in terms of goals with 4 so far this season. It is clear all is not well this season under Mark Hughes.
With the loan signing of promising Chelsea defender Kurt Zouma and the permanent transfer of Kevin Wimmer from Tottenham, the acquisition of the versatile Eric Maxim Choupo-Moting from Schalke 04 and the sale of Marco Arnautovic and the loan signing of PSG winger Jese Rodriquez and the purchase of Premier League veteran Darren Fletcher on a free transfer, it seemed like savvy business for the Potters.
4 months on Kurt Zouma is out injured with hamstring injury, Jese Rodriquez looking likely to be shipped back to the French Capital with a series of underwhelming performances leading to his loan deal to be cut short and defensive duo, Wimmer and Zouma looking about as watertight as a colander life this season under the experienced Mark Hughes has been anything but "savvy."
So what is the problem? When it comes to scoring goals Stoke do not seem to struggle at all, this season they have netted 19 times placing them in 10th in that regard in the Premier League. But perhaps more unfavourably Stoke places 4th in terms of losses with 10 only bested by Bournemouth, Newcastle and Swansea.
A lack of a serious recognised forward may also be a key problem and has been for the few seasons,  while Sadio Berahino and Peter Crouch are both faithful servants to the club with the former even being scouted by Tottenham Hotspur with a fee around £30million on the table; a far cry from the eventual £15million Stoke eventually paid when they bought Berahino from West Brom. Almost 11 months on Berahino is still searching for his first Stoke Goal, maybe it is no wonder that Leicester City striker and record signing 6ft 2 Islam Slimani is being eyed up by the "Potters."
The crux of the problem lies in the fact Stoke rarely have possession of the ball, with only a measly 9,734 touches placing them as one of the worst sides in that regard there is no time for the likes of Diouf, Shaqiri and Choupo-Moting to cause serious damage.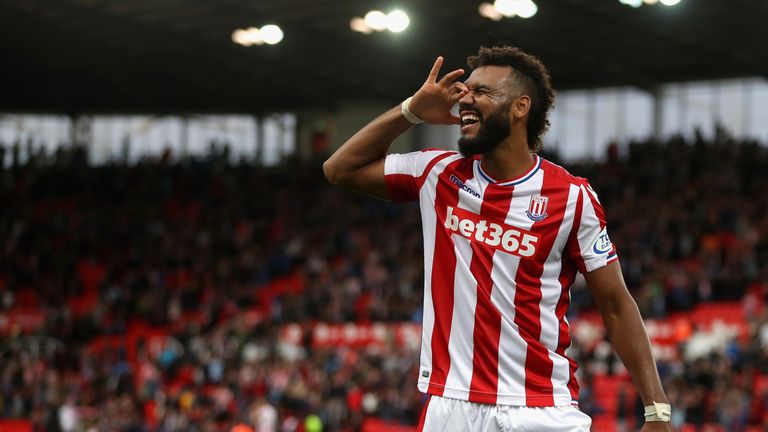 (Choupo-Moting has been a stellar signing this season for the Potters and has really lit up the Bet 365 stadium)
Without continued possession of the ball Stoke really do struggle to hit the back of the net, and while I know possession isn't everything in modern day football evident in Leicester City's 2015/16 title-winning style of absorbing huge amounts of pressure and then counter-attacking Hughes' men are not set out to capitalise on these breaks.
I absolutely love watching once Champions League winner Xherdan Shaqiri, the way he dribbles with the ball at speed and then his ability to turn on a sixpence makes him so hard to defend against. But really the player that has many fans on the edge of their seat is Choupo-moting, I don't think at times he really knows what he is going to do with the ball but he really is electric. So really it is key that Stoke have continued possession to get the ball to the likes of Choupo Moting so that the "Chou-Chou train" chug along down the wing.
Despite having the likes of Kurt Zouma, Ryan Shawcross, Kevin Wimmer and Eric Pieters at their disposal at the back and Stoke absolutely leaking goals despite the best efforts of Jack Butland I don't think it is the defence that is the problem, it is a lack of a holding midfielder. Joe Allen or as former boss Brendan Rodgers dubbed him as "the Welsh Xavi" is a passing machine but not often known for his industrial tackles, his partner in crime Darren Fletcher in all fairness is 33 years old and is not the player Sir Alex Ferguson utilised for so often for so many seasons.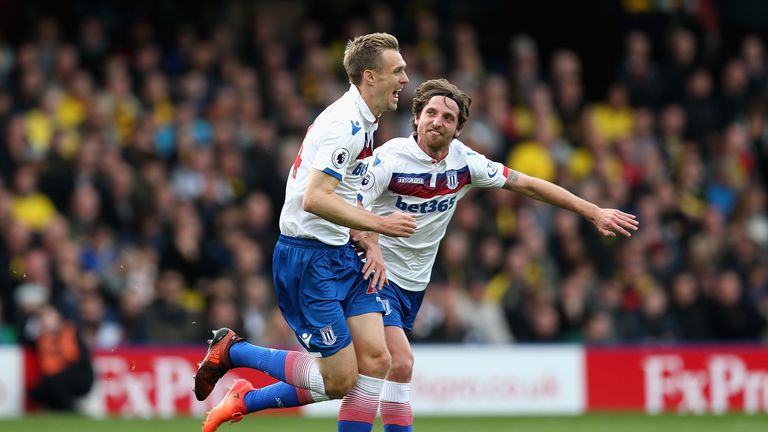 (Midfield duo Joe Allen and Darren Fletcher celebrate as Fletcher scores his first Stoke goal against Watford)
Fletcher cannot hold down the midfield on his own with Joe Allen tracking back from one of his many ventures into attack, another defensive midfielder maybe needed to protect the defence. It is not all doom and gloom though as club chairman Peter Coates has confirmed that Hughes will have money to spend in the January Window, and now fans will be praying he will use it wisely
Hughes has targeted midfield as a priority and is said to have a interest in RB Salzburg Midfielder Valon Berisha as a key target, but maybe money would be better spent on a more defensive option rather than another attacker to add to the plethora Hughes already has at his disposal. Stoke need a midfield destroyer like former star Steven N'zonzi a player that was deemed surplus to requirement at Stoke and sold to Sevilla, the Frenchman has also been snapped at Gatwick airport earlier this week. A return to Stoke on the cards?
Stoke need to act fast to prevent them from slipping down to the Championship, and Mark Hughes needs to improve fast to stay in the top flight of English football. With a plethora of excellent managers of there at the moment such as Tony Pulis Hughes needs to improve fast, or could join the likes of Paul Clement, Ronald Koeman and the previously mentioned Tony Pulis and get the chop.
(Note: This article was written before Stoke's weekend game against West Bromwich Albion. Stoke won the game 3-1)