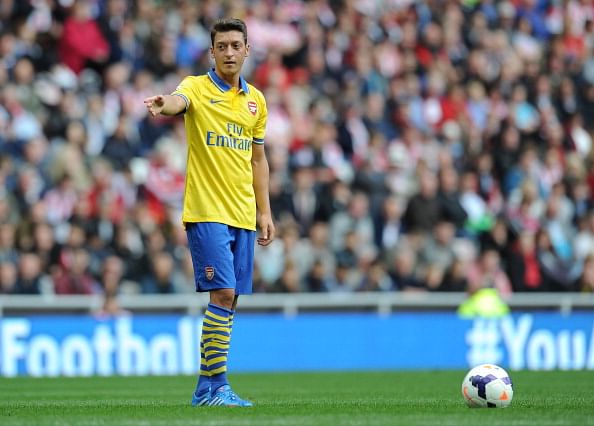 Arsenal's £42.4m summer signing, Mesut Ozil continued his disappointing run of failures in big games as yet again, he failed to turn up when it mattered and was largely anonymous against Liverpool. He was sloppy in his passing, loose in his approach and his dallying on the ball led to the third of Liverpool's five goals. So, on Wednesday, Arsene Wenger will have a decision to make as to whether he should start his marquee signing or not.
One of the major criticisms that has been leveled at the German has been his inability to make his presence felt in big games. During his time in Madrid, Jose Mourinho would regularly take him off towards the end of big games, and he did come in for significant criticism from various sections of the press.
That habit it seems has not left him even after his arrival in North London. When Arsene Wenger decided to splash the cash on him in the summer, he was hoping that Ozil would finally transfer his performances against the smaller teams to the bigger teams as well. However, that has hardly been the case in the six months that he has been a Gunner.
In the previous meeting between the two teams, Ozil was anonymous throughout large parts of the game as he wandered all over the pitch without really influencing the game. His passing was sub-par as he managed to find the target with only 80% of his passes. His attitude was poor, and he was given a dressing down on the pitch itself after the game by his skipper for the night Per Mertesacker for showing his indifference towards the result.
Ozil's form has not been the greatest of late. In the last 9 games, he has made just 2 assists, creating a total of 23 chances, and has looked like his is suffering from a burnout. He is not accustomed to the fixture congestion during the festive period, something that is unique to English football, and that seems to be taking a toll on him as he looks peripheral at times.
In fact his defensive contribution, which has never been great to begin with has been even shoddier in this period. He has managed a total of 3 clearances and 1 interception in the 9 appearances. He hardly ever seems to be willing to go into a tackle, and frankly he has been halfhearted in the 15 tackles that he has attempted during this period, winning just 4 of them. To compound matters, he has made two defensive errors which have led to Arsenal conceding.
On the face of it, he may be Arsenal's biggest signing, but his form and attitude on the pitch has hardly been deserving of a place in the starting eleven, let alone in a big game against Manchester United. It will undoubtedly be a big call for Arsene Wenger to drop the German star, but it is a decision that he must take considering the best interests of the club going forward.
After all, he cannot afford to drop any more points given how tight the title race has been this season, and Ozil's performance against Liverpool may just have been the last straw.
If Wenger does drop Ozil, Cazorla can play the number 10 role behind Giroud which leaves a chance for Oxlade Chamberlain who has been impressive in the last couple of games to continue playing down the right. Tomas Rosicky, Wenger's utility man for the big games can play on the left flank which induces a sense of urgency in the team. Elsewhere Arteta and Wilshere can play in the heart of the midfield.
I am ready to be slated by Arsenal fans, but do have a look at the formation below. It does makes sense to have the German duo Ozil and Podolski on the bench and can be brought in the final minutes if the team needs an attacking threat.
Giroud
Rosicky – Cazorla – Ox
Wilshere – Arteta
Gibbs – Koscielny – Mertesacker – Sagna
Stats taken from squawka