CENTRAL DEFENSIVE MIDFIELDER:
Eric Dier
A versatile defensive player, who has come up through the youth ranks at Sporting CP, Dier has been deployed as a defensive midfielder, a centre-half and as a right back. However since the start of the 2015–16 season, he was been utilised as a defensive midfielder by Tottenham head coach Mauricio Pochettino and that is where his impact has been the maximum. His absence was sorely felt as Spurs crashed to a 0-3 defeat to Borussia Dortmund in the first leg, Round of 16 of Europa League. With age being on his side, Eric Dier is sure to be one of the most impactful players in this position in times to come.
MIDFIELD
Dele Alli
Ever since signing from MK Dons, Dele Alli has just gone from strength to strength. Making 27 appearances so far, he has an Avg pass accuracy of 76% and created 38 chances whilst also scoring important goals that has helped Tottenham Hotspur be as high as second in the standings and keeping pace with leaders Leicester City. Along with Eric Dier, he is one of the vital cogs in the line-up of Spurs and his absence too was felt as they lost to Borussia Dortmund at Signal Iduna Park. Going forward it is of paramount importance that he stays fit and keeps performing if the North London team harbours any thought of lifting the Premier League.
Mesut Ozil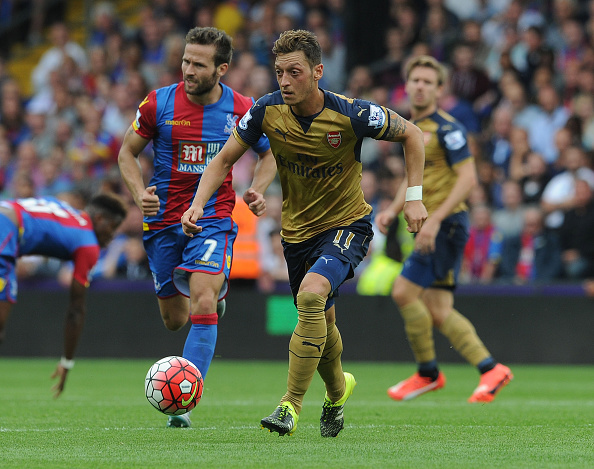 One man that has been pulling the strings for Arsenal and has helped them be in the Top 3 of the league table, on current form Mesut Ozil is one name that can easily walk into any playing XI in the world. Currently on top of the assists standing with 18 assists to his name, he is just 3 assists away from breaking the all-time record of most assists in a single season, set by former Gunner and an Arsenal legend, a certain Thierry Henry. At 27 years of age, he is a very highly regarded player with Real again looking to lure him back though it seems unlikely that he shall make the switch.
Christian Eriksen
In this season's English Premier League, Eriksen has scored five goals and has created 88 chances. He also has eight assists to his name. Eriksen has completed 1040 passes this season with a pass accuracy of 81%, of which 73% were forward passes. Last season he scored ten goals and created 83 chances. In the 2013/14 season, he scored 7 goals and created 68 chances and had a pass accuracy of 82%. There was a reason Alex Ferguson wanted him when he was in charge.
Riyad Mahrez
With 15 goals and 11 assists, Mahrez has been directly involved in 50% of the goals scored by the Foxes this season that has seen them become firm favourites to lift the cup, come this May. All these goals have come at an entirely indiscriminate spree, with goals scored or made against Manchester City, Chelsea, Everton, Liverpool, Southampton, Tottenham and West Ham and a decisive creative hand in victories against the champions of the last two seasons. Bought for a paltry £400,000, Mahrez has seen his stocks rise by leaps and bounds as his performances as the most creative Premier League player this season has made him a genuine contender for the PFA Player of the Year award.
FORWARD:
Harry Kane
In a space of six months, Kane graduated from Spurs reserve to the most lethal striker in the Premier League, whilst winning the PFA Young Player of the Year: 2014–15 and also featuring in the PFA Team of the Year: 2014–15. Whilst there have been many English forwards who never made it big despite having some serious talent, Kane has been even fantastic this season through a phenomenal desire to improve upon his past season performance. His biggest asset in Tottenham's attack is arguably the movements he makes and the way he reads space in between defenders. He never stands still and is always looking to pull a player out of position to create space for himself or one of his teammates that has seen him being third on the goal scoring chart just a couple of goals shy from Leicester's Jamie Vardy. Even though Vardy has more goals more than Kane, it's the age factor that gets the former into this team.