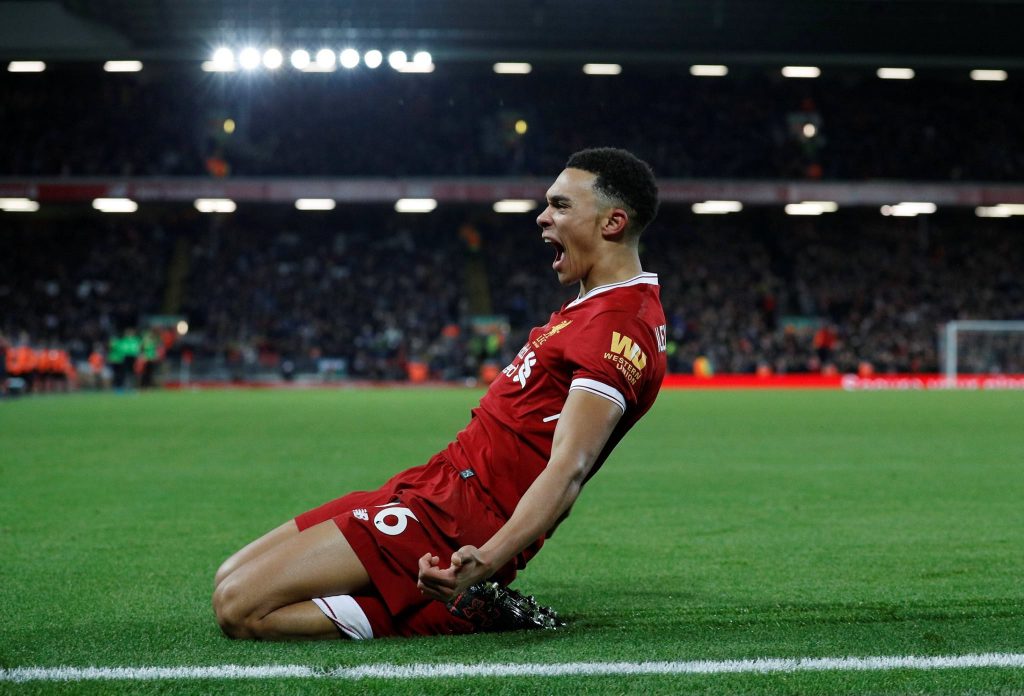 Why Trent Alexander-Arnold Has Everything To Become A Gerrard-like Figure At Liverpool
Liverpool's academy graduate Trent Alexander-Arnold is living the dream at the moment. Having come under a lot of stick for his inability to deal with the likes of Marcus Rashford and Wilfred Zaha, the 19-year-old was seen as a chink in the armour of Jurgen Klopp's side.
With Leroy Sane being one of the most destructive young wingers in the game, I was surprised to see Trent's name on the team-sheet for Liverpool's Champions League tie with Man City. Fast forward to the full-time whistle and the teenager had delivered one of those career-defining performances that even Steven Gerrard would be proud of.
Manchester City players clearly targeted him, isolating him against the pace of Sane but Alexander-Arnold won the personal battle every single time. The local lad almost single-handedly negated City's right flank. Most of Sane's touches came out of the box and all his attempts to get a foot ahead of his marker ended up being offside.
For 90 minutes or so, Pep Guardiola's men swarmed the penalty area as Liverpool supporters held their breath but the calmest person on the pitch, Trent Alexander-Arnold defied all expectations to emerge as the next in line to replace the one wearing the number 8 jersey.
Coincidentally the right-back plays as a central midfielder for the U-23's but the injury to Nathaniel Clyne meant he was thrust into the starting eleven at the beginning of the campaign.
A similar incident occurred way back during Liverpool's 1998-99 season when a teenager by the name of Steven Gerrard entered the fray at right-back against Blackburn. He came up against David Ginola of Spurs and was given the run around by the Frenchman.
However, Gerrard buckled up. Playing out of position, the Englishman came up against Everton in the Merseyside derby the following season and emerged as the hero, twice clearing the ball off the goal-line as Liverpool held on to win 3-2.
Since then, Gerrard never looked back and became the emblem of everything Liverpool FC stood for. At times when a lot seemed to go backwards for the club, the local lad carried them on his shoulders.
The trajectories of both their careers seem undeniably similar at this point but to live up to his contemporary hero, the right-back has a long way to go. However, if his recent displays are anything to go by, Alexander-Arnold has certainly made a big stride in the right direction.