The Premier League, for some say is the best league in the world, with the best teams and the best players in them and winning the best league in the world can be a turning point in a player's career, yet there are some "deserving" footballers who although have proved themselves to be the best but still have not got their hands on that elusive trophy and History remembers only those who won and not those who tried, but still we take a look at some of these footballing maestros who are still looking for their first ever Premier league triumph !
11) SHAY GIVEN
It must look to many as a surprising selection but if we take a look at the last decade or so, to me there has 'nt been a more consistent goalkeeper than Shay Given, whether it may be for Ireland or for Newcastle or for any other club. Having played for over 18 years now, Given unfortunately was never able to win the Premier League. He spent most of his time at Newcastle United where he made a big impact. Having a bigger ambition, he then moved to Manchester City where he was sidelined by City's no.1 Joe Hart. Ironically he left City just a year before they won the illustrious Premier League Title.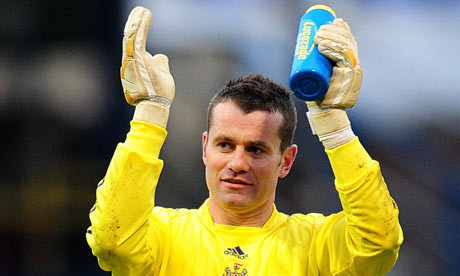 10) LEDLEY KING
King had always remained loyal to Spurs spending his whole career with them. He had always been reckoned as the best centre back in his playing days but never got a chance to shine at the International stage, playing just 21 games for his country. He had to struggle with a lack of cartilage in his knee and several other injuries which disturbed his career and many still believe that he would have captained the English team ahead of John Terry, had he been fit. He could have won many bigger things if he had moved to a bigger club unfortunately his only piece of silverware with spurs was the League cup in 2008 when he was their captain.
9) GARETH BALE
The wonder kid as they call him, Bale has been a revelation in the playing league and has been compared to the likes of Ronaldo and with his pace and skill, he has been the most lethal player in the premier league this year earning the PFA player of the year award which completely justifies his potential. Rumors have been going round the world that the Welshman may move to Spanish giants Real Madrid this summer and thus, it looks like that he may never be able to achieve a PL medal in his life(only if he decides to stay or returns back to England sometime again in his career).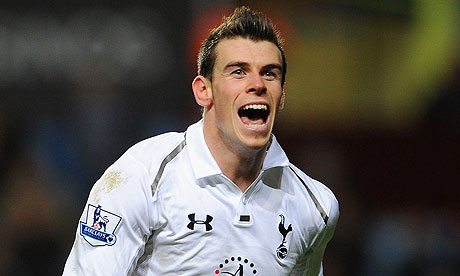 8) JAMIE CARRAGHER
A legend, humble, kind and a Liverpool Great, words cannot describe the pain and anguish Carragher must have after he has failed to achieve the PL with Liverpool where he has spent more than 17 years and has made more than 500 appearances. Retiring at the end of the season, Jamie has been all time best Liverpool centre back. Except Premier League, he has won the FA Cup, the UEFA League Cup, Charity Shield, UEFA Super Cup, the UEFA Champions League.
7) XABI ALONSO
You cannot take Liverpool players out of the equation if you are talking about not winning the Premier League and here 's another Liverpool great. Xabi Alonso is considered as the best midfielder of all times and has been playing at the top of his game with Real Madrid at the moment as well, same as Jamie, Alonso has also won literally everything but sill has that regret of not winning the Premier League title.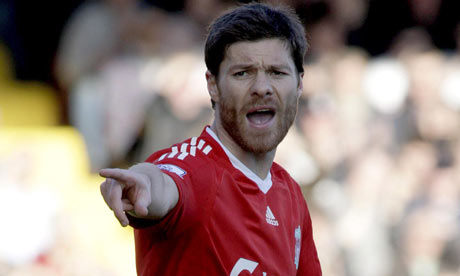 6) MIKEL ARTETA
Another extremely talented and dependable midfielder, Mikel Arteta at present is one of the best central midfielder in the world. Having started as an FC Barcelona trainee, Mikel was never able to made it into the first team and eventually decided to move on. He went to many places before he finally settled at Everton where he showcased his supreme class in the middle of the field and caught everyone's eye. In 2011,he moved to Arsenal where he has been consistently impressive and has thus was named the Gunners vice captain for this season. He will be hopeful of winning a PL title with Arsenal in the coming future and so will be the Arsenal fans.
5) GIANFRANCO ZOLA
It won't be an exaggeration if I call him a magician, to be frank I have 'nt seen a better player on the ball after his retirement. He led the Blues to 2 FA Cups but was never able to challenge for the Premier League title with average Chelsea Squad before the arrival of Abramovich.I don't have enough words to describe his talent but those who ve seen him play will surely understand what I mean !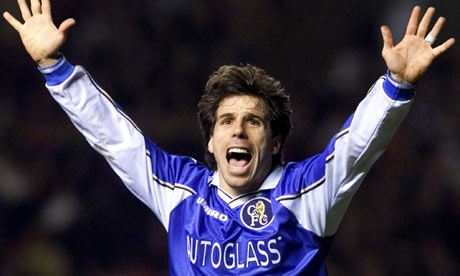 4) ROBBIE FOWLER
Fowler is the 4th top most scorer in PL. He made his first appearance in the first Premier League season and was always a headache for the opposition defense with his skill and talent. He scored 34 goals with Leeds and Man City in 5 years but will always be remembered for the time he spent at Liverpool where he 120 goals in 236 games. He retured to the Merseyside team but was not able to make the same impact then. He won some trophies with Liverpool but could not win the Premier League.
3) LES FERDINAND
Many of you will disagree with me on this one, but for a moment just Google him and quickly check out his stats. League cup winner, twice a Premier League runner up, PFA player of the year in 1996,first player to score for 6 different PL clubs, scored the 10,000th PL goal, ranks 7th in the all time most goal scorers list in the Premier League, if that is 'nt impressive than God knows what is, he was perhaps the last "proper" center forward in the game.It would have been great if he had a Premier League medal to his name as well.
2) CESC FABREGAS
Cesc is the best midfielder, Arsenal ever had (in my opinion) His vision, his technical ability, his skills, his mental fitness etc. make him one of the best midfielders in football at the current moment. His time at Arsenal though was not very well as he could only manage to win the FA Cup with them as Arsenal crumbled and stumbled after the invincible season. He never had the luxury to win the PL title with Arsenal but has just won the La Liga title with Barca. It would be amazing and to some extent unimaginable if he returns to Arsenal in the near future and wins the League with them !!!
1) STEVEN GERRARD
The man who defined the word class and made the wonderful game look even more wonderful with his playing style. Even today he is one of the most technically sorted out player in the world. Short passes, long passes, shooting, Skills… He s got everything that makes one a complete footballer. He is the one of the best player to have ever played in the premier league but could never win the title itself due to Liverpool's failure to win it.He has been the driving force of Liverpool in the past few years and for England. He stood by the Merseyside team in its good times and bad times but he must have regret somewhere as he could never pinch a Pl title with the Reds.