Despite it being a 'dull' transfer window, Premier League clubs ended up spending £130 million on transfers in the January transfer window, twice that of Serie A clubs and more than the combined total of La Liga and Bundesliga clubs.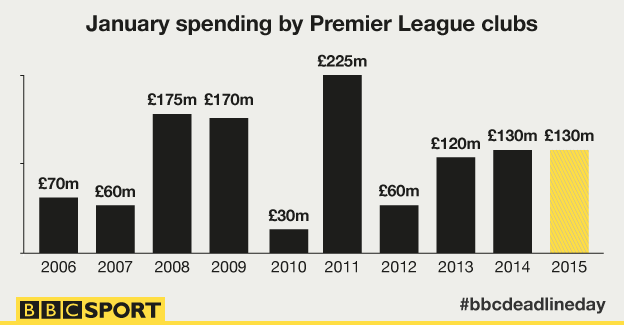 League leaders Chelsea, second placed Manchester City and 5th placed Arsenal were the biggest spenders with more than 50% of the total Premier League spend. If you include the summer transfer window, a record breaking £950m was spent on transfers. We take a look at the top five transfers that will have the biggest impact for their respective clubs.
5) Jermain Defoe – FC Toronto to Sunderland
The former Tottenham Hotspur and West Ham striker returns to England after a short spell in the United States with Toronto with Sunderland's Jozy Altidore moving in the opposite direction.
His wages of £60,000 a week does raise eyebrows, especially for a 32-year-old but Defoe guarantees goals. He is a poacher in the box well capable of shooting from outside the box and he will definitely help his side improve on their dismal record of less than a goal per game; they have just 21 from 23 so far in the league.
He has already bagged his first goal for the Black Cats in a vital 2-0 win over Burnley as the win gave them a four point cushion over two teams in the relegation zone.
Even before joining Sunderland, Defoe was in good form for the MLS side scoring 11 times in 16 games. He is the 14th highest scorer in the Premier League with 125 goals and looks set to overtake the likes of Nicolas Anelka, Robbie Keane and Jimmy Floyd Hasselbaink into 11th place by the end of the season if he scores a further three goals, behind 10th placed Robin van Persie.
Defoe brings with his vital experience which has seen him score 19 goals for England in 55 appearances, and every goal he scores for his new side will be worth its weight in gold.
Poyet said: "I know all about his attributes and his qualities first-hand and his exceptional goal-scoring record speaks for itself. He has something different, something special
We know each other very well – he was very young when we played together and I was coming to the end of my career, so I know him from inside the pitch.
"When I returned to Spurs as a coach it was a great experience for me to work with him, so I am really looking forward to having him as my player now and for him to be part of our team.