Chelsea's top 10 players from the Premier League era.
Chelsea have featured in every season of the Premier League in the 22 year history of the competition. As a club, Chelsea were not in the league of Man Utd, Arsenal and Liverpool, but had some great times even before Roman Abramovic decided to invest in Chelsea and help the club become one of the strongest in the world, if not one of the biggest in terms of history. Chelsea believe in writing history and live in the present. Abramovic is slowly reducing the money influx in comparison to his free flow attitude in the early times, as Chelsea are becoming more settled, stable and self reliant. Here are ten players who have been regarded as the best to have played for Chelsea and held in high regards by the Stamford Bridge faithful.
Dennis Wise
The former Chelsea skipper was a combative central midfielder when he played for the Blues in the prime years of his career. Known for his passion and skill coupled with severe disciplinary issues, he was always a kind of a cult hero for the fans. Wise played 332 top flight games for Chelsea, most which featured in the Premier League era, and scored 53 goals from midfield.
Wise captained Chelsea in their 1997 FA Cup final win over Middlesbrough, the club's only second FA Cup triumph. He guided Chelsea to a 3rd place finish in the 1998-99 season, a time when Chelsea were really showing promise to fight for the title. This was also the first time Chelsea qualified for UEFA Champions League.
John Terry
The current Chelsea skipper is always considered as the Captain, Leader and Legend by Chelsea fans across the globe. He is one of the most successful defenders in the world, especially at club level as he was won it all with Chelsea. He is also the most successful skipper in Chelsea's history.
Terry is one of the highest scoring defenders in the Premier League and recently completed 500 appearances as a captain for the Blues. 16 years at Chelsea, and is a living legend, Terry with a controversial career for England, retired from international football two years ago.
Frank Lampard
The Chelsea superstar left the Blues after end of last season to play his final years in New York. But as luck would have it, New York City FC sent Lampard on loan to Manchester City until January, and we saw him face his former team and ironically, score a goal against them to rescue a point for the Citizens.
He is Chelsea's all time record holder for maximum goals for the club, and as a midfielder, that record is pretty astonishing. He is also one of the players who has won it all at club level with Chelsea.

Petr Cech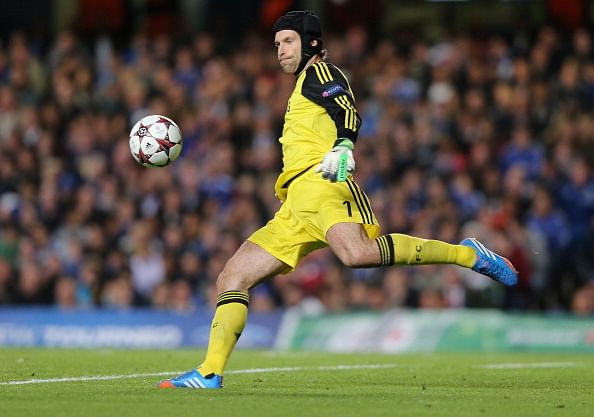 One more legend here, and he's struggling to find a starting eleven spot despite being one of the best keepers in the world. Cech has been Chelsea's most celebrated goalkeeper in history and with a decade of ruling the number one spot, he had to give way for a decade younger Thibaut Courtois who is considered marginally better than him.
Holder of record clean sheets for Chelsea, and a regular winner of golden gloves, Cech is also a player who has won it all with Chelsea. He is still young enough in goalkeeping years as he is 32, and has wealth of experience. He could be lured away by another top club.
Ashley Cole
Until recently, he was considered as the best left back in the world. His decisiveness in defending was absolutely crucial in Chelsea's best years. He was that player who would cover the flank with his work rate and technique with routine ease. His quality made him a top professional and a real winner of silverware in Chelsea as well as in his years with Arsenal.
Ashley Cole left Chelsea in the start of the season as Cesar Azpilicueta took his position on the pitch. He now plies his trade with Italian giants Roma, who are in good shape this season.
Didier Drogba
Drogba is one of the biggest players to have played for Chelsea in the Premier League era as he was the hero who won them their first Champions League trophy. A battering ram of a center forward, he is one of Africa's best player to play the game. Drogba scored over 100 Premier League goals and was decisive when in the prime of his career.
He has returned to Chelsea in what could be his final season of an illustrious career. He had brief stints in China and then with Galatasaray. Drogba is likely to take up coaching after his playing career.
Roberto Di Matteo
He is a Chelsea as a player and also as the interim manager who won the Blues their only Champions League trophy. He was an illustrious player in the club's history, one of those players who enjoyed some of his best playing years in Chelsea before his career was ended due to many injury issues.
He is fondly remembered for his long range shooting and passing ability. His 30 yard goal in 42 seconds against Middlesbrough, in the 1997 FA Cup Final is one of the fastest in history. He was a crucial part of Chelsea's resurgence in the late 1990's.
Gianfranco Zola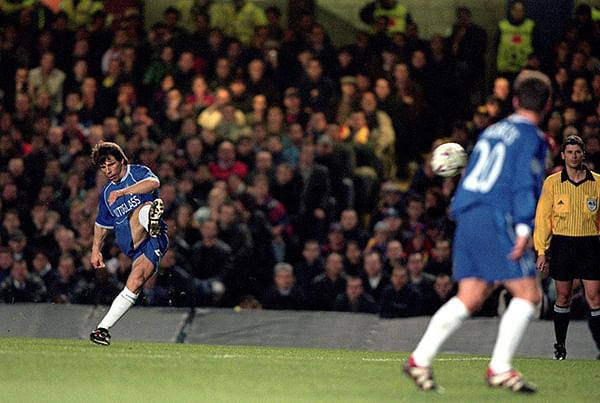 He is deemed as one of the best players to have ever played for Chelsea. Twinkle toed and full of flair, Zola dictated play like no one else. He was also one of the best in the Premier League, at a time when Chelsea started rising as a really promising club, even before Abramovic put his investment in the Blues.
Zola's number 25 shirt is left vacated by the club honoring their legend. He spent seven seasons with the Blues and notched up 59 goals in 229 appearances.

Gustavo Poyet
The current Sunderland manager was a great player for Chelsea playing over 100 times in the Premier League scoring 36 goals in his somewhat injury laden four years stunt with the Blues. Poyet was a regular goalscorer for the Blues from midfield and was consistently among the top 3 scorers for the club when he was fit to play.
His memorable goals have been: The winner against Real Madrid in the 1998 UEFA Super Cup, a scissors-kick volley against Sunderland, a long range strike against Lazio and Chelsea's goals against Newcastle in the FA Cup Semi Final, as the team won the FA Cup and reached the quarters of the UEFA Champions League.
Claude Makelele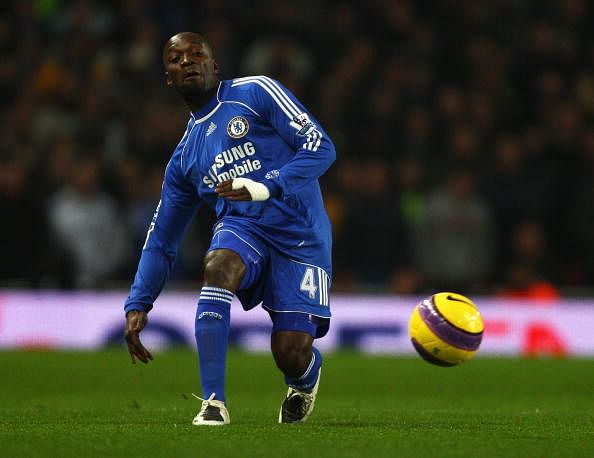 Makelele was one of the most instrumental players in Chelsea's rise to stardom under Mourinho. Rejected and under appreciated by Real Madrid, he showed his class and dominance in Chelsea as the best holding midfielder the League and probably the world has seen.
His game sense and maturity, along with intelligence helped Chelsea channel their attacks through him. He was always the rock in the midfield for the Blues. The defensive midfield role developed a special name after him, the "Makelele role" as he defined the position and tactic in the Premier League, which was predominantly a league where box to box midfielders and play makers functioned. He was one of Mourinho's favourites.